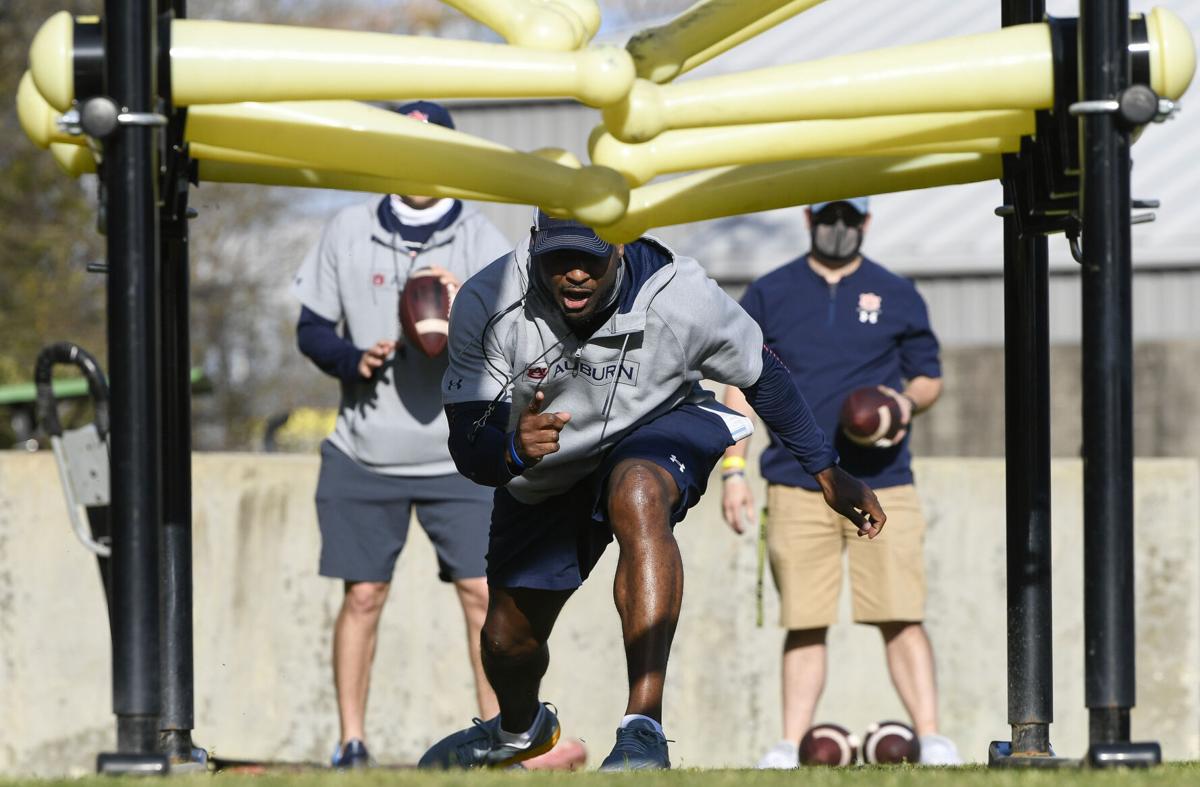 Almost immediately after Auburn head coach Gus Malzahn was relieved of his duties on Dec. 13, there were questions about whether or not running backs coach Carnell "Cadillac" Williams' time on staff was also coming to an end.
As Williams explained after the fact, he had those same questions for quite some time.
Williams detailed his hectic offseason Monday as the Tigers get ready for their second half of spring practice. The former standout Tigers running back explained Malzahn's firing immediately left Williams with uncertainty not only about himself and his family but the family of the other coaches and support staff whose futures at Auburn were very much in limbo.
Williams explained he wanted the best for Auburn while also being incredibly nervous about the unknown he was facing. That uneasy feeling began to shift once he heard from new head coach Bryan Harsin.
"I know when he first reached out to me, it was more or less like just getting to know me and kind of know about Auburn and the Auburn Way. Then later on, I guess after the bowl game when there was I guess a chance he was considering me, it got down to more the Xs and Os and just my philosophy," Williams said. "I think honestly with coach Harsin, it came down to him knowing that I wanted to be here at Auburn, I wanted to make that step and that I was on board with turning this thing around, buying in and being a guy that was not going to be bigger than Auburn.
"Thank God coach Harsin – I think it was a great hire – gave me an opportunity to come back and to continue to have an impact."
Williams spoke highly of Harsin, saying the new Tigers head coach is hard-nosed and is someone who believes in discipline and building young men on and off the football field. Williams, who will be in his third season as Auburn running backs coach, explained the players have accepted Harsin's mentality with open arms as they commit to his plan for getting the Tigers back on the national stage.
Williams was the only assistant that Harsin retained from Malzahn's 10-man on-field staff. Harsin explained on Feb. 3 what stood out about Williams as he began putting his first staff together.
"We had a chance to talk football, to talk about Auburn but also just his development as a coach, where he wants to go, where he sees himself and also fitting into this style of offense coaching that running back position — which is huge with our success that we want to have moving forward," Harsin said. "He's been very receptive and did a great job with the connection with our players and just been a joy to work with him so far. Looking forward to watching him develop with this staff."
With the offseason drama put to bed, Williams is concentrated on making the most out of his running back room.
The Tigers are considerably thin at running back this spring with rising sophomore Tank Bigsby, senior Shaun Shivers and senior defensive back-turned-running back Devan Barrett being the only scholarship players. The dearth of backs for Auburn – which will add true freshman Jarquez Hunter over the summer – doesn't concern Williams, who is more worried about all three running backs plus walk-on Jay Sharp maximizing every single day this spring.
Williams explained Barrett, who opted out of the coronavirus-affected 2020 season, has spent the winter and early part of spring getting back into football shape but has a chance to contribute if he keeps working hard. He also commended Shivers, who Williams said has been one of his favorite players to coach and is someone who never backs down from a challenge.
Then there's Bigsby, who burst onto the scene in 2020 and has many expecting even bigger things this fall.
"The sky's the limit for this young man. You're talking about a guy who has a great attitude. You're talking about a guy who is chasing excellence, not only on the football field but also off the field," Williams said of Bigsby. "I just think for him to take that next step, he's just got to get more consistent each and every day, bringing it every single day, even on days where maybe you don't feel as good or something's going on back home. So if he continues to enjoy the journey and continues to lean on others and continues to lead, Tank will be OK."
Williams gave his early thoughts on offensive coordinator Mike Bobo's new system, saying he expects the Tigers to get under center more, run power, get downhill and come flying off the football. In addition to that added physicality, Williams explained how important it is for his running backs to sharpen their receiving skills, adding his backs generally have good hands but must learn more about running routes and the other aspects of the Tigers' passing game.
Williams' return to his alma mater after Malzahn's dismissal was by no means a given, but after weeks of uncertainty it turned out the former All-American wasn't going anywhere. The chance to join Harsin's staff was a welcomed one for Williams, who has already sealed his reputation among the Auburn fanbase but isn't by any means done working on behalf of the Tigers.
"I know I have this Cadillac name, but at the end of the day I am a humble guy," Williams said. "[With what] my relationship with these players and with this school means to me, I'm willing to do everything I can to get this program back to winning championships. I think [Harsin] felt that vibe from me. I think that's something that made the biggest difference."