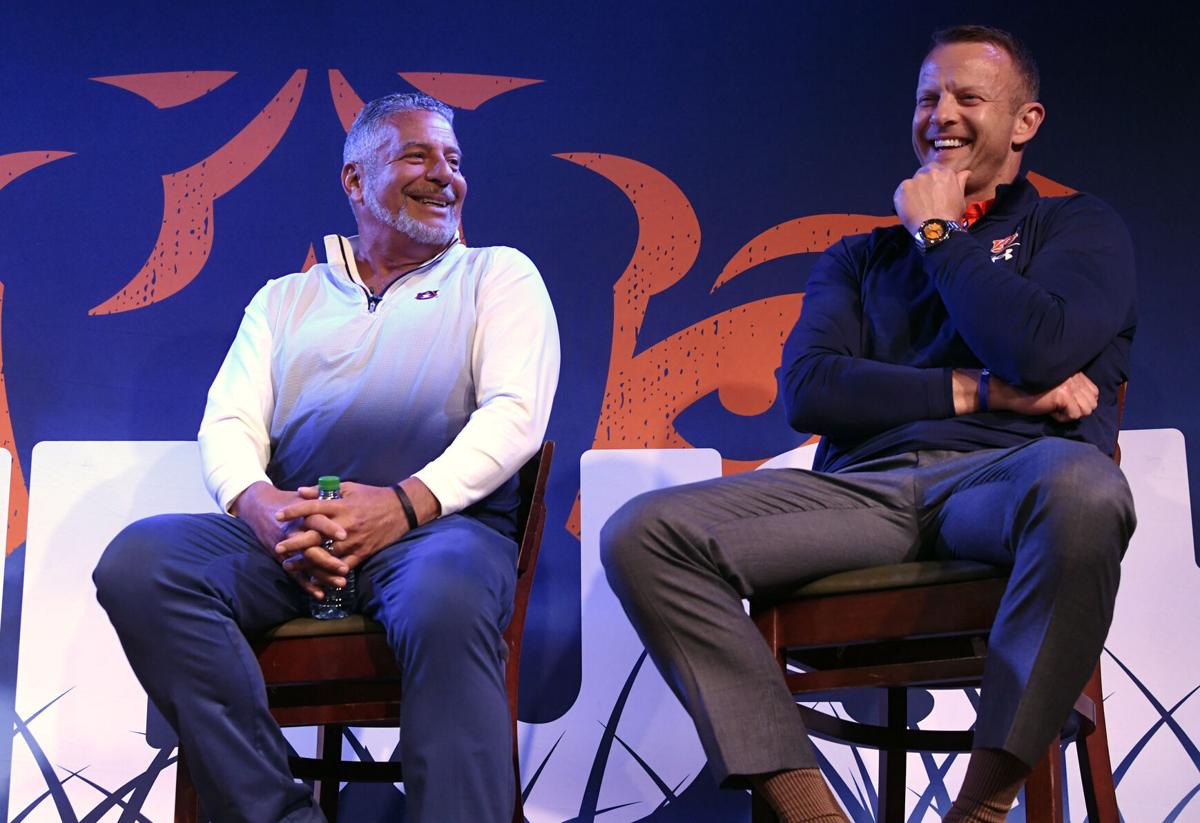 BIRMINGHAM – The state of Alabama joined the name, image and likeness conversation last month when governor Kay Ivey signed an NIL bill into law.
The law, along with potential NCAA rule changes regarding NIL, has put the onus on the state's universities to prepare their student-athletes accordingly.
As it turns out, Auburn has begun laying the groundwork to do just that.
Auburn athletic director Allen Greene as well as football coach Bryan Harsin and Bruce Pearl outlined their plans for NIL during the Tigers' AMBUSH speaking engagement tour on Tuesday. The three explained the value in educating the student-athletes and how important their roles are in ensuring they are able to be properly compensated under the new guidelines.
According to the bill Gov. Ivey signed, college athletes in the state can receive compensation for their name, image, and likeness with a few exceptions such as the money needing to come from a third party – rather than from the university itself – and not arriving through the promotion of products such as tobacco, alcohol, adult entertainment or casinos.
The law's effective date is July 1, the same date as the laws passed by Florida and Georgia.
Alabama, Florida, Alabama, New Mexico and Mississippi have all enacted NIL bills with the accepted rationale being these states would not be left behind by others that are also considering similar laws and that enacting these laws would keep the states aligned with expected rules changes from the NCAA.
For Greene, the biggest point of contention is how the laws between states could differ and what that would mean for the various schools involved.
"I think the toughest part — if anybody can pin down NIL, I'd like to know who that person is, right? Because it is, it's a little bit all over the place," Greene said. "We're still learning interpretations from the state law. Obviously, each state is different. They talk about it, it's not supposed to impact recruiting, but we all know it will, and so what does that look like? None of us know that until we get in it and the dust settles around it, but we want to provide an opportunity for our student-athletes, those who want to have an ability to make some money off of name, image, likeness, for them to be able to do so."
The University of Alabama unveiled its plans for educating its student-athletes on May 4 in the form of The Advantage, a branding platform that will provide Crimson Tide student-athletes with the education and tools necessary to build and elevate their personal brands.
According to a university release, The Advantage will focus on brand management, maximizing personal social media platforms and financial literacy.
Auburn does not have something akin to The Advantage yet, and Harsin explained the conversations within the athletic department are still in the early phases.
"I still think that one is so new. Right now, we're in that idea phase, right? What are some of the ideas? What does it look like? What does it mean?" Harsin said. "I think the concept, everybody understands that and what it's for. And I think that's a thing that we've got to be ready and prepared to utilize in our programs. We don't have a concrete, set plan right now. And I don't think this is something where you have one necessarily because I think every situation and your players – everything is different. Every year is different.
"It's just got to be managed properly. I don't have an answer for that necessarily right now, but it's something that we're talking about. And I think that's got to be something the players are involved in, once this thing is full-go."
Pearl, meanwhile, noted there's been a lot of discussions and a lot of meetings in order for Auburn to stay ahead of the curve. At the same time, he stressed how important it was not to get too much done too soon and unintentionally break rules.
Pearl said he's always pushed for a realistic scholarship for a student-athlete, one that takes care of tuition, room, board, books, fees and then some. He applauded the cost of attendance payments for student-athletes and said he even floated the idea about players getting annuities that the athletes would receive later on.
Pearl explained he wasn't sure what NIL will mean for his players, but he emphasized helping them make the most of their upcoming opportunities.
"The idea that they are going to be able to be compensated for their own name, image and likeness, it absolutely makes sense. Auburn is going to kind of do everything we can to support those student-athletes and, from a compliance standpoint, manage it," Pearl said. "There are limits to what we can do with it, but we'll pay very close attention to what's being done around the country and do everything we can to assist the kids."