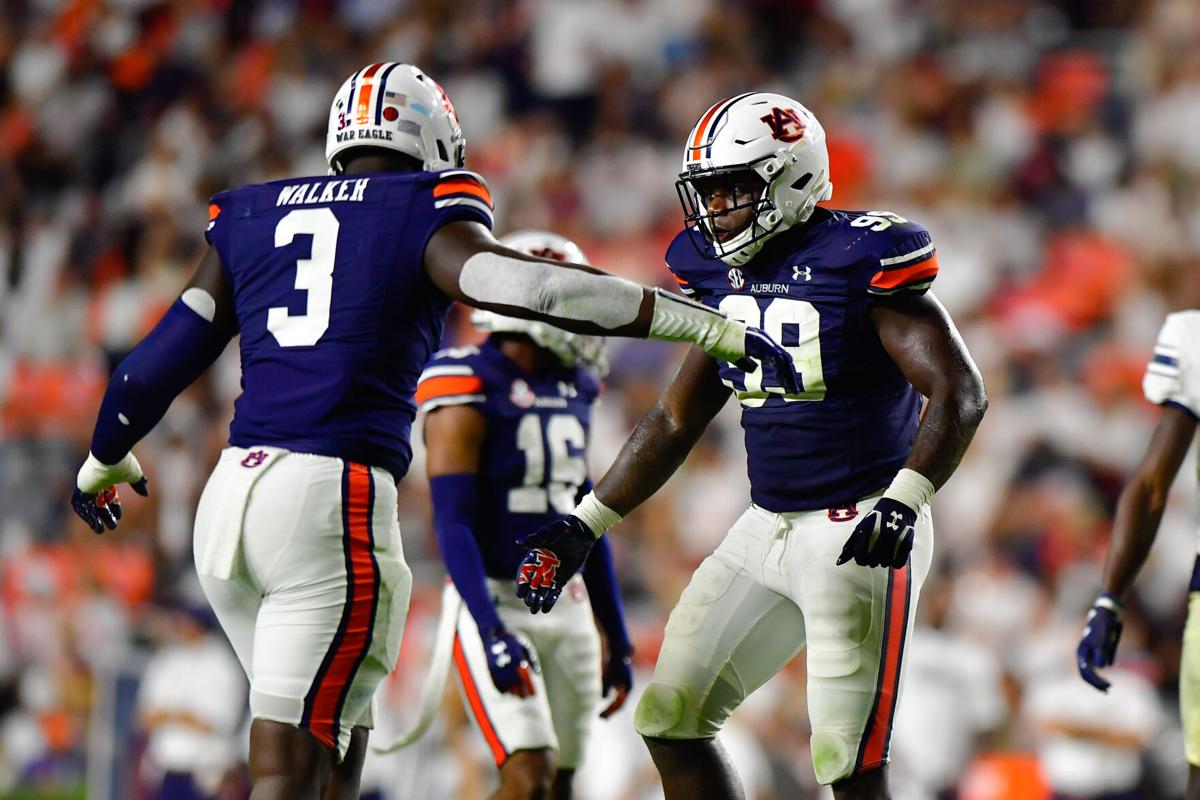 After showing flashes of being an effective pass rusher over his first four years at Auburn, EDGE TD Moultry took it to another level in the Tigers' season opener.
Moultry built upon the praise teammates bestowed on him during fall camp by wrecking the Akron offensive line play after play. The results when the Tigers' 60-10 victory was all said and done were hard to ignore: Moultry had piled together seven tackles – which tied him with linebacker Zakoby McClain for the team-high – along with three tackles for loss.
So, what's so different for Moultry this fall? In his opinion, it boils down to the confidence factor.
"I always told myself I was a walking millionaire; I still am," Moultry said. "I just didn't have the confidence, but now the confidence is there. The confidence is there before the game, the confidence to grow a little bit more from the first game. We'll just keep growing every game."
Moultry's attitude was hard to ignore when he spoke to reporters Wednesday on the heels of his strong outing, which came in his first start and 50th collegiate game. That mindset has been a constant throughout this year for the super senior, who aims to make a difference for the Tigers and realize his long-standing potential.
Moultry wrapped up 2020 with 37 career tackles, 4.5 sacks and 5.5 tackles for loss, but that production – which included only seven tackles last fall – wasn't quite at the level Moultry hoped for. He explained after last football season he started to buckle down – specifically in the classroom, where he posted a 3.2 GPA once the Tigers' 2020 campaign was in the books.
The 2020 season would have been Moultry's last as a Tiger, but the NCAA's decision to give all student-athletes an extra year of eligibility gave him the option of returning for one last ride.
According to Moultry, it didn't take him long to decide he wanted to come back.
"That's easy: I love Auburn," Moultry said. "I don't see nowhere else for TD to play at. Then it's like with family, it's hard for transportation as well. That was another thing – but just loving Auburn, that was the main focus that really had me 110 percent of staying."
Moultry's play drew the attention of several teammates during fall camp, and for Moultry a lot of the improvement stemmed from that newfound confidence. Moultry explained the key for him was to ignore the outside noise; while he's grateful for the attention he has now, he doesn't want to lose his sense of self as a person and as a player.
The attention was warranted after Saturday, when Moultry demonstrated the role he can play among this year's line.
Moultry spoke in detail about the win over Akron, saying being able to get his hand in the dirt on one play and stand up on another allows him to show how versatile he is. He admitted he never saw that versatility in himself before; that, he said, was something the new coaching staff recognized.
Auburn head coach Bryan Harsin certainly recognized it after Moultry made his way through the Zips' offensive line again and again.
"TD, he's a guy who – just talking about that consistency – he does that in practice. He does that in the weight room. He's got that motor that I think we saw that tonight, and I think he was able to go out there and make plays," Harsin said Saturday. "He's obviously talented, and I think his motor, his effort, is something that separates him and why he had the kind of game he did tonight.
"I know he'll continue that too because that's just who he is, so I'm happy for him. I'm proud of him."
Moultry spoke glowingly of his fellow EDGE players, saying each member of the group – which includes Derick Hall, Eku Leota and Romello Height – offers different skillsets that opponents will have to counter. Moultry acknowledged playing alongside Hall and defensive end Colby Wooden would open up opportunities for him, and he hopes to take advantage in the future like he did against Akron.
Moultry explained he always has a chip on his shoulder because of those who doubt him, and his commitment led not only to a big game Saturday but also the chance to be a team captain for the Alabama State game.
For Moultry, that honor was a special one given his experience the last few years, but he's hoping it's only the start of a productive senior season.