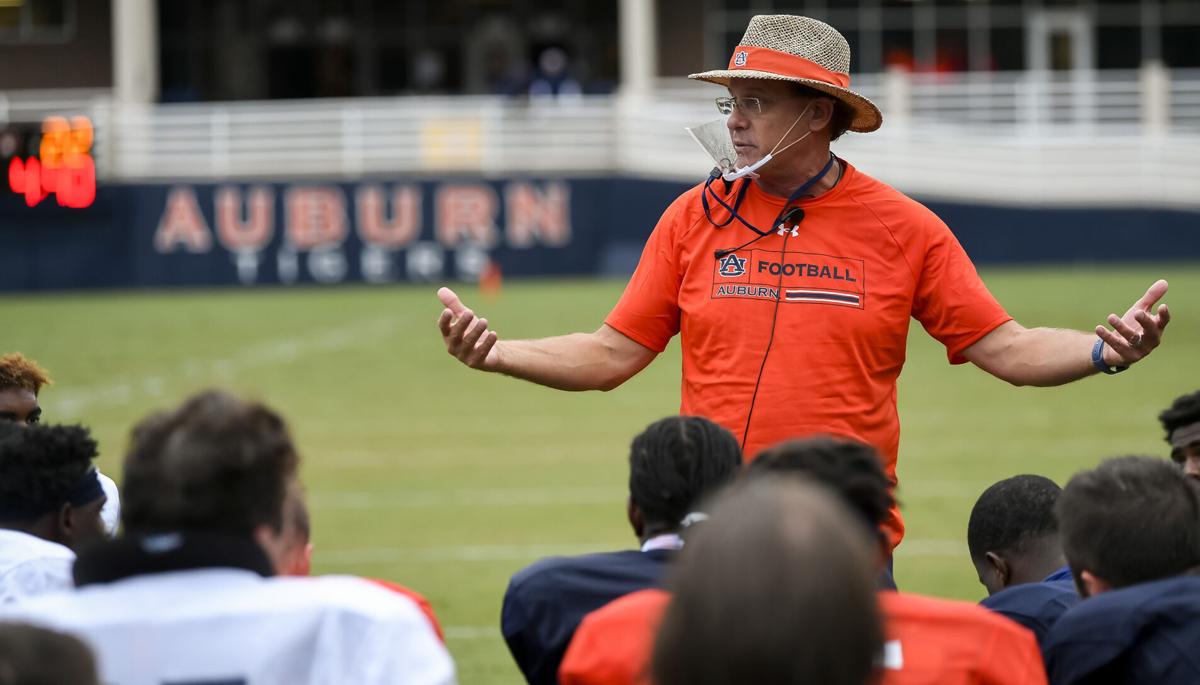 Auburn football head coach Gus Malzahn reported that nine of his players tested positive for COVID-19 last week and that 16 in total are in quarantine, after a tumultuous week which saw practices canceled both over the spread of the virus and over heartbreak from racial tension in America.
Four players tested positive for the coronavirus early in the week before another five tested positive mid-week. The others in the 16 are isolating after contact with confirmed positives. Two position groups were hit deeply, Malzahn said, causing Wednesday's practice to be canceled.
It was later in the week amid the fallout from shootings in Wisconsin that players said they didn't feel comfortable meeting like usual with everything that was going on. The team held meetings again Friday but finally, for Saturday, Malzahn himself called off Auburn's scheduled scrimmage in Jordan-Hare Stadium.
"My No. 1 concern is the mental and physical well-being of our players," Malzahn said in a press conference over Zoom on Sunday night.
Auburn will return to practice this Tuesday.
"Our players were extremely upset as they should have been," Malzahn said. "Our coaches and our staff felt the same way. The players, they really decided they didn't want to attend meetings and I fully support that, along with the staff.
"Saturday I just decided it wasn't best for us to practice," Malzahn also said.
"I just felt real strong that we needed the weekend off," he added. "I think it was a good decision."
Malzahn said he, his coaches and his players are planning ways to use their influence to help create positive change in their community during a time of crisis. It was late in the week last week that NBA players paused the playoffs as a way to call attention on racial tension in the United States. The Auburn men's basketball paused practice on Thursday in a similar way to offer a message of unity.
Malzahn said most of Auburn's players who have faced COVID-19 have not been hit with "major" symptoms, but that Auburn takes every case seriously. He said he felt his team was in a good position with what he calls 'COVID-19 etiquette' during the summer, but that he thinks the team will have to adjust now with students back after the start of the fall semester Aug. 17.
"We're learning as we go here," Malzahn said. "Every day and every week is a different challenge … This is a learning process for everyone. … The challenge with having students back the last two weeks obviously — we hadn't responded as well as we did before. We're going to have to adjust. We're going to have to adapt. We're just taking it day by day and week by week."
Malzahn said the time out for each of the 16 in quarantine will vary by case, but Auburn's protocol for when a player tests positive for COVID-19 calls for that player to isolate for 10 days, then re-acclimate for seven days before returning to full-speed practice.
Those who come in close contact with a confirmed positive are in quarantine for 14 days.
Auburn previously had gone through two back-to-back weeks of team-wide testing with zero positives.
"I really feel strongly that our guys will adapt and adjust, and I feel strongly that we'll be better next week than we were this past week," Malzahn said.
Be the first to know
Get local news delivered to your inbox!