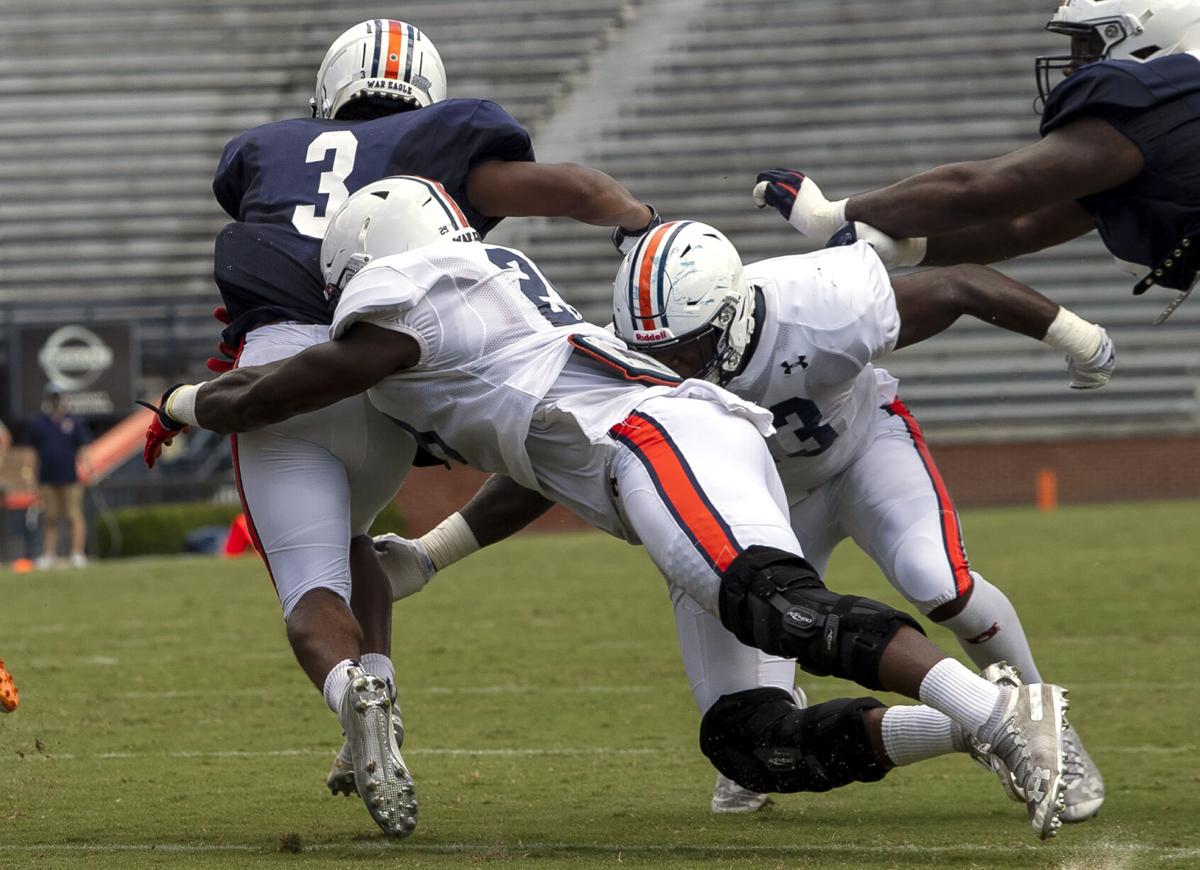 It's been a balancing act for Auburn football this preseason.
But, ready or not, the tightrope keeps taking the Tigers closer to kickoff.
Auburn is turning the page toward preparation for Kentucky starting Sunday, Auburn head coach Gus Malzahn said, now less than two weeks away from that opener with the Wildcats on Sept. 26 in Jordan-Hare Stadium.
Auburn scrimmaged Saturday in the stadium, and the practice may well have come with a sobering reminder for the Tigers about just how close they are to it counting even after this disjointed, virus-affected preseason. Malzahn said Auburn committed more penalties Saturday than its previous two scrimmages. While college football kicked off for ACC and Big 12 teams Saturday, the Tigers were reminded that the real deal is coming soon for them, too.
"We need to improve and we need to get better in the next two weeks," Malzahn said simply.
Malzahn said Auburn ran a scrimmage of just more than 60 plays on Saturday, geared toward preparing the starters and backups specifically, with the plays balanced between run and pass. The team also worked on two-minute situations and live special teams returns. Next Saturday, Auburn will get back in the stadium again, he said, to try to get familiar with the new LED lights that were put on Jordan-Hare this offseason, and to work with pumped-in crowd noise since teams could be employing artificial noise on gamedays with limited fans allowed in stadiums.
That'll be Auburn's last dress rehearsal in the stadium before kickoff with Kentucky.
"Being two weeks away, that's very concerning," Malzahn said of those penalties on Saturday. "We've got to get that cleaned up."
Teams across the country have come out of their unusual preseasons practices to mixed results. Iowa State lost to Louisiana-Lafayette 31-14 on Saturday in the team's first game in the world of COVID-19, and Kansas State lost to Arkansas State 35-31.
Meanwhile, Auburn continued to adjust this past week with two new positive tests coming up from team-wide virus testing, and with 10 players in total out of practice and away from the team in quarantine due to issues related to COVID-19.
Five of those players were starters.
"As it gets closer obviously that's a concern, being two weeks out, with everything that goes with that," Malzahn said.
Still: "Overall, I thought it was a good week," he went on. "I think we got some good work in. Once again, just trying to get our guys game-shape ready and start hitting different scenarios and situations. The next two weeks will be a lot more about Kentucky and getting game ready."
Some of those different scenarios include what the team would do without certain personnel. Malzahn said he thinks the team has developed more depth in this fall camp as compared to previous fall camps at Auburn, given the virus and the way an infection could push players off the field. He has even considered what would happen if he was infected for a gameday, saying he has considered ways he could help the team during a game while still keeping safety first, through live-stream technology or, if possible, being somewhere isolated in the stadium away from the sidelines.
"We've worked extremely hard on it," Malzahn said on developing depth. "When you've got guys out, specifically starters out, it gives other guys opportunities. So on the positive end of it, our other guys got more reps than they've ever got. And if you've got a veteran guy that has a lot of experience that was not able to practice because of a COVID-related issue, then it's going to give you an opportunity to develop more quality depth."
It's part of the process that's presented itself, Malzahn said, and the new normal everyone is living with this fall.
Given all of it, Auburn's taking the time now to be as prepared as possible for live game action and a formidable foe in Kentucky.
Ready or not, kickoff is coming soon.
Be the first to know
Get local news delivered to your inbox!