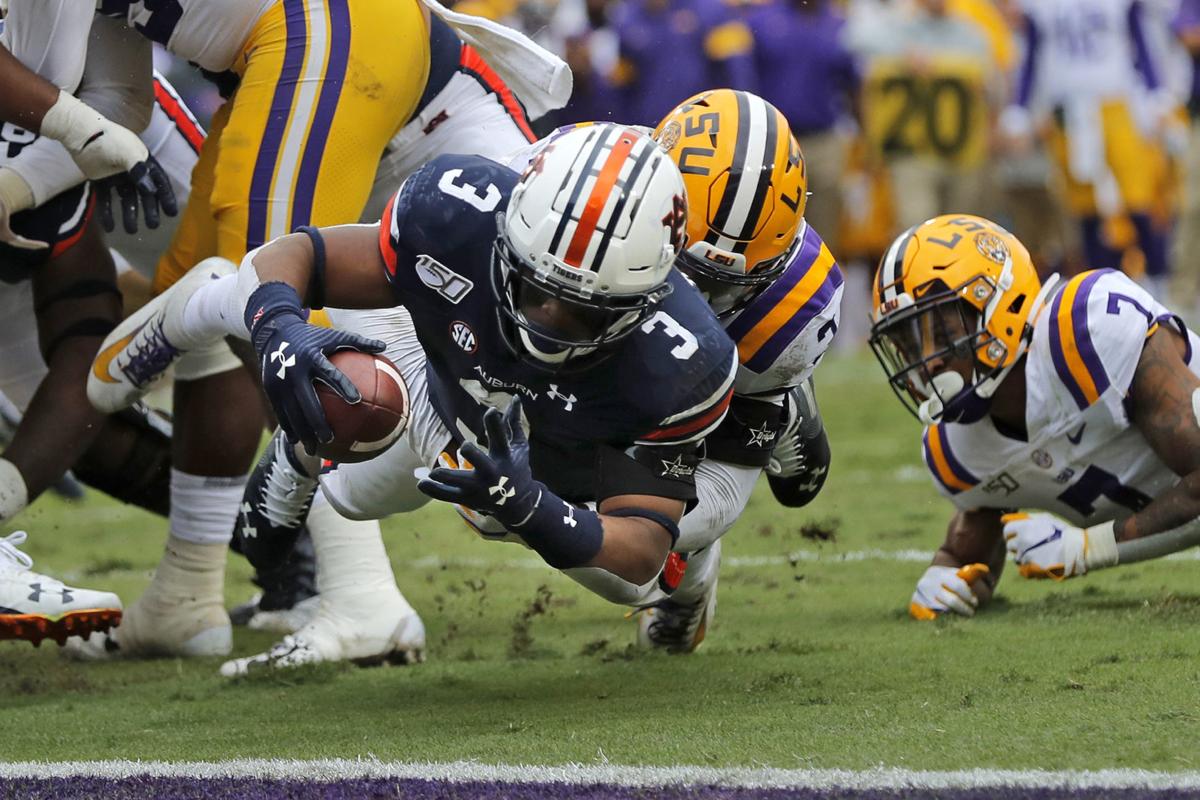 After his surge into the spotlight during Auburn's loss Saturday to LSU, the freshman was soft-spoken outside the locker room under Tiger Stadium. He wasn't trumpeting any moral victories or making any bold boasts.
He has plenty of work left to do.
And he's just getting started.
"I'm just trying to help out any way I can — help my teammates, and get better every day," Williams said, after rushing for 130 yards on 13 carries in Auburn's 23-20 defeat.
Williams broke loose for a 41-yard run late in the first half of the game and for a 70-yard run in the third quarter, flashing some of that ability that fans have been clamoring to see from the touted youngster at running back.
"We've just got to get better — have the confidence," Williams said in his first meeting with the media, among the walk of downtrodden players stepping out of the disappointed locker room Saturday night as the sun set on Baton Rouge. Auburn finished with 287 yards of offense, with 111 of those coming on those two long bursts by Williams.
"Our defense did a great job," he said. "We've just got to get better."
Williams was injured in preseason camp and was limited early in the season, coming back into strength just before leading rusher JaTarvious Whitlow was injured during Auburn's loss to Florida on Oct. 5. Whitlow actually returned to the Auburn lineup Saturday and took carries in a limited capacity, beating the projected absence of four to six weeks laid out by head coach Gus Malzahn when he announced the injury.
With Whitlow out, Williams was primed to take on a larger role within Auburn's stable of running backs, and he took advantage on two flashes last Saturday. He ran for 48 yards on 11 carries a week earlier in Auburn's win over Arkansas before breaking out and racing for those two big gains against LSU.
"He's an incredible player and I'm glad he could be out there in such a big game and play like he did," Auburn quarterback Bo Nix said. "I think that's what he's capable of. He'll just only keep getting better and better. The future is very bright."
Williams signed with Auburn last December, choosing Auburn after being committed at one point to Appalachian State. As Malzahn has described, Auburn found Williams on the recruiting trail and, soon after, many more Power Five programs followed Auburn's suit.
Williams was playing quarterback for Sebring High School in Florida at this time last year, but has drawn the praise of teammates ever since stepping on campus.
"He's a heck of a player. We've said that since camp," Auburn senior right tackle Jack Driscoll said. "I mean, I remember when I first saw him in our first camp scrimmage. I was like, 'This kid can flat-out play.'
Williams finished as the team's leader in carries Saturday, taking 13 with the second-most among running backs coming in sophomore Shaun Shivers' four carries. Whitlow took three carries, all in specialty situations in the Wildcat formation. He was still limited as he returns from injury, Malzahn said.
Whitlow has been a rare talent for Auburn when healthy. Malzahn said so when Whitlow went down. When he's at full strength, Whitlow could come back to take the tiger's share of carries in the backfield with the coaches' confidence that he's the team's most effective every-down back. Williams showed explosiveness on two plays but outside of that mustered just 19 more yards on 11 carries.
For Williams, though, his focus is the same, no matter how soon Whitlow gets back to full speed.
None of Auburn's running backs have ever signaled that they take anything less than a team-first approach to production in the Auburn backfield, always happy for their teammates when they play well.
"I don't really think that matters," Williams said, when asked where Whitlow's return sends the backfield moving forward. "I'm just going to show up every day like we been have, grinding together with my brothers. Just get better."
And the more Williams grows, the better Auburn's offense will get.
"I was happy for him," Driscoll said. "He hit the hole hard, he has good vision and, look, we've got a lot of running backs that give us a chance to succeed and make plays downfield.
"He's a dynamic player that I'm sure will get more touches moving forward."
Be the first to know
Get local news delivered to your inbox!