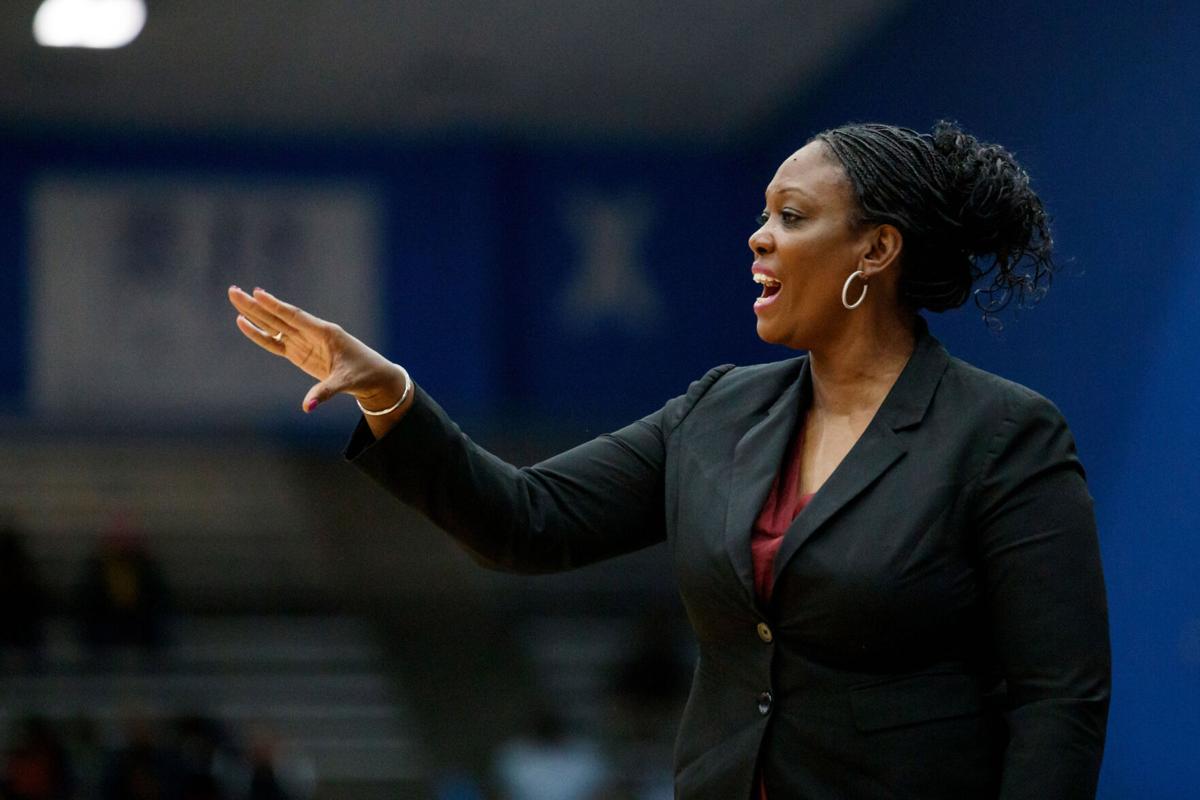 Auburn has found its next women's basketball coach, in a woman who helped build Mississippi State into a power.
Auburn has hired Johnnie Harris as the seventh women's basketball coach in program history, the program announced on Saturday.
Harris has spent the last 14 seasons working alongside Texas head coach Vic Schaefer, coaching with him from 2012 to 2020 at Mississippi State before they jumped to Texas this past season.
Harris served as associate head coach at Mississippi State for eight seasons, and during that time, the Bulldogs rose to unprecedented heights for the program, making the women's Final Four in 2017 and 2018.
"I am excited and honored to join the Auburn Family and be part of a program with such a storied tradition," Harris said in part in a statement released by the university.
During both those trips to the Final Four, Harris and Mississippi State won there to make the national championship game both years. Mississippi State won the SEC regular-season championship in 2018 then swept both the conference's regular-season title and the league tournament title in 2019.
Harris won the Women's Basketball Coach Association's National Assistant Coach of the Year award in 2018.
This season, Harris served as associated head coach for a Texas team that made the Elite Eight.
"First, I want to thank God for blessing me with this amazing opportunity. … I want to thank Dr. Jay Gogue, Allen Greene, Monique Holland and the search committee for the opportunity to lead the Auburn women's basketball program and be part of a community that embraces its university and its athletic program with such enthusiasm," Harris said. "It is humbling and exciting to join an athletic program that is as welcoming, passionate and committed to success as Auburn, and I can't wait to start building this program to be among the best in the Southeastern Conference."
Harris is replacing former Auburn women's basketball head coach Terri Williams-Flournoy, who coached at Auburn through each of the last nine seasons. Auburn announced a head coaching change in early March shortly after the Tigers finished the season winless in conference play.
Harris played at Arkansas-Pine Bluff from 1984-86 before transferring to Arkansas Baptist College and finishing her career there from 1987-89.
Harris coached as an assistant at Arkansas-Little Rock, Arkansas-Fort Smith, NC State and Arkansas early in her career, before first coaching alongside Schaefer in 2007 when both were on the same staff at Texas A&M under longtime Aggies coach Gary Blair. They jumped together to Mississippi State in 2012 then to Texas in 2020.
At Mississippi State, Harris was a part of five straight NCAA Tournament appearances for the Bulldogs. The team made the Elite Eight in 2017, 2018 and 2019. Those are the program's only ever Elite Eight appearances.
Auburn athletics director Allen Greene said Auburn was "thrilled" to welcome Harris to the Plains.
"Her experience helping build national championship-caliber teams is incredible and her ability to recruit elite players is evident by the success of the programs she has worked with," Greene said. "Every coach and program strive to win championships and Johnnie has worked with that blueprint, particularly in the SEC.
"What impressed me most throughout this process was her strong relationships with the student-athletes she recruited and coached — she's a developer of talent on the court and in life. Everyone speaks to her incredible work ethic, drive and character, which is required to be successful at the highest level. We are delighted to welcome Johnnie to the Auburn family."
Mississippi State went 34-5 in 2016-17, only losing in the postseason to powerhouse South Carolina in the SEC Tournament championship game and the NCAA Tournament championship game. In 2017-18, Mississippi State went 37-2 overall and 16-0 in the SEC in the regular season — with its only losses coming the SEC Tournament championship game to South Carolina and then in the NCAA Tournament championship game against Notre Dame. In 2018-19, Mississippi State went 33-3 overall, winning the SEC Tournament and only losing in the postseason to Oregon in the Elite Eight.
Auburn once reached those levels of success back in the late 1980's, going to three straight national championship games under Joe Ciampi, but the Tigers haven't consistently reached that level of success in any era since.
After Ciampi retired in the early 2000's, Nell Fortner won the regular-season SEC Championship with WNBA All-Star DeWanna Bonner in 2008-09, going to the NCAA Tournament for the second and final time during her eight-year stint on the Plains. Auburn went to the NCAA Tournament three times in nine years under Williams-Flournoy, but, like under Fortner, never advanced out of the second round.
Harris has been a part of six consecutive trips to the NCAA Tournament, not counting the year the tournament was canceled in 2020, which would've marked a seventh.
Texas this season went 21-10, falling to Baylor in the semifinals of the Big 12 Tournament before then going on a tear to win three games at the NCAA Tournament before falling to South Carolina in the quarterfinal round.