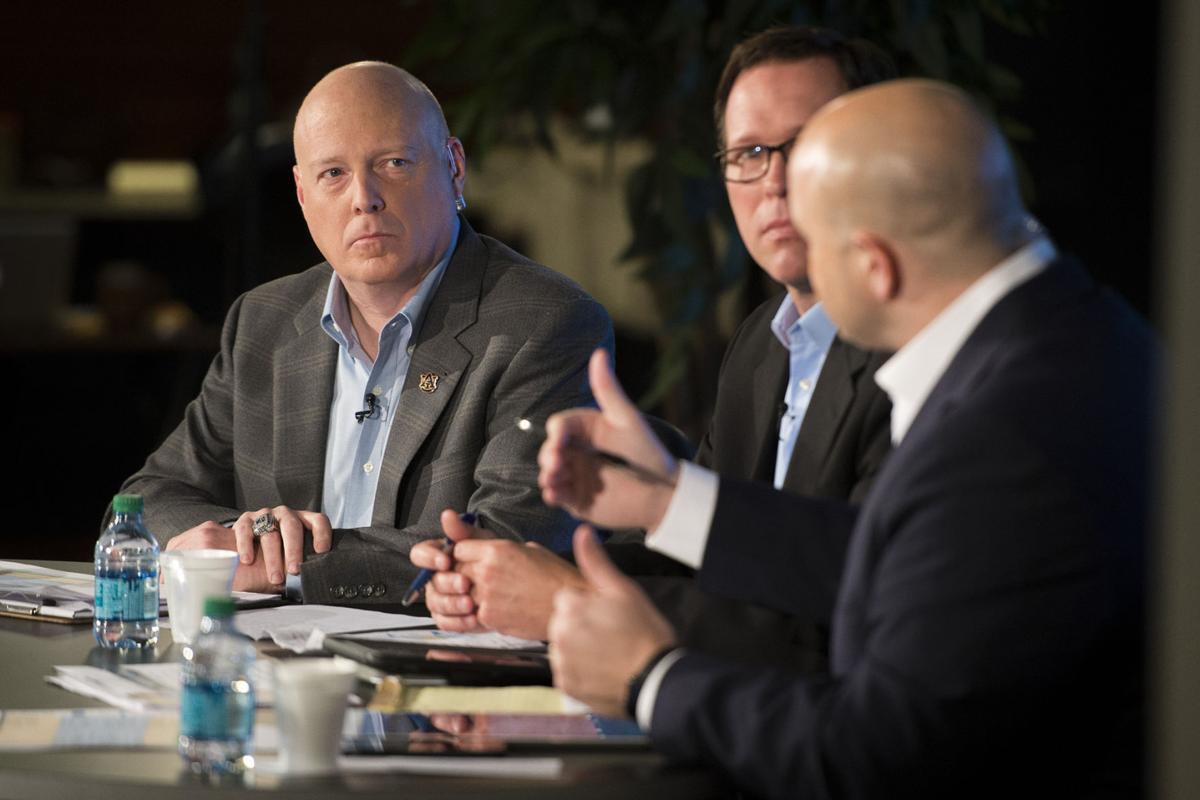 "They're not gonna keep them off the field tonight," his voice trumpeted up to the heavens, crackling into his headset microphone and echoing out over the airwaves.
Their hearts were with his. Thousands had started jumping the barriers and trampling over the hedges at Jordan-Hare Stadium, storming the field on the most triumphant of nights, while the man behind the voice of the Auburn Tigers watched from above, tasked with describing the indescribable.
"Holy cow," he clutched the nearest person he could hug, arm in arm in the press box, as those down below in a sea of proud orange and blue started to jump for joy together on the Plains. "Oh my God," he exclaimed, his breathless shout capturing the electricity in the moment that brought strangers together to celebrate and that brought families together to embrace.
Rod Bramblett died Saturday night.
His voice lives on through calls like that one, from his famous broadcasting of the 2013 Iron Bowl.
He and his wife, Paula, were both killed in a fatal car wreck in Auburn. They leave behind two children.
And he was, Auburn University proudly boasts, the voice of the Auburn Tigers, serving as the director of broadcast operations for Auburn athletics and as the lead announcer for the school's football, men's basketball and baseball teams.
He had been on the call for Auburn football and men's basketball since 2003.
He had been calling Auburn baseball since 1992.
Now, suddenly, the Auburn baseball team is getting ready for an NCAA Tournament regional without him.
Auburn is in shock — both the community that he and his wife were an active part of, and the university that he represented.
Bramblett was hugging his play-by-play partner Stan White on that night in 2013, and anyone else within arm's reach in the radio booth, after Chris Davis returned Alabama's missed field goal 109 yards for the game-winning touchdown in the Kick Six.
The passion in his call echoed the passion for the team from the fan base he served. For a professional talker, his greatest ability may have come in his listening. On calls like that one, his voice seemed to channel what he heard and felt in the moment around him, and it was in that way that he created the soundtrack for so many listeners' favorite sports moments.
The love in his work and his award-winning skill shined in those moments for which Auburn fans know him best — the quick wit in his wording effective as often as the times when a jubilant shout and a step aside in favor of a roaring crowd around him successfully captured those moments he was tasked with illustrating.
He called that game "the mother of all Iron Bowls" in his opening read, which started the game's radio broadcast. It was in those opening reads that he so often and so masterfully painted a perfect picture of the day's great challenge, conjuring allusions to battles like those in the coliseum when describing a fever pitch in Jordan-Hare, or with comparisons to David and Goliath assuring an event of biblical proportions, all with just the sound of his voice.
That same voice, ever steady, could've just as soon soothed fans waking up on Sunday mornings and stirring with the Auburn Football Review show hosted by Bramblett and invited into living rooms across the area on TV.
He was everywhere Auburn athletics was for almost 30 years, and at the forefront for 16.
Auburn University's student body is loaded now with youngsters who've only ever known Bramblett to be the voice of the Auburn Tigers.
Older fans know Bramblett's time on the job began with tragedy as it ended. Bramblett took over on football and men's basketball in 2003 after the unexpected death of longtime Auburn broadcaster Jim Fyffe.
Bramblett was thrust into an impossible position then. When fans wanted only to hear their beloved Fyffe again, they heard Bramblett.
Bramblett handled the situation with absolute grace.
"Go crazy, Cadillac," he shouted a few months later. On the first play of his first Iron Bowl, Bramblett's voice became immortal, when he called Carnell 'Cadillac' Williams' 80-yard touchdown run to open Auburn's 2003 win over Alabama — the first of so many more memorable calls made in his illustrious career.
Bramblett won awards, but more importantly, touched listeners through an incredible 27-year career calling Auburn sports. He was named National Broadcaster of the Year by Sports Illustrated in 2013, after he serenaded Auburn football's thrilling wins over Georgia and Alabama that fall.
Better still were the countless times he was trusted by Auburn families to tell them about their beloved Tigers, reaching for radio sets and tuning to Bramblett's voice together for almost 30 years.
He might've had just as much fun, too, handing a headset over the scorer's table to his fellow Auburn men like Bryce Brown for postgame interviews. Bramblett graduated from Auburn in 1988.
He smiled just as wide as class of 2019 kids like Brown, the basketball team's shooting guard, when he sat close and called every step of Auburn's run to its first-ever men's basketball Final Four this spring.