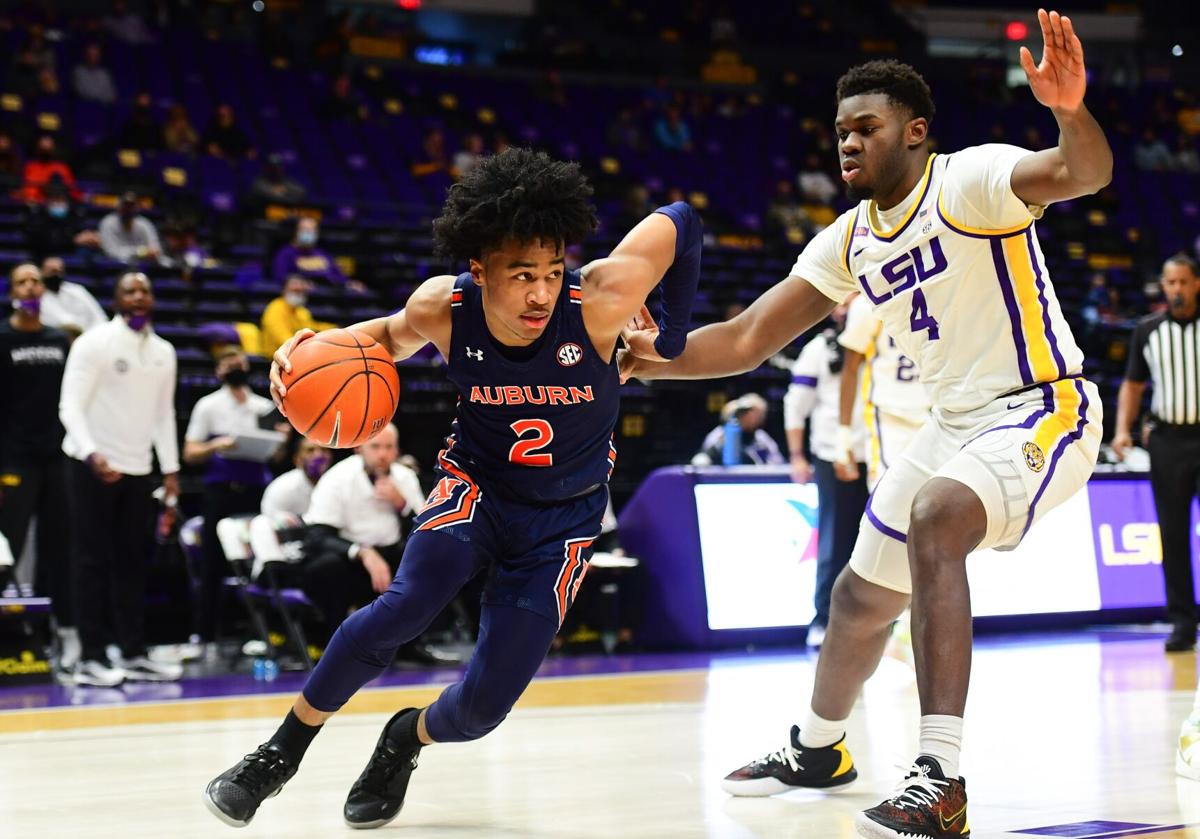 Thanks to unforeseen circumstances, the Auburn Tigers have gone 17 days without a home game as part of a stretch in which they've faced their longest SEC road stretch in 24 years.
That stretch finally ends Tuesday, but it ends against an opponent that the Tigers will have to battle with in order to have a chance at winning.
Auburn (11-12, 5-9 SEC) has a fight on its hands at 6 p.m. Tuesday when the Tigers host Florida (11-6, 7-5 SEC) for the first meeting between the two teams this season. The Gators enter the game after enduring three postponements in early February before losing to Arkansas on Feb. 16 then beating Georgia on Saturday.
The Tigers haven't played at Auburn Arena since their dramatic overtime loss to Ole Miss on Feb. 6 due to the postponement of the Mississippi State game originally slated for Feb. 16. Since that time, Auburn has endured a pair of losses in a two-point defeat to Kentucky and a 24-point loss to LSU.
Auburn coach Bruce Pearl was audibly displeased with the play against the Tigers on Saturday, and he explained on Monday that his frustrations stemmed from what he felt was a good plan that was not well executed.
"I thought that even though what they did defensively we hadn't seen before, I thought we had some nice slips and some really good looks. We got some of them executed but not enough," Pearl said. "We scored 80 points, and that wasn't the problem. The problem was, once again, defensively, keeping guys in front of us. Cam Thomas and Javonte Smart and Trendon Watford are really, really, really good players, and they all played really well.
"I just didn't think going in that they were that much better than we were, but they played it that night."
As for the matchup with Florida, Pearl commended the Gators for leading the SEC in field goal percentage along with playing solid defense. He pointed out that Florida's multiple defensive looks force a young team to think and respond, and their ability to block shots can cause problems for the Tigers if they look to work the ball down low.
Pearl spoke about players getting excited for individual matchups, which he felt was possible in the matchup with the Gators. He pointed out guard Tre Mann, who is fifth in the SEC in assists per game, as well as forward Colin Castleton, a former Michigan player who has made his mark this season.
Castleton has been a force in his first season playing back in his home state, and that was the case again Saturday against Georgia. The 6-foot-11 junior wreaked havoc on Georgia, scoring a team-high 14 points and contributing seven rebounds while holding the Bulldogs' P.J. Horne to an 0-for-5 showing from the floor in a 70-63 Florida victory.
Pearl has repeatedly pushed for his Tigers to play with more physicality, and he knows that will be needed in order to slow down Castleton.
"He does a great job of finding a way to get you on his back, you know? He does a great job of stepping in front and just kind of smashing you on the back side," Pearl said. "Young guys have to do a good job of beating him to the spot and figure out a way to stay on top without getting too high and, you know, match his physicality. We'll probably have to help some down in there if he gets in there deep, but he can score with either shoulder."
While Castleton could provide a matchup problem for Auburn, the Tigers could be facing a golden opportunity for point guard Sharife Cooper to show out.
Cooper was one of the Tigers' only players to stand out offensively against LSU, and he is looking at a game against a Florida team that has struggled to slow down opposing guards this season. That much was evident from Saturday's game against the Bulldogs in which Georgia guard Sahvir Wheeler scored 27 points – including 15 in the second half – to ensure the Bulldogs didn't let the Gators completely pull away.
Pearl hasn't been shy about discussing Auburn's growing pains this season, and on Tuesday he compared this year's team to his 2016-17 squad that went 18-14 and finished 11th in the SEC. He noted both teams struggled in transition defense along with toughness and physicality due to their inexperience, and he said he's eager to see what happens this offseason since the team should have five weeks of spring workouts.
While Pearl knows the offseason offers a chance for his Tigers to improve considerably, he remains focused on the remaining games. The Tigers have at least three more games this year – Pearl said Tuesday there's been no word about rescheduling the Mississippi State game – and in those matchups Pearl is looking for his players to take another step forward.
"I'd just like to see if we could get a little bit more tougher, a little bit more physical and make it harder for people to score and see if we can do it on the offensive end without turning it over," Pearl said. "That's going to be a challenge for us, but those would probably be two things we can make the most progress in."