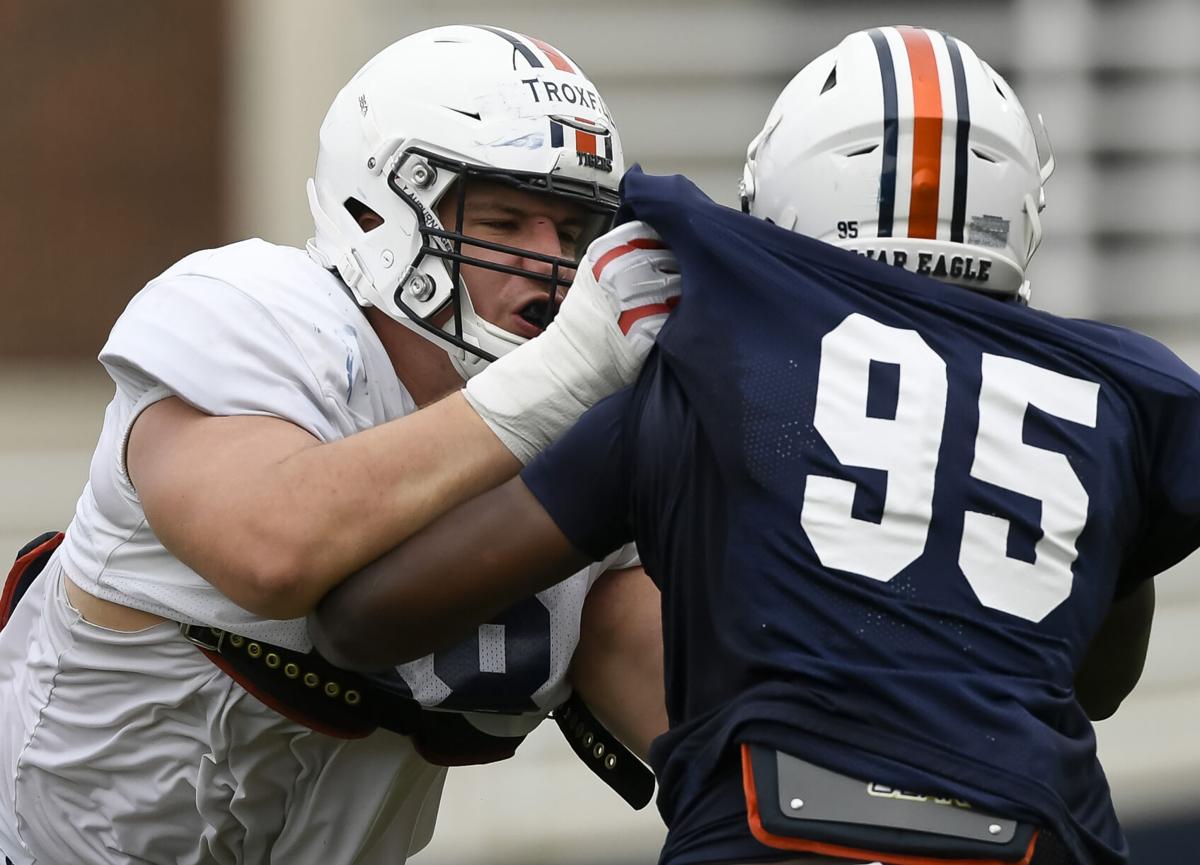 After suffering three torn ACLs dating back to his high school playing days, Auburn offensive tackle Austin Troxell fully appreciated what he was able to do in 2020.
Troxell was back full strength last fall after an ACL tear ended his 2019 season during the spring, and he did his part to help solidify an inexperienced offensive line. Troxell pushed Alec Jackson for the starting left tackle position, and while Jackson got the upper hand early Troxell played in eight games and wound up starting the Tigers' final four contests.
With considerably more experience under his belt now, Troxell is determined to take the next step and once again fight for a starting role up front.
"It was good to be back out there [last season]. It was a fun year for the most part, to stay healthy for all of it. It's been a long road, so it was good to definitely be available most of the year," Troxell said Wednesday. "Now I feel like I'm more confident in myself. I feel like I can actually do it, especially staying healthy. There was so much uncertainty whether or not I'd be able to play and all that. Definitely just proving to myself that I can play at this level and start and contribute."
Troxell's 2020 season centered around rising to the occasion when called upon.
Troxell was Jackson's backup at left tackle until the Iron Bowl on Nov. 28, when Jackson was held out due to a hand injury. Troxell took over the starting left tackle role against the Crimson Tide and maintained it for Auburn's games against Texas A&M, Mississippi State and Northwestern to end the season.
Troxell proved he could handle the long haul of a season, but the results across the board for an offensive line featuring four new starters were shaky at best. The good news for Troxell and the rest of the linemen is they're all coming back, and based on Troxell's view they're taking advantage of the added experience.
Troxell said the linemen are more physical now than when they started the spring, which was understandable after the players went a few months without being on the field. He praised the leadership of new strength coach Jeff Pitman, who Troxell said challenged the linemen throughout winter workouts, as well as that of line coach Will Friend.
Troxell explained the transition under Friend has been a good one and that the main focus for Troxell has just been learning what the veteran offensive line coach expects on the field.
Troxell is part of a position group that includes incumbent starters Jackson and Brodarious Hamm along with two former junior college linemen in Brenden Coffey – who played significant snaps at the end of last year when Hamm was banged up – and Kilian Zierer. The offensive tackle position has been one of the most talked about this offseason given the uncertainty at the two spots, but based on what Troxell has seen there is little reason to panic.
"As a group, I think we have a lot of talent. Me, Bro and Alec, we all got our feet wet last year, got a year under our belt. And Coffey some reps," Troxell said. "Kilian, he's coming along and had a good spring so far. I'm confident with the guys we have now. I'm not really paying attention to any of the doubts from outside. I know what we can do as a group, and we've just got to show it."
Troxell emphasized the value of the playing time for himself and the other new starters on a 2020 offensive line on which only center Nick Brahms had started before. Troxell said the players faced so much uncertainty going into games, but experiencing that last fall against an all-SEC schedule introduced each lineman to what they can expect on a weekly basis.
Troxell said having that knowledge provides much more confidence for all the linemen, which he thinks will set them up to take a step forward come fall.
Troxell's injury issues were a thing of the past last season when he battled for a starting role and ultimately stepped up when Jackson was sidelined. Now Troxell is playing with much more confidence and has done his part to show his new coaches he can be a valuable piece up front.
"[I've been focused on] just being more consistent overall, definitely in the pass game," Troxell said. "You know, I think I'm taking a step forward this spring. I've got to finish out strong, but I think I've improved in that area."