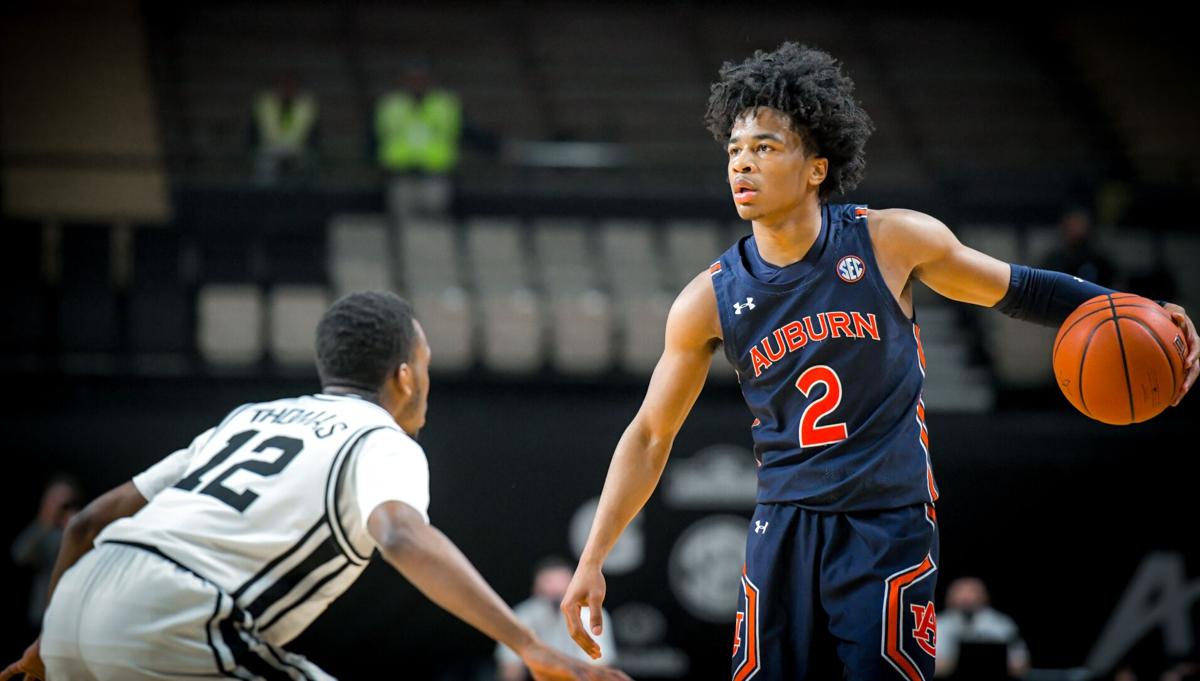 Auburn point guard Sharife Cooper is ready to find out what the NBA thinks of his game.
Cooper announced on social media he plans to enter the 2021 NBA Draft and hire an agent, which means his time at Auburn will come to a close. The news comes after Cooper shined in a 2020-21 season that was abbreviated due to eligibility concerns and an ankle injury.
"This past year has been nothing short of special – one of the best years of my life coming here to Auburn and being embraced by something that's bigger than me," Cooper said in a video announcing his decision. "It was a tough decision, a hard decision, but with that being said, I would like to declare for the 2021 NBA Draft and hire an agent. I'm forever grateful to be a part of the Auburn Family.
"If I had to make the decision a million more times, I'd pick Auburn every time. War Eagle."
Cooper becomes the second Auburn player to declare for the draft. Freshman forward JT Thor declared but has not hired an agent, which means he could ultimately return for his sophomore season at Auburn.
Cooper posted a team-high 20.2 points per game and a .391 field-goal percentage while also contributing 97 assists and 51 rebounds as a freshman. He also scored or assisted on 471 of Auburn's 996 points – 47.2 percent of the points – when he was in the lineup.
Cooper was one of three freshmen in the nation with five games of 25 or more points at the end of the regular season, and he was responsible for three of the four points-assists double-doubles by a freshman in program history dating back to when assists became an official NCAA statistic prior to the 1983-84 season.
"His character and his hard work clearly shined through his lone season with us. After missing 72 days of practice, he started his first game against Alabama and put up 26 points and nine assists to help us take the would-be SEC champions down to the wire," Pearl said. "He is a once-in-a-generation point guard who has an uncanny ability to score and help others score. I'm proud of him, and he'll always be an Auburn Tiger."
Cooper's freshman season with the Tigers was a roller-coaster ride.
Cooper sat out the Tigers' first 11 games of the season while the NCAA reviewed his eligibility status, which also led to the freshman missing 72 practices. The NCAA declared him eligible on Jan. 8, and the next day he burst onto the scene by dropping 26 points along with nine assists and four rebounds in a four-point loss to Alabama.
Cooper was named SEC Freshman of the Week following his performance against the Crimson Tide.
"Ever since I was a little kid I was always playing in pick and rolls, just trying to get better in pick and rolls, so the main thing I do is keep my head up. If you're open, I'm going to find you. If you're backdoor, I'm going to find you on a lob. So I always tell my guys, 'Be ready,'" Cooper said after the Alabama game. "I was just talking to those guys and they keep talking to me, and we're building chemistry as we go. We haven't had much time but we'll figure it out and we'll get rolling."
Cooper kept his strong play up during the Tigers' next 12 games before suffering a left-ankle injury during practice on Feb. 21. He missed Auburn's final three games as a result.
Pearl and the Tigers were seemingly preparing for Cooper's departure in the weeks after the season ended. The team added College of Charleston point guard Zep Jasper in March and has also offered former Missouri guard Xavier Pinson.