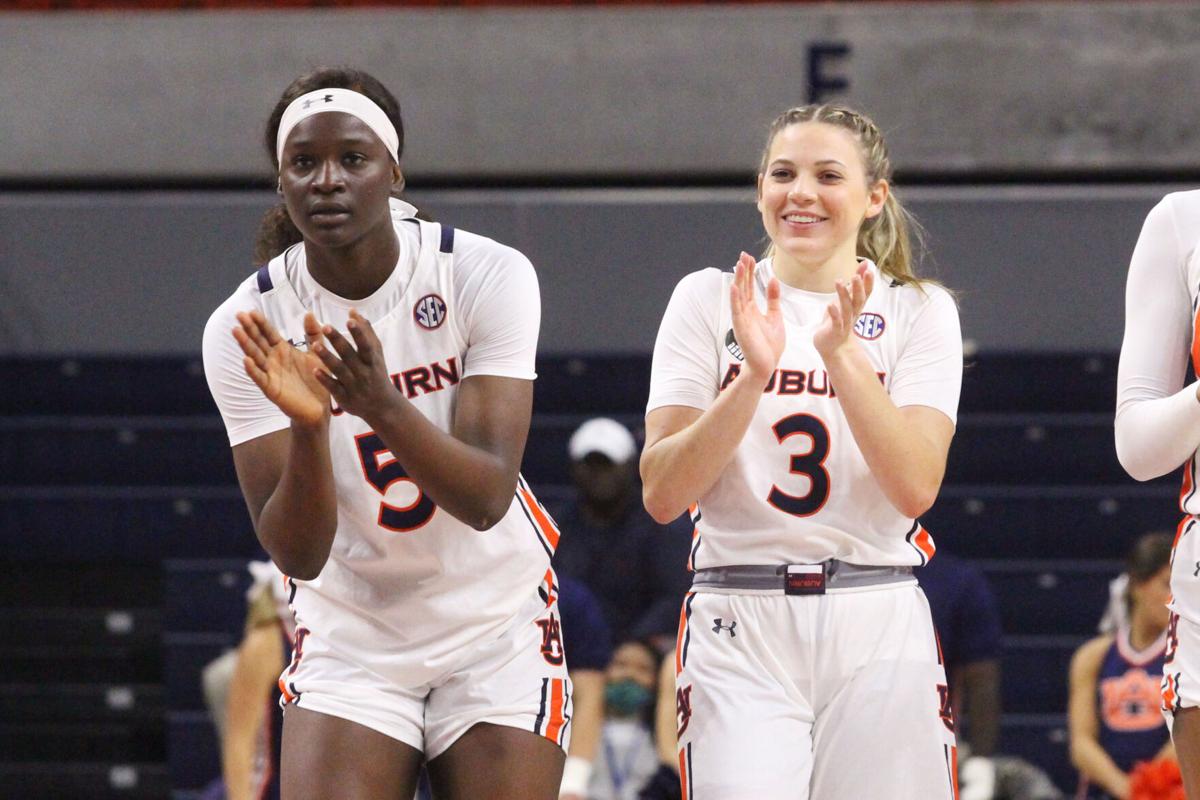 The Tigers had been waiting to make a good mess.
The Auburn women's basketball team mobbed coach Johnnie Harris with silly string in the locker room after her first official victory on Tuesday night, laughing and jumping in excitement after a 74-45 victory over Alabama State.
The win marked Harris' first regular-season win at Auburn and first as a head coach. She got in the celebration by flinging water right back at her players — before eventually turning her back and letting them have their fun as she took the silly string all over.
"I think they really, really wanted it tonight," Harris said after.
Indeed, the Tigers started fast and finished strong.
Honesty Scott-Grayson recorded a double-double for the Tigers with 20 points and 10 rebounds. She scored nine in the first quarter as Auburn jumped out to a 19-5 lead by the end of the first frame.
Then after two more closely contested middle quarters, the Tigers outscored the Hornets 24-7 in the fourth quarter to put the game away down the stretch.
"Our hard work led to the win," Scott-Grayson said.
Kyae' White scored another 15 points with seven rebounds.
Alabama State scored the first basket, but after Auburn took the lead two minutes in, the Tigers never trailed.
Alabama State did outscore Auburn in the second quarter and cut a 14-point lead at the end of the first quarter down to a 10-point margin at 35-25 by the half. It was a closely contested third quarter, too, but Xaria Wiggins scored at the quarter buzzer to make it 50-38 and nudge the lead up to 12.
In the fourth, the Tigers pulled away. Jala Jordan hit two 3-pointers in the fourth. Scott-Grayson pulled down her 10th rebound to get her double-double with 12 seconds left in the game, then hit her two free throws after she was fouled on the put-back attempt to give the game its final score.
"That's what our coaches made a big emphasis on: finishing," Scott-Grayson said. "I feel like it's very important that we finish because, in all reality, we haven't been finishing like we want to, so to just be able to go out there and just stay on top of our game and just finish the game, that was really big for us."
It was Auburn's most complete performance in the regular season and best since the preseason exhibition against Miles College. The win moves Auburn to 1-2, and bounces the Tigers into the win column after losses to Georgia Southern and Old Dominion.
"It does really feel good to get this win — for them," Harris said. "They've put in a lot of work. We've been asking them to do a lot. We're asking them to come in and we're introducing them to a whole new system. So to get them to do what we ask them to and to see it pay off just really felt good."