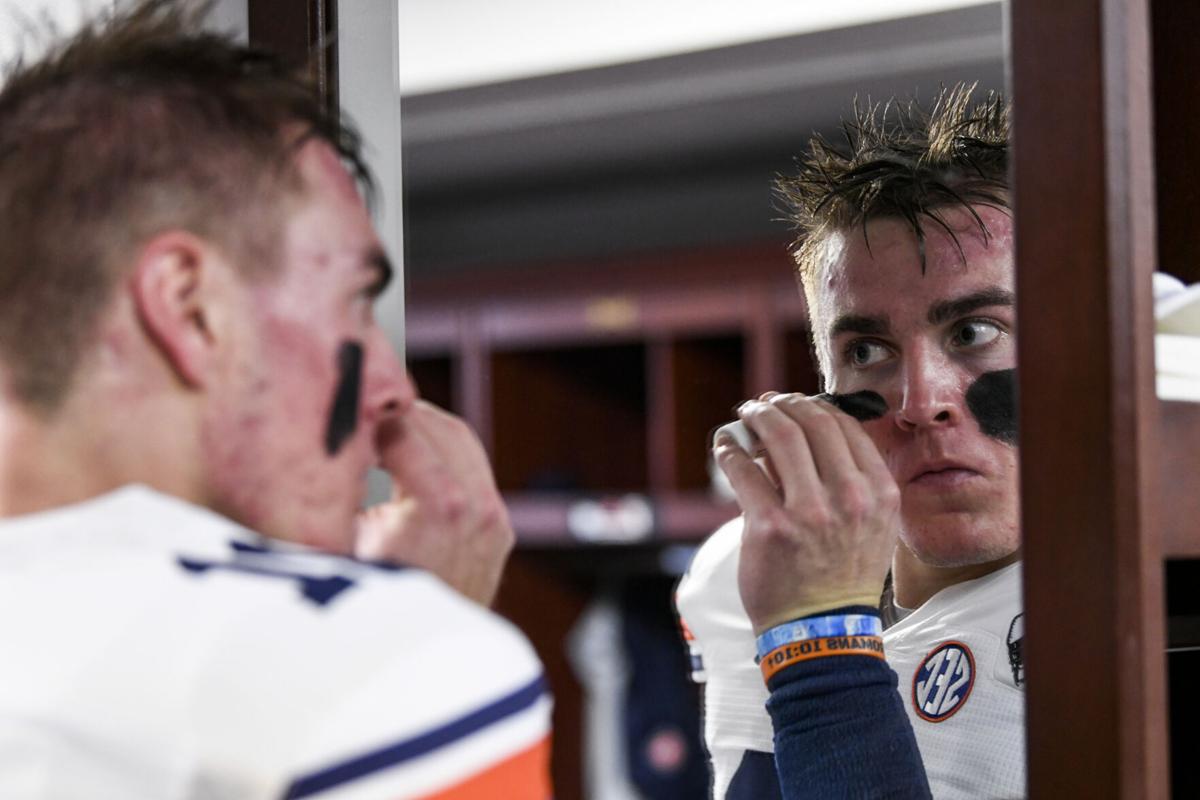 Change has been a constant throughout Auburn quarterback Bo Nix's time with the Tigers.
Nix has seen his fair share of new setups entering his third year at Auburn, as he had different play-callers in his freshman and sophomore seasons and will have his third offensive coordinator in three years in 2021. This season features the biggest change yet, as head coach Gus Malzahn has been replaced by Bryan Harsin and only one of the Tigers' 10 assistants from the 2020 staff is back.
Nix has dealt with many moving pieces since Malzahn was fired on Dec. 13. As tough as some of those situations were, the rising junior has remained optimistic about what's to come.
"Change is difficult. Change is hard to go through, but sometimes, if you take advantage of it on the other side of change it can present an opportunity," Nix said. "I think that's what we have right now. We have a great opportunity with our new staff. We're all excited. We were excited to get on the field on Monday, that's for sure, to be around different coaches and do some different things.
"To continue on with that, we're extremely excited looking forward to the future."
Auburn's offseason changes set Nix up with two coaches in Harsin and offensive coordinator Mike Bobo who are well-versed in what it takes to play quarterback at the collegiate level. The duo not only started behind center – Harsin at Boise State, Bobo at Georgia – but the two built positive reputations through the years as assistant coaches for their work with a number of successful quarterbacks.
Nix said he's enjoyed getting to know Harsin and Bobo over the last few months, which Nix explained was made easier by the fact the coaches were around more because travel for recruiting is still limited.
"They've had a lot of experience and they've also had a lot of success. When you look at coach Harsin, he's coached some good quarterbacks and they've done a really good job in his system. He has won a bunch of games, and I think that speaks to his leadership and him being a head coach," Nix said. "Coach Bobo has been through his time at Georgia, and he had some really good quarterbacks and offenses. He's very multiple. Both of them are very multiple.
"I'm excited to learn different things and maybe try some different things. At the end of the day they'll put me in a great situation. I'm confident of that."
Nix looks to benefit from a head coach in Harsin who endured plenty of change during his playing days since Boise State went through three full-time head coaches in his four seasons. Nix complimented the way Harsin has been in constant communication with the Tigers, and in Nix's opinion Harsin's relationships with his players and attention to detail has already become obvious.
Nix provided a small glimpse into some of the changes to the Auburn offense this year, explaining the Tigers may go under center a little more than they did before. He added there will be some carry-over from the past and explained that, generally, a football play is a football play and the majority of offenses run similar schemes.
"It's just learning those little things that are different," Nix said. "At the end of the day you're either running or throwing, so that part is going to be similar. It's just the presentation that may be a little different."
Nix talked broadly about what he's learned from his coaches over the years, saying his father Patrick Nix, who was his high school coach at Scottsboro and Pinson Valley, laid the foundation for Nix's understanding of the game. Nix credited Malzahn and former offensive coordinator Kenny Dillingham for simplifying the offense for him as a true freshman, adding that Dillingham taught him about different defenses and looks to keep an eye out for on third downs.
Nix explained Chad Morris, who was offensive coordinator in 2020, came in with similar spread concepts but had a few differences thanks to coaching at several different schools. Now Nix gets his chance to learn from Harsin and Bobo, which Nix is hoping to make the most of and even benefit from when his playing days are over.
"As a quarterback – as a football brain – I really enjoy learning anything I can about football, so that will be fun," Nix said. "Moving on, I want to either use it or maybe down the road coaching I'll be able to come back to it, just learning more football and just understanding the aspects of it. I've had four different coaches, but they've also taught me completely different things, which have been great for my development."
¬Nix said he's focused on improving all aspects of his game this spring, though he specifically mentioned becoming more consistent in the pocket and gauging the speed of a receiving corps that will be totally different from 2020. He sees spring practice – only his second at Auburn after last year's was canceled due to the pandemic – as a window of time in which he can improve his technique and attention to detail in order to made noticeable strides before the fall.
Nix has made his share of big plays in his first two seasons at Auburn, but his inconsistency over that time has led to plenty of critiques. The struggles of the entire offense last season undoubtedly played a role in the coaching change, which leaves Nix starting fresh with an staff determined to take his game to the next level.
According to Nix, the criticism thrown his way over the last few years doesn't matter much to him.
After all, opportunity awaits.
"There's really nothing you can do about it, to be honest with you. Everyone is always going to have something to say, positive or negative," Nix said. "One thing that always sticks out to me is even going to the cross Jesus had people talking bad about him, so if they were talking about him then they're going to consistently talk bad about me, that's for sure.
"Like I said, there's nothing you can do but continue to work, put my head down and do what I'm supposed to do and do whatever I can to make my team better."