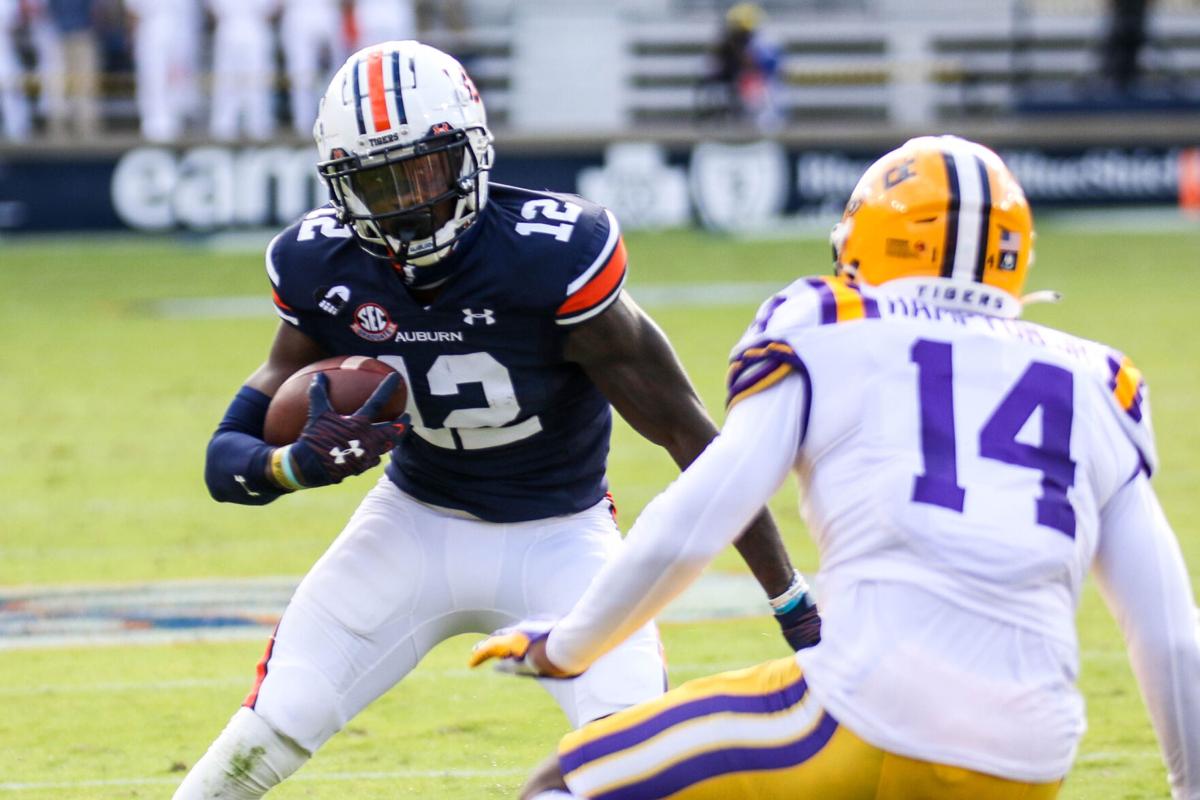 Through Auburn's last three games, one aspect of the team's offense has been hard to ignore: if you get the ball in senior wide receiver Eli Stove's hands, he will provide plays that keep drives alive.
Stove has become a well-established piece on Auburn's offense over the last three games, as he has caught 17 passes in those contests. He enters the Tennessee week after the most productive game of the year, a 5-reception, 64-yard showing against LSU that also included three carries.
Auburn offensive coordinator Chad Morris explained on Nov. 5 that it didn't take him long to realize how important Stove could be in helping the Tigers get where they want to go on offense.
"First of all, he's got great experience and he's had a lot of success getting the ball out on the perimeter — whether it was speed sweeps or catching some flat throws and making guys miss. Very seldom do you see one guy bring Eli down," Morris said. "I think what we're seeing now is Eli is really coming into his own. He's healthy, which is a plus and getting him out in space, I think we saw that last week and being able to just be a great one-two match with him and Flash [Anthony Schwartz]."
Health was indeed a concern for Stove early in the season, as he got banged up early in the Tigers' loss at Georgia on Oct. 3 then subsequently missed the Arkansas victory. Since that point, the senior has done his part to help Auburn move the ball on a consistent basis.
Stove stood out in his return against South Carolina by reeling in seven receptions, his highest catch total since the Tulane game last September. He pulled down five catches in the thriller against Ole Miss before the LSU game, which saw Stove make the most of his unique ability to break big runs or produce as a traditional receiver.
Stove had a pair of nice runs early in the home game against LSU before breaking his biggest play of the contest, a 38-yard screen that got Auburn on the cusp of scoring its first points of the game. While that drive ultimately ended in a turnover, Stove came back with a vengeance about two minutes later, slipping out of the backfield on a run-pass option, catching a soft pass from Bo Nix then juking past two would-be tacklers for the touchdown.
Stove certainly relished playing a role in Auburn beating LSU for the first time since 2016, but for him the victory was more important than any big plays he produced.
"It felt good. I'm just happy we got the win, honestly," Stove said. "I might be one of the only people on the team to have beat them in 2016, and that was a long time ago. It felt really good."
Stove's ability to make plays obviously makes him a welcomed contributor, but it's his skill set that really makes him so valuable for the Tigers.
Morris talked about Nix having different weapons that defenses have to account for, and Stove's knack for turning jet sweeps into explosive plays has likely caught defensive coordinators' attention. That along with his natural catching ability makes him a player defenses have to keep an eye on alongside Seth Williams, who has proven himself to be one of the conference's most reliable targets, and Anthony Schwartz, whose work-class track speed can leave even the best defensive backs burnt on a moment's notice.
Morris recognizes that his offense is showing strides since some of the early-season issues, and Stove's re-emergence has certainly been a factor in making that happen.
"I know Bo is extremely comfortable with those guys and what they're capable of doing. We always talk about we've got to win our 1-on-1s, and that's going to be critical for us over the final four weeks of the season is being able to win our 1-on-1s with the ball in the air," Morris said. "Seth brings a certain dynamic, and Flash does and Eli does. And so being able to play on their strengths is going to be critical for us."
Be the first to know
Get local news delivered to your inbox!