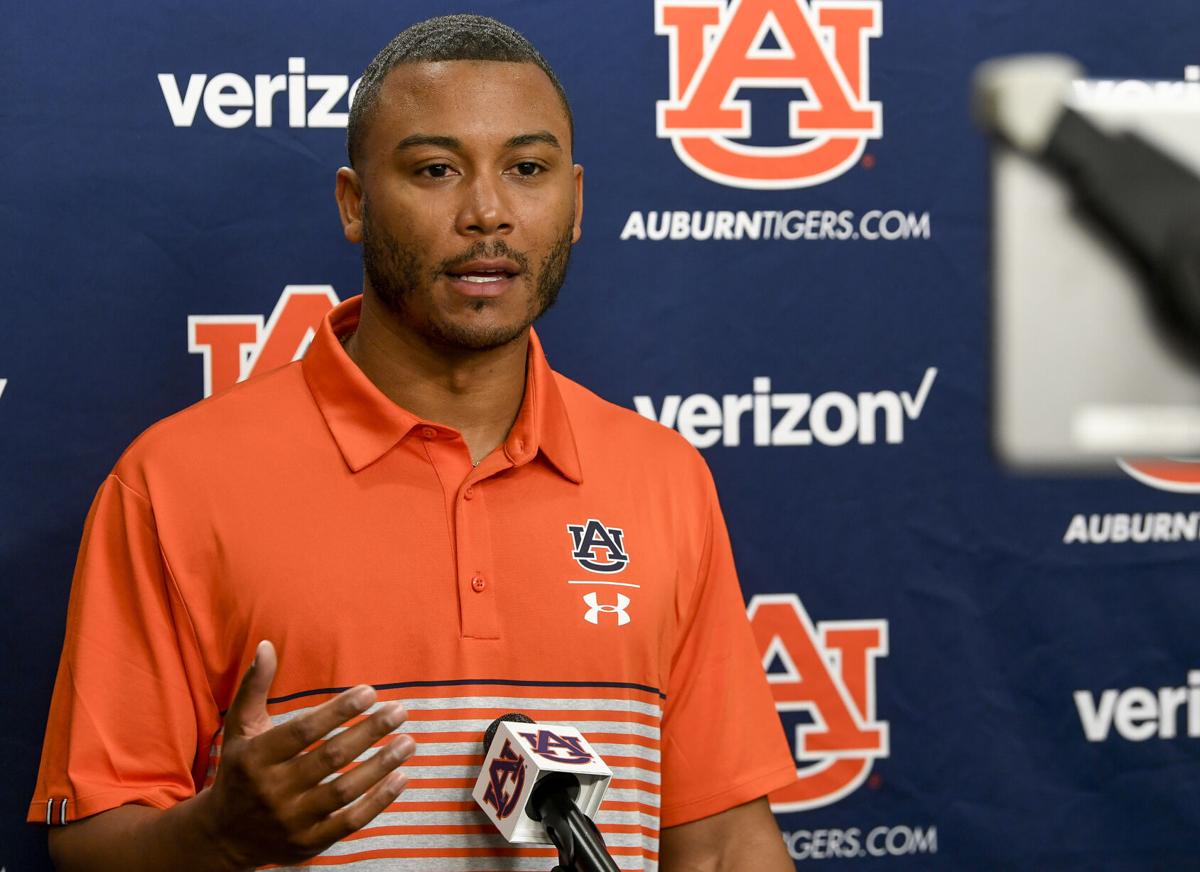 When Bryan Harsin was introduced as Auburn's new football coach on Dec. 24, Troy receivers coach Cornelius Williams told his wife, Kiley, that the Tigers had made a really good hire.
Williams' statement came from personal experience. Troy had faced off with Boise State twice during Williams' time on staff — an 11-point Boise win in 2017 and a 36-point Broncos' victory the following season — and through those games Williams watched two Boise State teams that were disciplined and willing to play for each other.
"I said, 'A lot of people probably don't know who he is or what he stands for, but this is a really good hire because of what he's been able to accomplish and what he's done over at Boise,'" Williams recalled saying.
A little over one month after that press conference, Williams went from admiring Harsin to working alongside him.
Williams is settling in during his first spring as Auburn's wide receivers coach as part of a diligent climb up the coaching ranks for the former Hoover star and Troy wide receiver. His path, which featured a modest start as a graduate assistant at South Alabama back in 2010, has led to this moment, when Williams faces the challenge of helping an inexperienced Auburn receiving corps find its way in the SEC.
Williams is helping Harsin implement his culture, and in the short time Williams has been on staff he's seen plenty that excites him about the program's future.
"You walk around here and see all this stuff on the walls talking about working hard, believing that you can be the best, all those different things. That's what [Harsin is] pushing and making sure these guys understand this program," Williams said. "He talks about being in the moment. That's a really big deal. That's something I believe in and I have believed in my whole career, just understanding going 1-0. What that means is just waking up and putting yourself in the right mindset and being on time.
"Everybody knows to win in this league you have to be consistent, you have to be disciplined, and of course you've got to have the players. It starts from the top to the bottom and everybody being on the same page."
When it comes to football in Alabama, Williams has nearly been everywhere.
Williams' family was from Mobile before moving to Birmingham when Williams was young, which led him to becoming a stellar wide receiver at Hoover and then playing at Troy. He started his coaching career at South Alabama, and after spending 2011 at Murray State he stayed in the Yellowhammer State for the next nine seasons with stops at North Alabama, Jacksonville State, UAB and Troy.
Williams' various stops in Alabama not only helped him cut his teeth in the coaching world, but they've also helped him establish relationships within the state that will no doubt be utilized at Auburn — especially now during the NCAA's extended dead period during which face-to-face contact is prohibited.
"I went to Hoover, and we had a bunch of people that went to Alabama and a bunch that went to Auburn. You are kind of in between and growing up, coming up from my high school with a bunch of guys getting highly recruited, shoot, I wanted to go to either one of them," Williams said. "A bunch of guys know me down there [in Mobile] and know me up north and in the middle of the state. Finally, in my opinion, playing at one of the best high schools in the country and everybody knowing who we were in this state, that was a very big deal and it is going to help tremendously."
Williams' first real test at Auburn is a big one given the questions the Tigers face at wide receiver.
Auburn lost its top three receivers from 2020, and entering this spring three receivers — Ze'Vian Capers, Shedrick Jackson and JJ Evans — are limited due to injury. The result is a receiving corps in which rising sophomore Kobe Hudson is far and away the most-experienced player who's 100 percent alongside some of his lesser-proven teammates who are looking to prove themselves.
For Williams, the biggest concern regarding Auburn's receivers isn't a lack of talent but mostly a lack of experience.
"We have the guys, but the biggest issue is going to be that we are young and these guys aren't experienced. There have only been a few guys that have had some real game action," Williams said. "Everybody here knows how it is in this league, playing against some of the best competition in the country. The biggest deal for us is going to be putting in the work, the time, the effort to be extremely detailed and work to be the best we can possibly be."
Williams praised several of the receivers who are a full go this spring. He deemed Hudson a natural born leader and said he's shown flashes of being special, he pointed to slot receiver Ja'Varrius Johnson as someone who has really stood out, and he lauded Elijah Canion's work ethic and his willingness to learn as much as he can.
Williams has been patient as he's progressed throughout his career, and it's led to an opportunity to coach an Auburn receiving corps that will need several players to step up. Williams expressed full confidence in his players being able to do just that, but he knows as well as they do that it will take plenty of work to make it happen.
"That's going to take place like coach [Harsin] says: by going 1-0 from the time you wake up to the time you finish at night," Williams said. "We have to do every little thing right in order to be a much better group and continue to gain that experience."