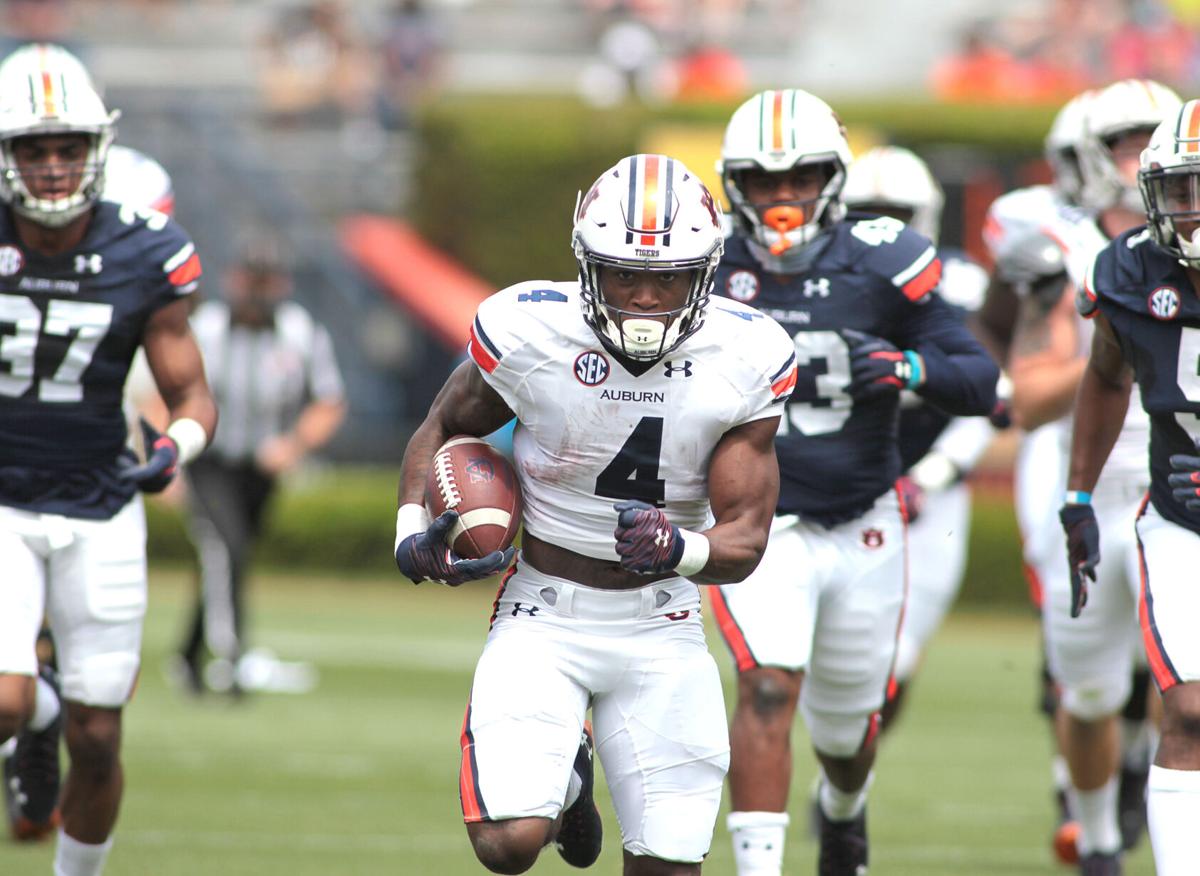 Nearly halfway through the second quarter of Saturday's A-Day game, Auburn running back Tank Bigsby delivered the biggest play of the afternoon.
Bigsby took a hand-off from the shotgun formation just past midfield and raced up the middle, where the offensive line had provided the rising sophomore with plenty of space. He ran full speed about 10 yards then cut drastically to his right, which left Auburn defensive back Trey Elston turned around and quickly trying to catch up with the talented tailback.
The pursuit by Elston, fellow defensive back Chris Thompson Jr. and the rest of the defense was futile. Bigsby was off to the races on a 46-yard touchdown run that ignited the Auburn offense and showed what this Tigers' run game is capable of this season.
Bigsby and fellow running back Shaun Shivers were two of the standouts in Saturday's scrimmage. They combined for 19 carries for 125 yards — an average of 6.6 yards per carry — as the duo showed off the ground-and-pound rushing attack that new offensive coordinator Mike Bobo hopes becomes a regular sight this fall.
"I'm getting comfortable with [the offense]. It's a lot, but we're all getting it," Bigsby said after the scrimmage.
"All we did was live reps, hitting it fast, just playing football. So I feel like the confidence in the offense, when we get there, it will be faster and everybody will know what they're doing when we get more reps."
Bigsby was Auburn's lead back as expected Saturday, and he didn't disappoint. Outside of his long touchdown run, he was efficient and took four of his seven carries for at least three yards. He contributed in the passing game as well — something that is expected to be a crucial part of the new offense — by reeling in a pair of receptions for 22 yards.
The A-Day game was far from perfect from Bigsby, who had one drop and fumbled the football away on a seven-yard reception in the first quarter.
Still, Bigsby's efforts were a positive sign, especially given the running back's confidence in the offensive line blocking ahead of him.
"I feel like the offensive line is doing great. I feel like they came a long way — just with the little things, they came a long way," Bigsby said. "They're going to be great. I feel like the more we practice and the more we get reps, they'll be good this year."
Bigsby undoubtedly remains Auburn's lead back entering the summer, but Shivers put together an equally impressive performance Saturday.
Shivers talked prior to A-Day about how he felt he fit in the Tigers' new offense, and he proved as much with the carries he took in the scrimmage. Shivers had three consecutive runs of at least nine yards during A-Day and ended the afternoon with a game-high 12 carries for 61 yards.
Shivers' bowling-ball style of play was hard to ignore, and it was a promising sight given Auburn's lack of depth at running back right now.
Bigsby talked about how Shivers was a natural downhill runner — at least, he began to before a Zoom snafu ended his postgame media session prematurely — and Saturday's performance showed the two are capable of shouldering the brunt of the load at least until true freshman Jarquez Hunter arrives this summer.
Auburn's running back room was an area of concern this offseason, and while the numbers are still low Bigsby and Shivers look ready to roll in the new offense. Bigsby is anticipating another big year as the Tigers' lead running back, and he's looking to utilize the remaining time this offseason to sharpen his game.
"[I plan on] working on the little things all summer. Just trying to get better in my craft," Bigsby said. "Just the little things: working out more, getting stronger, faster, more flexible. A lot of things like that."