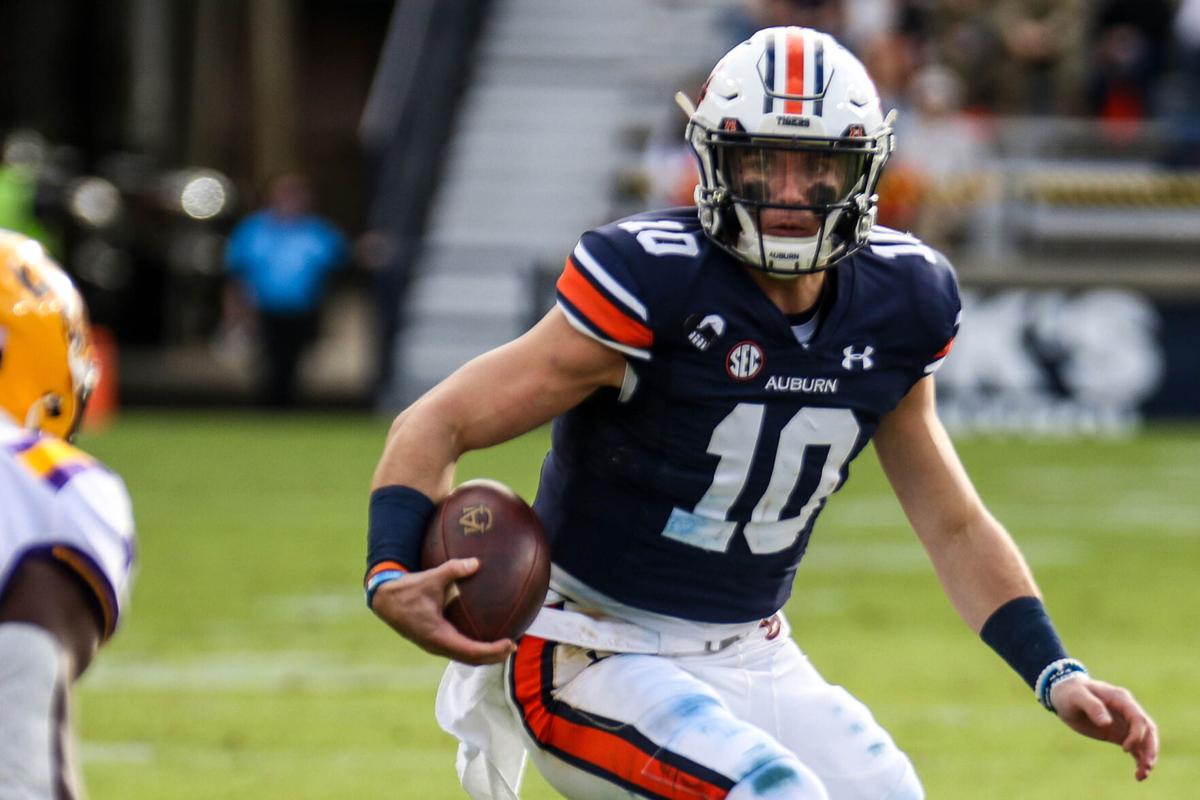 Auburn quarterback Bo Nix has another new opportunity thanks to the NCAA's name, image and likeness rules, and this one is a family affair.
Nix will host a quarterback skills camp at Pinson Valley High School on July 28. The camp will be for children from rising third graders to rising 12th graders with a cost of $80 per camper.
Nix won't be the only one at his high school alma mater showing the campers how things are done.
Nix's father, former Auburn quarterback and current Central-Phenix City head coach Patrick Nix, will also help lead the camp as well as Nix's younger brother Caleb, who is a rising senior at Central. Nix's grandfather Conrad, who won 300 games as a high school coach in Georgia and Alabama, will also help lead the camp.
"The Nix name is synonymous with football in the state, and their love of the game is evident through three generations," a statement on the camp's website said. "Although they excel at the quarterback position, it's their family motto, 'Football is what we do, it doesn't define who we are,' that is instilled and played out throughout each season. Through this camp they hope to share not only the mechanics of great QB play but also the importance of character and leadership traits that are valued on every team and any level."
Nix, meanwhile, is nearing the start of his junior season at Auburn. He has been Auburn's starting quarterback for the past two seasons, and in that time he's thrown for 4,957 yards and 28 touchdowns with 13 interceptions. The Tigers have posted a 15-9 record during his time behind center.
Nix talked about the adjustment period he's faced with a new coaching staff — and his third college offensive coordinator in three years — back during the Tigers' spring practice.
"Coach [Bryan] Harsin and coach [Mike] Bobo, I've really enjoyed getting to know those guys and what they bring to the table as coaches. They've coached in many different situations, many different conferences. They've been around college football and they know exactly what it's about," Nix said on March 17. "Just being able to learn from them, I'm going to really enjoy it moving forward — especially this offense. We didn't have so much recruiting so they didn't have to go out so much, so I could really kind of be around them more often then probably normal."
Nix and his family aren't the only ones at Auburn looking to host youth camps this summer. On July 5, Auburn linebacker Owen Pappoe announced two camps in Montgomery and Birmingham that he will help lead alongside Auburn teammates Shaun Shivers, Smoke Monday and TJ Finley.
As for the camp experience, the official website explains campers will learn quarterback technique and fundamentals through drills and videos as well as the character, leadership and mental preparation necessary to play the position. There will also be a recruiting seminar for parents and student-athletes.