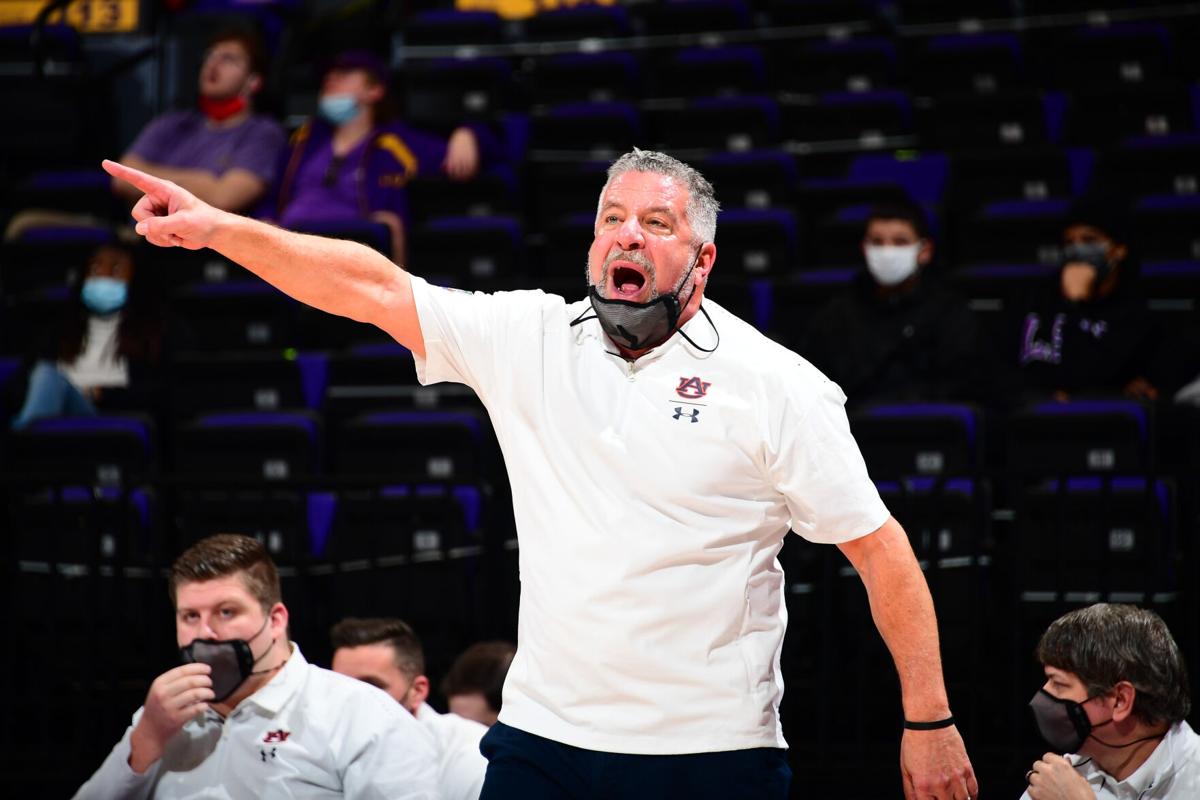 Auburn coach Bruce Pearl wasn't mad after Saturday's loss to LSU; he was just disappointed.
"Disappointed" was the optimal word for Pearl after the 104-80 road loss, as the veteran coach said it 13 different times when discussing his Tigers' performance. He knew his team had to show up ready to play against one of the nation's most-efficient offenses, but based on what he saw his players lacked the spark needed to truly have a shot at an upset.
Pearl knew LSU was no pushover, but even he was shocked with how easy the home Tigers made things look.
"I mean, I was surprised that we weren't locked in," Pearl said. "Man, I really thought we had a good plan. I thought we had a great, great plan. But we got beat one-on-one. I mean, it was one-on-one. They beat us at every position."
Pearl knew Auburn had to play well in order to keep up with LSU, but by the halfway point in the first half LSU had begun pulling away. While LSU hit all manners of shots – many of which saw tight defense from Auburn – Pearl's Tigers couldn't keep up scoring-wise, a fact made evident by the final stats.'
While Sharife Cooper scored 26 points, Auburn's next-leading scorer was Allen Flanigan with 13; by comparison, LSU had five players score at least 12 points. Auburn's five starters – Cooper, Flanigan, Devan Cambridge, Jaylin Williams and JT Thor – shot just over 35 percent from the field; LSU's starters, meanwhile, shot 60 percent.
As valuable as Cooper's points were, the freshman point guard did not have an assist in the first half and ended the game with only two assists compared to six turnovers. Pearl explained after the fact that Auburn tried to take advantage of LSU's defense, which he described as a switching man-to-man defense which would create mismatches in Auburn's favor throughout the game.
The only problem was Auburn couldn't make LSU pay in those situations.
"There wasn't anybody on Auburn's team that could take advantage of that mismatch around the basket, so we tried a number of different players. We rolled them down on some guards and had some really good looks," Pearl said. "We couldn't catch it, we couldn't throw it, we didn't see it, we couldn't finish it. It's a great system to take advantage of mismatches, and we had plenty of them; we just couldn't take advantage."
Pearl has spoken multiple times about what not having NCAA seeding to play for means as far as motivation, and after the LSU game he was asked about what he has to do to get his players up for games of that nature.
Pearl explained there has to be a sense of pride and competitiveness among his players given the competition – LSU freshman guard Cameron Thomas is one of the nation's top scorers, while sophomore forward Trendon Watford is an Alabama native who has pro potential – and with a matchup like that Pearl felt there wasn't much more he could do to fire up his squad.
Pearl said his team has gotten better throughout the season, but the opponents the Tigers have faced have, too. He again returned to the word "disappointed" when asked about his talk with the team following Saturday's loss, saying he told his players he was disappointed – something he hopes strikes a nerve as it did for Pearl when his father or one of his assistants felt that way about him.
Pearl's Tigers were outmatched and outplayed Saturday, and in the aftermath he sought an explanation for how it all went down. Pearl left Saturday's game feeling disappointed, and if the Tigers can't get back on track, it could be an all-too-familiar feeling to close out the season.
"Well, you know, it becomes – it's a matter of pride," Pearl said. "Look, Florida's going to push us around. Tennessee's going to push us around. I mean, our big guys are young, and they're not physical enough. And we don't have enough physicality and toughness, and it really showed tonight."