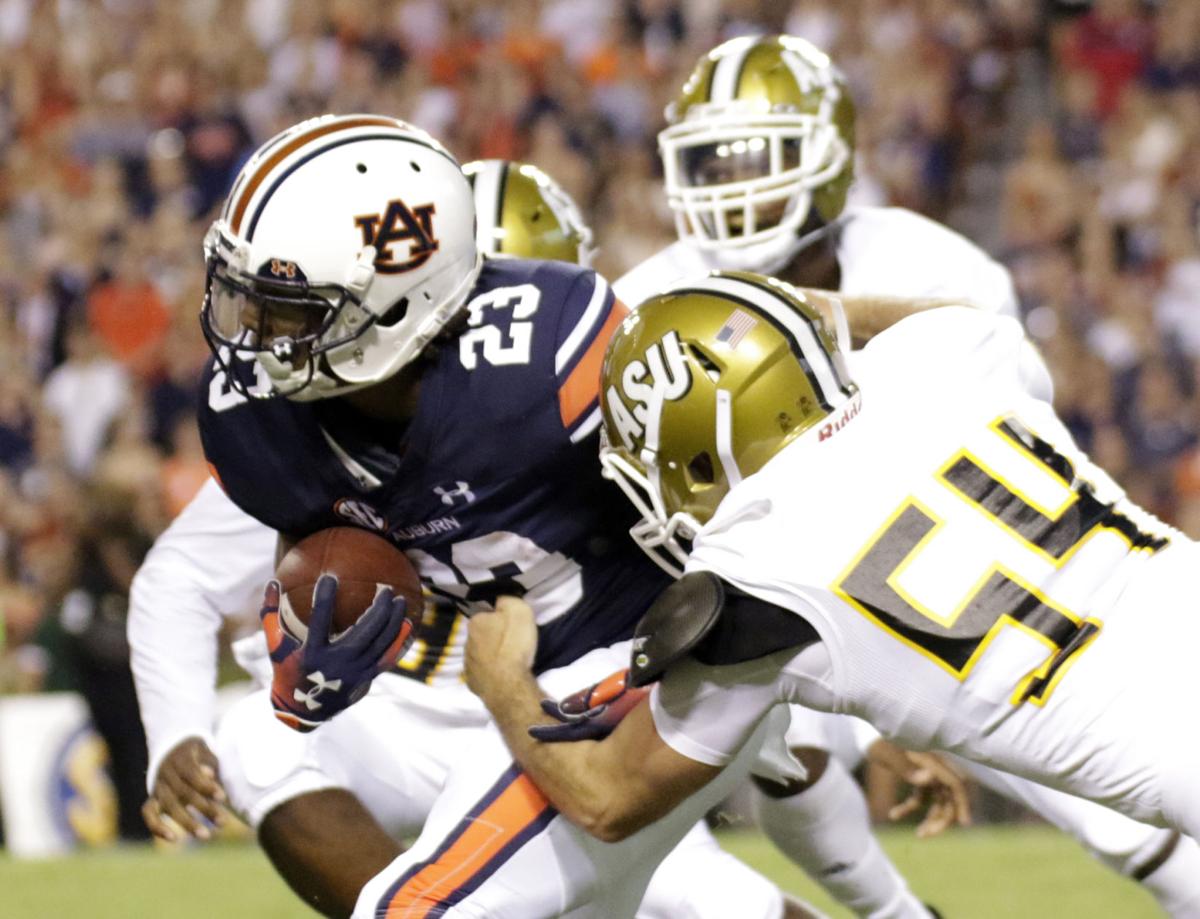 Auburn's game against Alabama State on Saturday continues a recent trend by the school in scheduling Division I FCS football teams within the state of Alabama.
Auburn has played every in-state FCS team since 2015, except for North Alabama, which only recently moved to Division I in 2018.
Auburn is reportedly paying Alabama State $515,000 for Saturday's game. Scheduling teams like Alabama State keeps those paydays in-state.
Auburn athletics previously made mention of a commitment to play every FCS team in Alabama when Jay Jacobs was the athletics director.
After Saturday's game, Auburn will have played eight games against in-state FCS foes in the last 10 years.
Auburn played Samford in 2011, 2014 and 2019. Auburn played Alabama A&M in 2012 and 2016. Auburn played Alabama State in 2018 and will play the Hornets again Saturday.
Auburn played Jacksonville State in 2015 — in what turned out to be a harrowing game for Auburn that went to overtime.
It's unclear if Auburn will bring any of these opponents back onto the schedule in the future, but new Auburn head coach Bryan Harsin said this week that he likes the idea of playing in-state opponents — for another reason besides keeping the money close to home.
"I think it's important because I think a lot of the players — depending on which school you're talking about in particular — these guys know each other because there are in-state players on each team," Harsin said Wednesday on the SEC coaches' weekly teleconference. "I think that brings some uniqueness to it because of, probably, past history of players in high school and then having a chance to go on to play college football."
Harsin also said he liked the idea of elevating local players and offering them a platform to show their stuff to scouts at the next level.
"In my opinion, anyone who goes on and has a chance to continue to keep playing in whatever program is an accomplishment," Harsin said. "And so, if we can play some teams — because there's a lot that are in here in the state of Alabama, and football here in the state of Alabama is very important. High school football is very important and very good.
"To me that's part of that opportunity to play some of these in-state teams," he went on. "And I think it's important that we keep doing that and we have opportunities in a way to even promote the players that come from Alabama at this level. All those things matter."
It's unclear if Auburn will continue the trend and continue to bring FCS programs to Jordan-Hare Stadium.
It's no secret why Auburn only scheduled Jacksonville State once, after the overtime scare. A landmark loss like that could've been is the reason programs across the country don't schedule in-state opponents.
Alabama has never played Alabama State, Alabama A&M or Jacksonville State. Alabama has never played UAB, Troy or South Alabama, either. Alabama hasn't played any in-state team other than Auburn in football since 1944, when Alabama played Samford when it was known as Howard College.
Auburn has gone in the other direction. Auburn has South Alabama scheduled for 2025.
Whether Auburn will continue the trend remains to be seen, and it remains to be seen in North Alabama will come to Jordan-Hare to complete the set.
But in the last decade, Auburn has kept eight big paydays close to home — and Auburn caps a bold commitment made this decade with another game with Alabama State on Saturday.