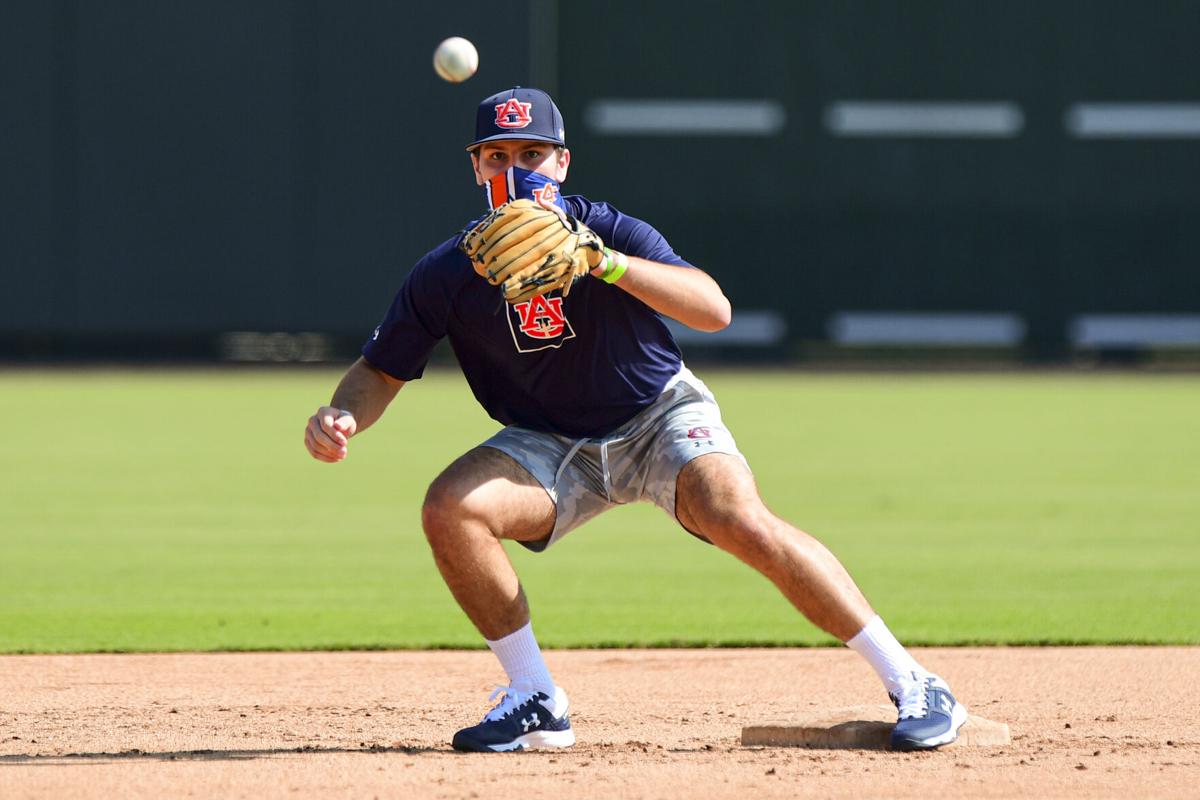 Thanks to an abbreviated MLB Draft and the NCAA granting extra eligibility for spring athletes, Auburn baseball coach Butch Thompson has a roster packed with more talent than he's seen since taking over in October 2015.
With fall practices now underway, the key now for Thompson is to make sure his loaded squad is up to speed, and for the coaching staff to decide who fits best where.
Thompson spoke to the media on Friday in the midst of the Tigers' first official week of fall practice. Thompson, who is closing in on his fifth season as Auburn's head coach, explained that last Sunday was his first day he's met with the entire team and coaching staff since March 13, and since then it's about getting everyone back up to speed.
"This was a long time coming from small group work to just getting to the point of our first week of official team practice. We did two abbreviated squad games, one on Tuesday and a second yesterday on Thursday. We've played about four and a half innings," Thompson said. "As we end this first week of practice, we're excited about some talent, some new guys, but with our gamesmanship you can kind of see the layoff and the extended time between playing real baseball, from a game standpoint.
"We'll need every one of these practices, every one of these game simulations, between now and Nov. 23 to sharpen us up, so to speak."
Thompson said it's the little things that stand out as areas that need improvement for Auburn, such as base running. He explained that most of the players probably spent quarantine playing catch and hitting in the batting cages, but after so long without running the bases and recognizing situations in game-like scenarios, their play has been affected through the first week back. Thompson added that his team is just now to the point in which the players can throw innings and start playing games, which means it's a crucial point for those improvements to be made.
The good news for Thompson is the group has plenty of talent and experience coming back. What's even better is among them are players like pitcher Richard Fitts, who made six appearances in his shortened sophomore season and was relentless during the stay-at-home period this spring.
Thompson recalled Fitts texting him a photo of a wooden mound that he and his father, Danny, built to ensure he still got plenty of work in. It's certainly paid off for Fitts so far, as Thompson threw in that the right-hander hit 98 miles per hour during an intrasquad game on Tuesday.
"(Fitts' play Tuesday) was a perfect example of how somebody took full advantage of this time, was able to self-motivate, be creative and figure things out. I don't think there's any doubt that he's been working and put as much into the last six months as any player in our program, which is the only one I'm really evaluating," Thompson said. "But there's a lot of self-motivation, and no coach or no person can take a lot of credit for that other than him."
Auburn doesn't lack for potential standouts in the middle infield with Ryan Bliss, Rankin Woley and Brody Moore returning along with newcomers Bryson Ware, Cole Foster and junior college transfer Bobby Pierce joining the fold. While the group will battle amongst themselves for the right to start, Thompson has noticed something else among those players: cooperation.
Thompson said he's watched returners step up for their teammates, including Bliss teaching Foster how to play shortstop and Moore giving advice to Ware about footwork at second base. Thompson explained that willingness to help someone else may not continue once playing time is truly up for grabs, but the work among the players hasn't gone unnoticed — and is especially invaluable in an offseason unlike any other.
"I think sometimes those are our best coaches in the fall, the guys who have been around a few times. Ryan Bliss might be able to help Cole Foster way more than me and maybe even more than the position coach, coach (Karl) Nonemaker, by just being a great teammate," Thompson said. "When they first got here, somebody helped them along the way and showed them the ropes as well. It's going to be interesting."
Thompson knows evaluation will be crucial in the coming weeks and months, but he understands this team's time together will be more limited than in the past. He explained that if the schedule from the past holds true this year, Thompson and company will have from about Jan. 6 to Feb. 14 to get ready for the spring season, which is a small window to work with given the amount of time already missed and the fact that players won't be coming back to school after Thanksgiving.
Auburn baseball boasts a roster that has potential difference-makers from top to bottom. Now, it's imperative for Thompson and his staff to decide which players they can count on come spring.
"If a coach wants to — you don't know what injuries, potential injuries could come — if a coach wants to really take a look at everything, he better do it now," Thompson said.
Be the first to know
Get local news delivered to your inbox!