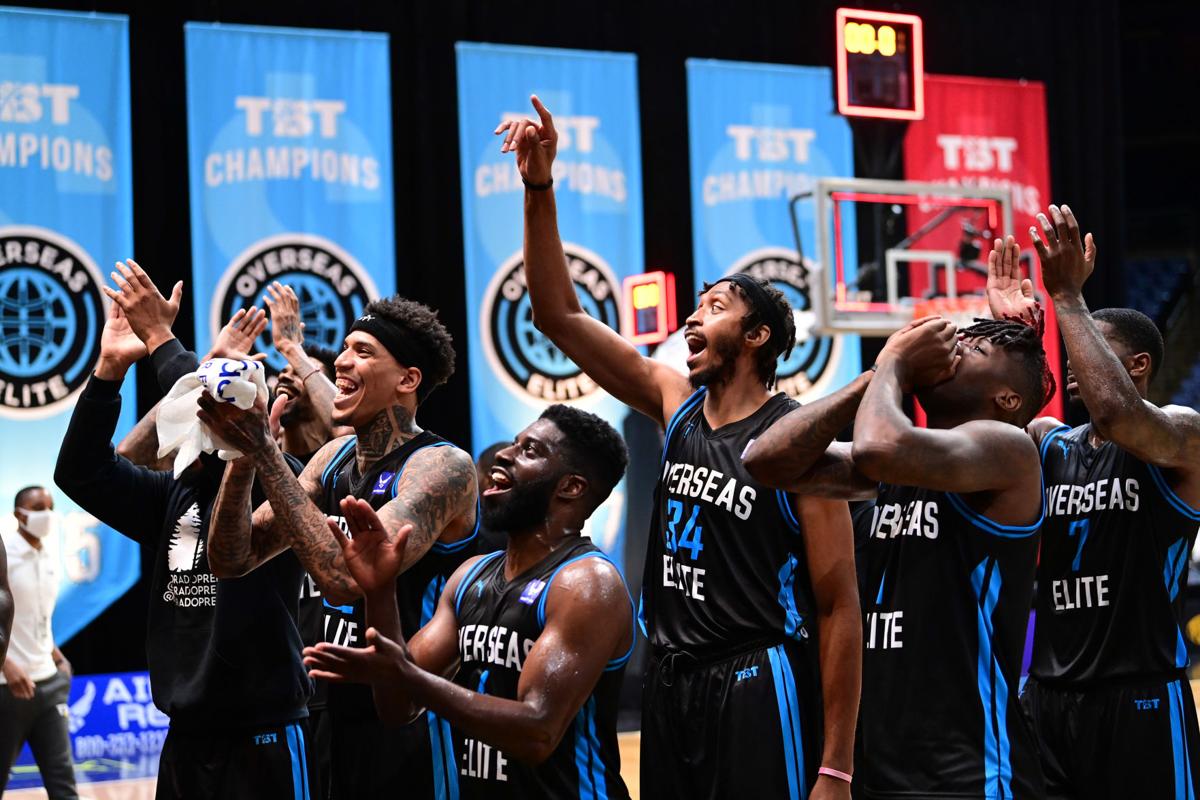 Asauhn Dixon-Tatum is another step closer to the million-dollar win.
Dixon-Tatum played in a reserve role for Overseas Elite in its 76-70 win over Armored Athlete in The Basketball Tournament on Thursday in the bubble in Columbus, Ohio.
Overseas Elite is a powerhouse team that has won the prize money four times in the tournament's history, and that is led this year by former NBA superstar Joe Johnson.
Johnson scored 13 points in Thursday's win while Pooh Jeter scored a team-high 22 points, as Overseas Elite moved on to the tournament's quarterfinals.
Dixon-Tatum logged just under two minutes in the opener, and didn't record a score. Dixon-Tatum played at Auburn in the 2012-13 and 2013-14 seasons.
Overseas Elite is the tournament's No. 2 seed, and it held a bye to the round of 16 and Thursday's game. The game marked Dixon-Tatum's TBT debut with the team.
Overseas Elite advances to face Herd That, a Marshall alumni team, on Saturday at 1 p.m.
The winner there will advance to the tournament's semifinals.
The champion of the winner-take-all tournament will win more than $1 million to be split between the team's staff and players. The tournament has been run six times, with a Notre Dame alumni team winning the first tournament, before Overseas Elite went on a run of four straight wins from 2015 to 2018 only be knocked off last summer by an Ohio State alumni team, Carmen's Crew.
War Tampa, another team featuring three former Auburn players from the Bruce Pearl era which caught the eye of many Auburn teams, was bounced by Illinois alumni team House of 'Paign in the first round, only to see House of 'Paign go on to upset Carmen's Crew in the second round Wednesday and prove War Tampa entered with a difficult draw.
Dixon-Tatum's Overseas Elite is on the opposite side of the bracket, and wouldn't play House of 'Paign until the tournament final.
TBT play continues Friday with Golden Eagles playing Brotherly Love at 1 p.m. before House of 'Paign plays Red Scare at 3 p.m.
After Overseas Elite's game with Herd That at 1 p.m. Saturday, Boeheims Army will play Sideline Cancer at 3 p.m. Saturday.
Friday's winners and Saturday's winners will play each other in a doubleheader Sunday.
The tournament final is set for July 14.
Be the first to know
Get local news delivered to your inbox!