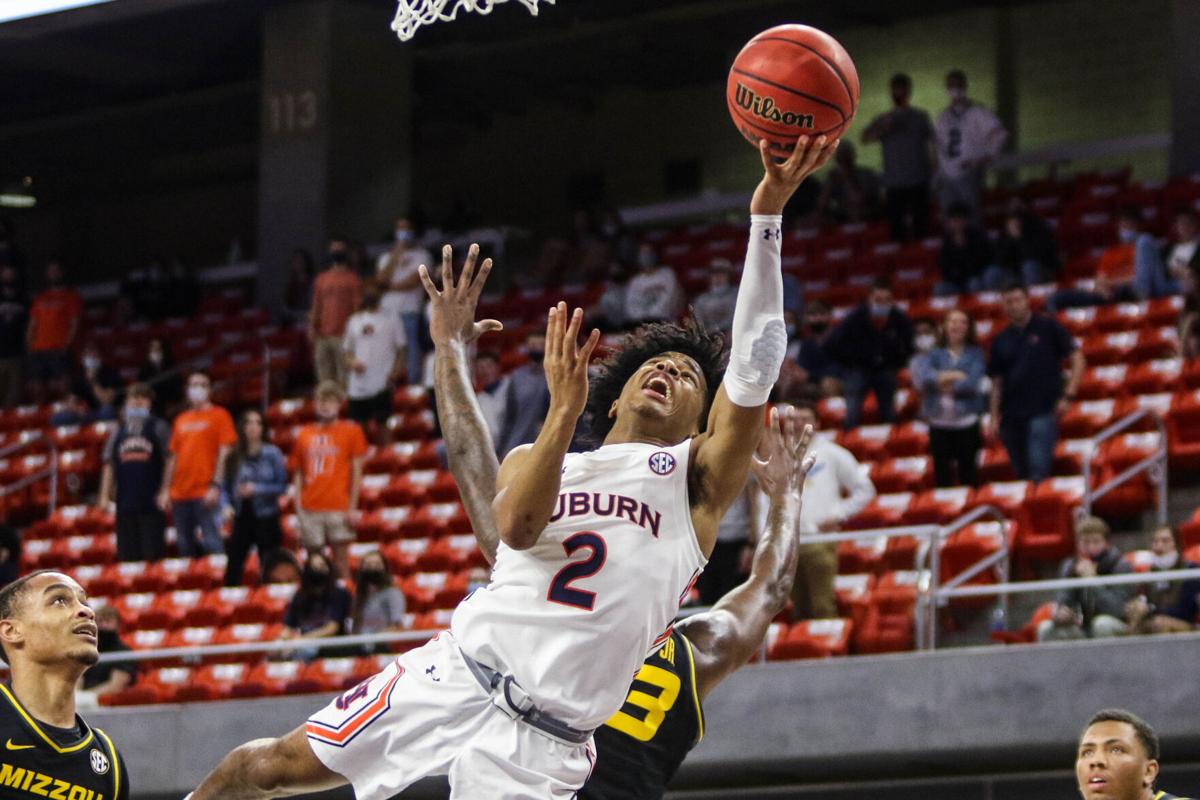 As Missouri looked to close the gap in the second half against Auburn on Tuesday, Auburn freshman guard Sharife Cooper was more interested in closing things out.
Cooper stood up to the challenge of taking on a top-15 team and came through with several crucial baskets and rebounds to push his Tigers to an 88-82 upset. Cooper truly shined in the game's final eight minutes, when he orchestrated an offense that sputtered when he was on the bench and made sure Missouri's hopes of coming back late were all for naught.
"I knew it was going to be a challenge," said Cooper, who had 28 points, eight rebounds and seven assists. "I love big games. It was super fun. You know, for some reason today was just more fun. I don't know why, but it was fun out there."
Cooper had been limited to start the second half due to foul troubles, and he played like he was well rested with the game on the line.
Auburn (9-8, 3-6 SEC) held a slim one-point lead with 9:38 to go in the game when Cooper took it upon himself to fuel the home Tigers' response by coming through with a layup. After Missouri's Dru Smith delivered a 3-pointer, Cooper responded on back-to-back possessions with a soft jumper and then a fastbreak layup, which rolled dramatically around the rim before falling to push Auburn's lead to 66-62 with 7:17 to go in the game.
Missouri (10-3, 4-3 SEC) answered Cooper's layup with Jeremiah Tilmon's jumper before Auburn put the game out of reach thanks to its success at the free-throw line.
Both teams had found themselves in foul trouble, but Auburn reached the double bonus early in the second half and made Missouri pay for it in the final minutes. Devan Cambridge, Dylan Cardwell and Cooper each hit a pair of free throws over the next 42 seconds to push Auburn's lead to eight points with 6:01 to go in the game.
Missouri threatened after the free throws — and even drew within five points with 48.5 seconds to go — but the road Tigers never got any closer.
"That's the best win of the year so far against a really, really good team in Missouri. A veteran team and a team that we couldn't beat last year," Auburn coach Bruce Pearl said.
Cooper's status as a difference maker for Auburn was obvious well before his clutch plays in the game's final minutes. The freshman guard re-entered the game with 17:07 left in the second half, and it was no coincidence how Auburn returned to form once he did.
The home Tigers fell behind by seven just minutes after Cooper came back on the court, but at that point Auburn totally swung the momentum in its favor. JT Thor started the comeback with a 3-pointer — his third of the evening — before Cooper came back with a layup to keep the run going.
Cardwell and Cooper delivered six free throws over the next two minutes to help Auburn tie the score 54-54 with 12:07 to go in the second half.
Auburn's reemergence thanks to Cooper was crucial after Missouri began the first half much like it ended the second half by scoring 10 of the first 12 points after the intermission.
Tuesday's first half saw Auburn controlling the game until foul trouble opened the door for Missouri to make things interesting.
The two Tigers teams were neck and neck through the game's first five minutes before Cooper and Chris Moore got the offense rolling. Cooper delivered a layup to push Auburn's modest lead to four when Moore came on strong by drilling a 3-pointer then hitting another 3-pointer 34 seconds later.
The Cooper and Moore-led scoring surge was over yet, either. Moore came through on a layup shortly after his second 3-pointer, and after Missouri's Buggs connected on a jumper Thor answered with a jumper of his own to cap a 12-2 run for Auburn.
"It felt great. You know, all my life has been about confidence. When I got here, I was still, you know, just a shot of confidence, but the coaching staff been getting on me all year about shooting my shot," said Moore, who had 11 points on a perfect 4-for-4 shooting night from the floor. "It felt good out there to make a lot of big shots."
Auburn's push toward a multi-possession lead came as Missouri struggled to find its footing. The road Tigers opened the game shooting 19 percent from the floor in the first nine-and-a-half minutes of action, which Auburn took full advantage of.
The one-sided stretch of play pushed Auburn to a double-digit lead, which it maintained for the better part of the remaining 10 minutes. But as dominant as Auburn looked during a stretch in which it led by as many as 14 points, foul trouble for the home Tigers helped Missouri hang around.
Allen Flanigan drew two early fouls and Jaylin Williams quickly picked up two as well, but it was Cooper's three fouls with 5:06 to go before halftime that led to a major shift in momentum.
Cooper's third foul — on a charge that the Auburn Arena crowd voiced its displeasure over — sent the freshman phenom to the bench and left Flanigan to man the point guard position. Auburn was noticeably weaker without Cooper on the floor, and Missouri took advantage with a 10-4 run over the next three minutes highlighted by Xavier Pinson's five points.
Williams and Flanigan helped ease the tension slightly with three free throws between them to help Auburn take a four-point lead into the locker room, but it was evident by then any hopes of a home blowout were simply not going to come to fruition.
Cooper bided his time on the sideline early in the second half before being given the go-ahead to finish the game. He came through for the Tigers, and now he and his teammates turn their attentions to a Saturday road showdown with No. 2 Baylor.