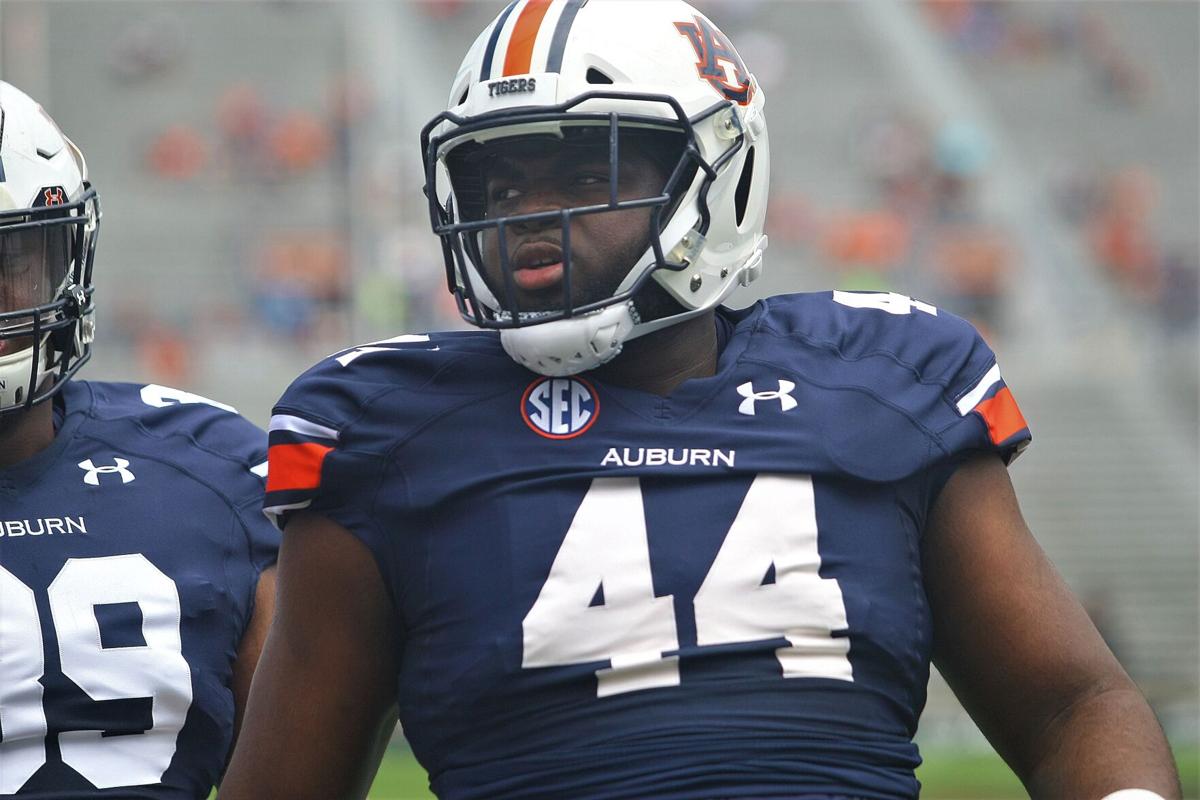 During the third quarter of Auburn's A-Day spring game on April 17, freshman defensive tackle Lee Hunter delivered a play that took everyone by surprise.
Hunter was Auburn's top-rated signee in the 2021 class, and he showed why he'd garnered so much clout on a 4th-and-2 from just outside midfield. The Auburn first-team offense handed the ball to rising sophomore running back Tank Bigsby — who made a name for himself last fall by breaking tackle after tackle — with the hopes of extending the drive.
Bigsby, however, didn't make the line to gain.
Hunter came through with a crucial tackle to stop Bigsby at the line of scrimmage and give his squad the ball back. Although the moment was only in a scrimmage, it provided a glimpse of why the 6-foot-4, 321-pound defensive tackle was so highly regarded and why many feel he will continue the Tigers' rich tradition of excellent linemen.
The drive-ending tackle was one worth celebrating for Hunter, but the people who knew him best back at Blount High School were far from surprised by it.
"Man, listen: we've been seeing him do that for the last three years," Blount principal Jerome Woods said. "We've been seeing him make plays, sack quarterbacks and make tackles for loss and big plays. Obviously, we want to see that happen, so that was super exciting for me. All the more better to know that he can do it on one of the best backs in the SEC. We're expecting big things from him."
"He's a kid that's very self-motivated, has a plan and I think will be able to execute the plan with the help of coach [Bryan] Harsin guiding him and the rest of the staff," Blount head coach Lev Holly said. "He's just a kid who's very team-oriented and a kid who I think is going to be real dominant in the SEC before it's all said and done."
Special and selfless
Hunter's rise to an SEC blue-chip recruit was one several years in the making.
Hunter started his high school career at B.C. Rain, and while the Red Raiders struggled during his freshman year in 2017 he made an impression on Holly during the team's showdown with Blount that September.
The next year Hunter was at Blount, and Holly recalled it taking very little time for the sophomore to show what he was capable of accomplishing.
"He had the size, had the speed, the physicality and the mindset it takes to be a winner on the field," Holly said. "It didn't take long to realize that, and once I actually got a chance to coach him it didn't take a day — it took like one drill — to realize just how special that kid could be."
Hunter's dominance was clear as he wore on opposing offensive linemen, but Holly explained his impact went beyond tackle and sack numbers.
Holly said Hunter was a leader and brought the best out of everyone around him on a regular basis. The seventh-year Leopards head coach also characterized Hunter as a compassionate teammate as well as someone who wouldn't let up on a Friday night.
That, Holly said, is just a piece of why so many around Hunter expect such great things.
"His mindset — that go get it, that winner, that dominant [edge] who just beats you down. I think he checks all the boxes," Holly said. "The locker room is going to love him. … He's going to have high character, and when it comes time to get in the trenches he's going to be ready to roll and get it done. He's just a guy that's going to check all the boxes."
Hunter's claim to fame was on the defensive line, but Woods pointed out how he wasn't a one-trick pony for the Leopards. Woods said Blount often brought Hunter in on offense to block in the red zone or run him out of the backfield to catch a pass against an unsuspecting defense.
As Hunter grew more and more comfortable in his ability, the Leopards kept winning. Blount won five games in his first year with the team, won eight games and lost in the first round of the Class 6A playoffs the following year then won eight games and made it to the state quarterfinals last fall.
By the time Hunter's senior season was said and done, he had racked up 54 tackles, 20 tackles for loss and 4.5 sacks on a defense that gave up just over 15 points per game. Those efforts earned him All-State first team honors.
"Teams stayed away from him, and we were able to put some of the scheme away from him because we knew people were going to try and stay away from him," Holly said. "The impressive thing is what he brought every day. He brought a mentality to get better, to get out of the city, to see something different and to go be great."
'The sky's the limit'
Hunter committed to Auburn in December 2019, but the decision to fire head coach Gus Malzahn and his staff made many question whether the in-state stud would be a Tiger after all.
Holly said Hunter made sure during the recruiting process not to simply commit to a coaching staff, and while Holly credited Malzahn and assistants Kevin Steele, Rodney Garner and Travis Williams for the way they made Hunter feel welcomed, Hunter's mind wouldn't be swayed after their departures.
Holly said Harsin and his staff quickly made Hunter a priority once they came on board, which helped alleviate any second thoughts the Auburn signee had about going elsewhere.
Woods explained he and the rest of Blount's administration identified Hunter early on as someone who could enroll early in college, so they went to work with him to make sure he'd have the option to do so. Hunter ultimately did just that at Auburn and stood as one of six early enrollees in Harsin's first spring.
Even as one of the Tigers' youngest players, Hunter quickly made an impression on his teammates.
"Lee, he's young, but Lee's going to be alright, you know?" Auburn defensive end Colby Wooden said. "Lee, he's raw, so he's learning and catching up. Lot of strength, lot of explosiveness. Active in the run game as well as the pass game. He gets off the ball, defeats blocks. He's just stout. You're not going to move him. Lee knows — you can tell it's not his first time playing football and he knows what he's doing. I'm excited to see how he progresses throughout the year."
"He's a tremendous athlete," Auburn safety Smoke Monday said after Hunter's A-Day performance. "I feel like he's got a lot of upside to him. He's quick off the ball. He's good with driving the pile back and creating a new line of scrimmage. He's very good at that. At the end of the day, I feel like he's going to help us a lot this year."
Holly saw Hunter's decision to enroll early as invaluable, as it allowed Hunter to get bigger, faster and stronger while also learning the mindset he needs to play college football. Holly also said Hunter's increasing maturity has become more evident during their weekly conversations, which has Holly convinced Auburn will help Hunter take the next step as a football player and as a young man.
Hunter is on the fast track to playing on Saturdays, and while there's plenty more work to do there are reasons for optimism. Hunter is part of a defensive line that doesn't have a ton of depth, and his spring success could be followed by a strong summer and fall camp that open the door for significant playing time.
While it isn't clear yet what Hunter will bring to the table in 2021, his potential is that of a player who can make waves in the SEC. In Holly's opinion, it's only a matter of time before Hunter sees the field and does his part to help the Tigers' defense shine.
"Man, I think the sky's the limit," Holly said. "It can be one of those situations that I think he can be three and done. As long as the injury bug doesn't happen, I think he's three and done. But I think he'll have his degree in the midst of all that. I think he's going to be real dominant. He's going to be a force in the SEC, I really believe."