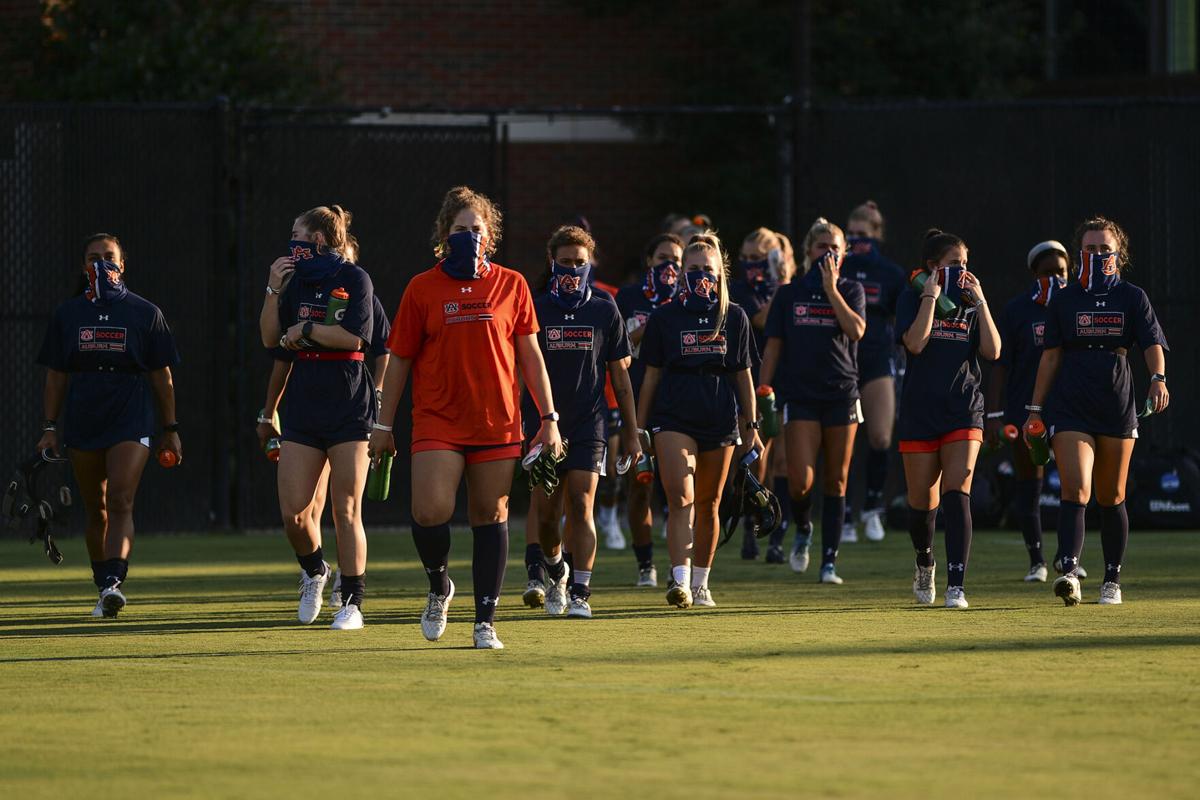 Auburn soccer fired up the scoreboard the other day.
Its dim screen sparked to life. Coaches put time up on the clock. The players bounced around to pregame music, heard blaring once again over the team's once-quiet corner of the Plains.
It hasn't been much longer than a 'normal' offseason, from whistle to whistle, but this offseason has been anything but normal in so many ways. It's only been six months since the sports world went on pause in March, but nearly every aspect of life here has changed since the last game at the Auburn Soccer Complex.
And even though this recent scrimmage was designed to tune up the players and not the facilities, it must have been a relief to see all the lights come back on, too, for the first time in what's felt like forever.
Auburn soccer is scheduled to host the SEC's first game in pandemic play on Friday when the Tigers meet Mississippi State in Auburn at 6 p.m. on SEC Network.
"It feels really magnified," Auburn's Karen Hoppa said, amid preparing her team for the first time in her 20 years as a head coach for some socially distanced soccer. "And different."
Outside of some cross country running on Thursday, soccer is the SEC's first sport to come back for virus-adjusted action, and Auburn is the home team for SEC soccer's first game. Auburn's game with Mississippi State is the conference's only game Friday before the rest of the league kicks off on Saturday and Sunday.
The SEC Network's TV cameras will be there and Hoppa feels a certain spotlight placed on her club.
She feels, too, how strange the stage is set now during life with COVID-19, as the team heads toward kickoff trying to keep coaches and players safe.
"There's always a similar feel on opening week — that anticipation and that excitement and all that — and I feel that, but I also feel the weight of everything extra that COVID brings," Hoppa said, in a press conference through Zoom on Wednesday.
No seating will be made available to the general public for Friday's game. Only individuals invited by each team plus a select number of current Auburn students will be allowed, each placed in different sections with color-coded wristbands separating them — and with face masks required for all.
After team-wide testing throughout the week, both teams are set to run rapid COVID-19 testing again on Friday on the day of the game, before the all-clear allows the whistle for the opening kickoff.
But Auburn, of course, has been working through adjustments for months not seen by the public eye, and not featured on those TV cameras. Those adjustments range from the little things, like Hoppa working with trainers this week on how to keep up with separate, sanitized water bottles for each individual player, to the big things, like that team scrimmage, called for in light of the fact that there's no exhibitions on the team's virus-affected, conference-only schedule.
Through it, though, Hoppa said the team is grateful to be in the position to play comfortably, this week thanking Auburn team trainer Michael Goodlett and his staff for their implementation of testing and tracing measures on campus, where her team has been largely unaffected of the virus.
"Without them, our student-athletes wouldn't have this opportunity of playing Friday night," Hoppa said. "They've done an extraordinary job with our COVID protocols and keeping our student-athletes and our staff healthy and safe. The amount of work they've taken on is really astronomical and that is one of the main reasons we're getting to play on Friday."
There are, too, the sacrifices that players have had to make in changing their normal routines to steer clear of the virus — and Hoppa said her athletes have done just that, in order to make pandemic play a reality.
"For our team, our student-athletes have done an outstanding job," Hoppa said. "They have created a social bubble and they've maintained an extraordinary amount of social discipline in addition to their normal discipline they have as student-athletes. They have been absolutely busting their tails."
Auburn plays an eight-game SEC-only fall schedule starting Friday, leading up to the SEC Tournament in November.
Auburn plans to re-start soccer again next semester to try to play into the NCAA Tournament, which has been moved to the spring.
But, for now, after so long, Auburn soccer sees an accomplishment in kicking off cleanly. Friday's game will mark Auburn's first sports event in 191 days, since Auburn baseball's last game was postponed before spring break.
Everything has changed since then, but kickoff is coming back — and Auburn is ready to be the first to welcome it.
Be the first to know
Get local news delivered to your inbox!