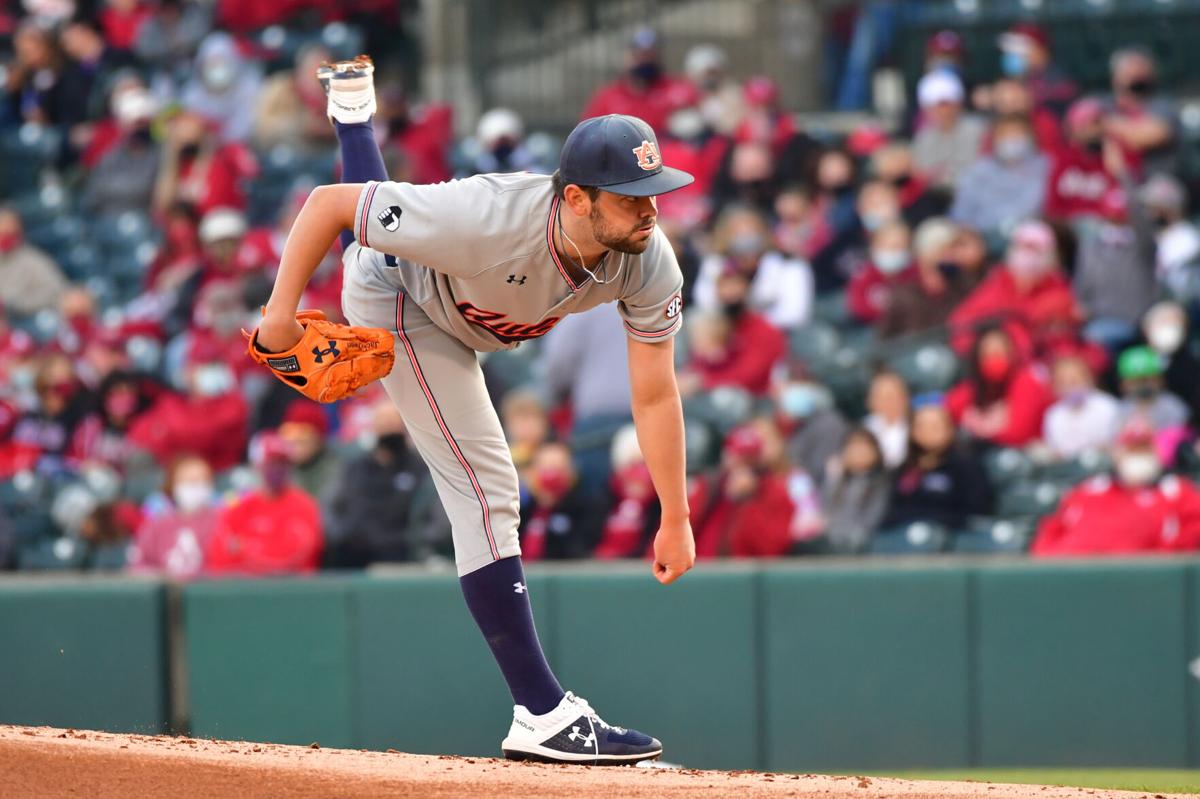 Auburn left-handed pitcher Jack Owen entered the 2021 season as one of the Tigers' most-experienced players and as someone most expected to have a firm grasp on one of the team's weekend starter roles.
A preseason hand injury derailed Owen's plans to start the spring, but over the past three weeks the senior has been working his way back to form with hopes of being that pitcher the Tigers can consistently count on.
"I feel good," Owen said Thursday in the lead-up to the Tigers' home series against No. 4 Mississippi State. "It was tough missing the first six weeks, but getting back into the mix – getting back into pitching even though the first two [appearances] didn't go as I planned – it was good to throw that game at Arkansas and, you know, perform well and put our team in position to win.
"That's kind of the goal every time you go out there, so I feel confident going into this weekend and the rest of the season right now."
Owen entered the 2021 season with 32 appearances – including a strong five-inning start against Mississippi State during the 2019 College World Series – under his belt, but his status as one of the Tigers' penciled-in starters hit a snag when he dislocated a finger during an intrasquad scrimmage before the season began.
The injury knocked Owen out of commission for a bit, which forced some of the Tigers' younger pitchers such as sophomore right-hander Trace Bright and freshman right-hander Joseph Gonzalez to pick up the slack. Owen bided his time until he was ready to return to the bump, although his transition back proved far from seamless.
Owen made his first appearance in relief against No. 4 Ole Miss on March 21, and his performance wasn't exactly what he had in mind. He threw only 0.1 innings while allowing five earned runs on four hits and a pair of walks to contribute to what was a 19-11 loss for the Tigers.
Looking back, Owen saw that game as a moment in which he lacked the mentality necessary to truly challenge the Rebels.
"[Against] Ole Miss I was sped up. I was nervous. I was very nervous. I was, you know, I wanted to go and perform," Owen said. "It's almost like the mindset thing. I kind of talk about that a lot with the guys. I threw 10 balls in the first 12 pitches in. It's like instead of thinking about, you know, what you're going to do to correct the problem, you just keep kind of hoping you correct the problem. Like, 'Oh, I'm good at baseball. It'll correct itself.' And that's not how it works."
Owen stressed the importance of reining in his emotions, ignoring the crowd and focusing in on what he had to do. He showed more resolve in that manner during his next appearance, a two-inning relief showing against Kentucky in which he gave up three hits and one earned run and was tagged with the loss in a 7-6 defeat.
Owen's path back to full go reached an important test last Friday, when he made his first start in the Tigers' second game against No. 2 Arkansas. Rather than buckle under the pressure of facing another marquee opponent, Owen rose to the occasion and threw 5.1 innings with only two hits given up, no earned runs surrendered and only three base runners allowed.
Owen left the game after 73 pitches and wound up with a no-decision in the Tigers' 6-5 loss.
While it might have been tempting for Auburn coach Butch Thompson to leave Owen in and see how far the senior could go, Thompson was more concerned about Owen's long-term importance for what the team wants to accomplish. Thompson noted Wednesday how much tangible progress Owen has made since his struggles against Ole Miss.
"[It's] drastic. I thought he was more ready for the Ole Miss series. Regardless of the score or where we're at in the stage of the game, I thought that's what we were going to see," Thompson said. "From just a couple of weeks ago, the two innings against Kentucky were better. It was competitive, but it wasn't dominant late in the ballgame of the Kentucky series. Back in that start is what he's designed for, and that's where his experience lies.
"It's dramatic to see what he's done over three weeks from that first outing to the second outing to the third. That looked more like the Jack we've all come accustomed to knowing."
Owen appears to be back full strength and not a moment too soon for Auburn, which sits tied for last in the SEC West with a 1-8 record to start conference play. While Owen acknowledged the rough start to SEC action isn't ideal, he noted how close the Tigers have been to turning some of those losses into wins and how much time still remains for the team to get back on track.
Owen's return to the rotation will undoubtedly serve as a boost for an Auburn team hoping to finally settle in. That mission picks back up Friday in the first game against Mississippi State, and Owen – who is expected to start the second game on Saturday – is determined to help the Tigers play like he knows they are capable.
"They're a good ballclub. I'm pretty sure they've got a really good pitching staff, too. I think they're going to be good on both sides of the ball," Owen said of the Bulldogs. "We're playing really good, and even when we're not performing to the best of our ability, we're losing by a run, two runs here and there. Like, you know, that's close to being a completely different story right now and a completely different mindset, but you've got to keep doing what you're doing because, really, we're not that far off."