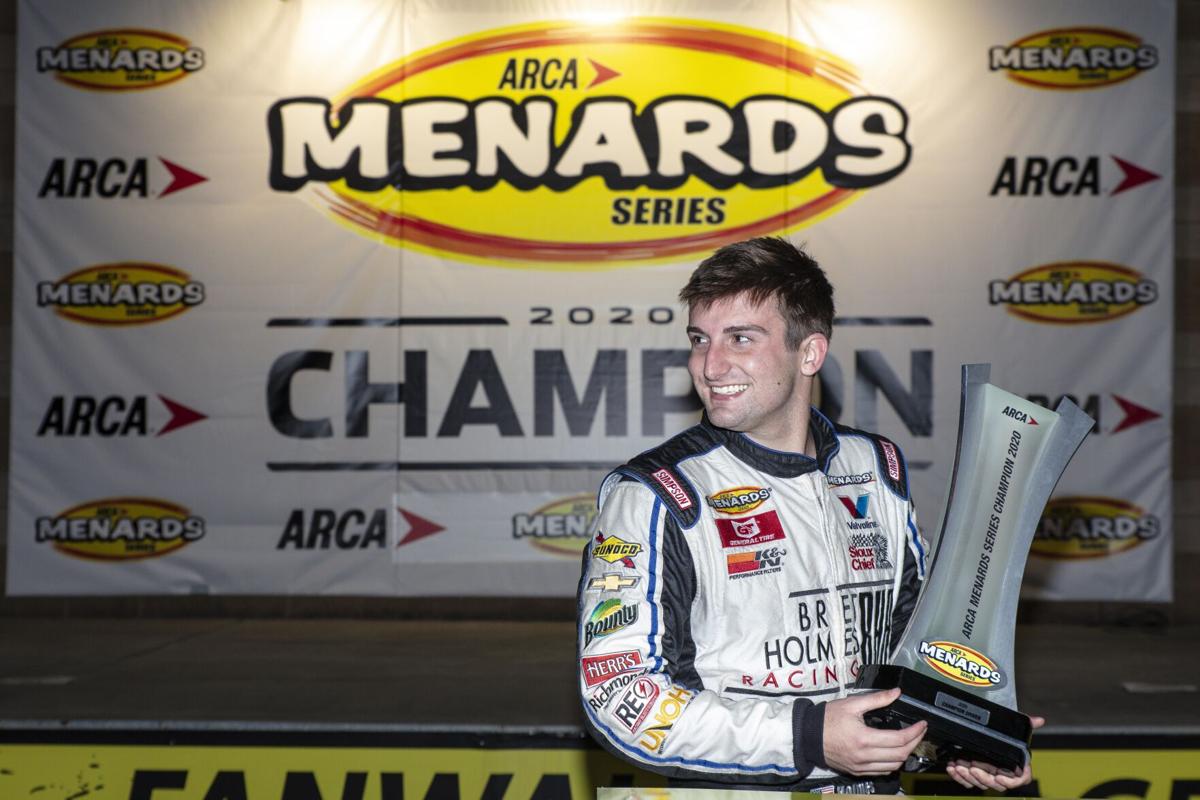 Three months ago, Auburn University student Bret Holmes finished off an incredible season by clinching the ARCA Menard Series championship. Holmes has relished the achievement since that night at Kansas Speedway, but he's also turned his attention to a new venture in 2021.
Holmes had plenty to celebrate after winning the ARCA title with a season in which he had one win, one pole, 14 top-five finishes and 19 top-10s, and in the aftermath he received plenty of recognition from friends, families and strangers alike. Despite the attention, the 23-year-old has kept his focus on the upcoming season in which his team will take a step up in competition by running a part-time NASCAR Camping World Truck Series schedule.
"I think after that [championship], I reflected a lot on everything I'd gone through in the past and everybody that's really helped me out along the way through my racing career and also set new goals," Holmes said. "Obviously we've celebrated with family and friends and the people who've helped us in racing. It's been great, really, just to see everybody's support from around the area and all those people, but I don't want this to be made out to be too big of a deal because there's a lot more and a lot bigger things I want to accomplish as well."
Holmes entered the Speediatrics 150 at Kansas last October in the driver's seat to win the series title, and he admitted in the days leading up to the race he was a little bit nervous. He said he settled in once he posted one of the fastest practice times — which assured him they had a car capable of delivering the championship — and by race time he was back in the zone.
Holmes said the goal once the race began was to not make any mistakes as a driver and to hope the equipment in his No. 23 Golden Eagle Syrup Chevrolet lasted. Both those objectives came to pass, and his second-place finish was more than enough to capture the title trophy.
Holmes said he's heard from plenty of people since that night, but looking back one of his personal highlights came on November 17. Talladega Superspeedway celebrated the accomplishment of the Munford native that day by officially inducting him as an ARCA champion in the track's International Motorsports Hall of Fame.
That recognition — which brought out legendary Alabama driver Red Farmer and was preceded by phone calls from members of the famous Allison racing family — was special for Holmes but also offered another high bar at which he could aim.
"It shows [the people at Talladega Superspeedway] care. It shows they've got that in their minds too, that they think about it that way. It's the heritage of people who've raced in Alabama at that level," Holmes said. "I've got a lot more to accomplish to be considered a part of that group and to be relevant with those guys and everything they did at the top of the sport."
Holmes is striving for even bigger things in 2021, which is apparent by the team's plans for the upcoming season. Bret Holmes Racing is expanding to now include a Truck Series team, which will run roughly 12 races this season with Holmes and Sam Mayer taking turns behind the wheel. The two drivers will also run part-time for the team in about 12 ARCA races.
In addition to his racing schedule, Holmes is also finishing up his work at Auburn and plans to graduate with a building science degree in the spring.
Holmes initially planned to dip his toe into truck racing last year until the pandemic changed everything, which ultimately led to a championship run in ARCA. For Holmes, the main mission this year is to get acclimated to the step up in competition while also making the most of the select races he runs as ARCA's defending champion.
"I think I want to run ARCA just a little bit more. I wanted to win a few more races. I feel like I let a few races slip away from me that I should have won this past year," Holmes said. "I think this is good for us to do this, to ease our way into the Truck Series, to build a notebook, build a few trucks to start off instead of giving a full-fledged effort into the series. Part of that's because we have a small team, which makes it really difficult for stuff like that logistically. I think that's the best decision for us, and I think it'll play out pretty good."
Holmes' first race of 2021 will be ARCA's season opener on Feb. 13 at Daytona International Speedway, and he'll race the truck for the first time on March 20 at Atlanta Motor Speedway. While he is aiming high for himself and his team, he understands the challenge that lies ahead, explaining the transition to trucks will take time given how competitive the series is year in and year out.
Holmes knows the road ahead may be rocky at times, but he's overcome plenty of obstacles to reach this point in his career. Instead, he's more focused on making the most of each moment as he continues his climb through the racing ranks.
"This is a culmination of everything I've worked for since I was 8 years old," Holmes said. "Knowing that it's all led up to this and how much we've grown this team since 2016, I just take a lot of pride in it and just to see how far it's come. You just don't see a lot of people start their own teams, grow it and be successful to the point it's gotten to.
"Some of the things I dreamed about doing three or four years ago we've accomplished. Now we've kind of set new highs, and hopefully we'll be talking about the same thing in a different series another day."