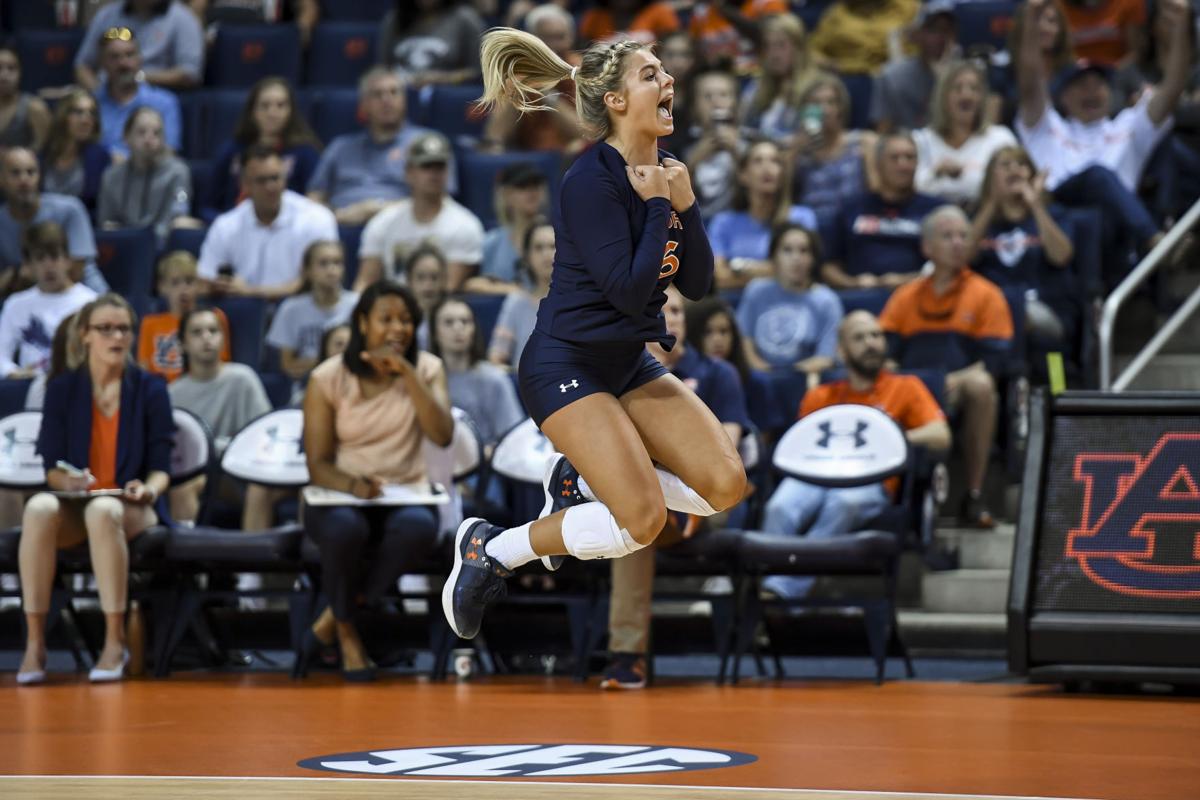 Auburn volleyball is scheduled to play Florida, South Carolina, Kentucky and Tennessee during a quick fall season, the SEC officially announced Wednesday morning.
Auburn's fall opens Oct. 21. The Tigers' home matches are set for Oct. 21, Oct. 22, Nov. 21 and Nov. 22.
Each SEC team is sprinting through a slim four-opponent schedule during the virus-affected fall, with the league planning to serve up volleyball again in the spring to fit the NCAA's plans to postpone volleyball championship events and move them to the spring.
Auburn's fan attendance policy for volleyball for the fall is still to be determined.
Auburn plays each of its four opponents on back-to-back days, making up an eight-game slate. Auburn's full fall schedule is below:
» Florida at Auburn — Wednesday, Oct. 21, 7 p.m.
» Florida at Auburn — Thursday, Oct. 22, 7 p.m.
» Auburn at South Carolina — Wednesday, Oct. 27, 7 p.m.
» Auburn at South Carolina — Thursday, Oct. 28, 7 p.m.
» Auburn at Kentucky — Saturday, Nov. 7, 3 p.m.
» Auburn at Kentucky — Sunday, Nov. 8, 3 p.m.
» Tennessee at Auburn — Saturday, Nov. 21, TBA
» Tennessee at Auburn — Sunday, Nov. 22, 3 p.m.
This fall offers a challenging introduction for new Auburn volleyball head coach Brent Crouch, who was hired from Southern California in the offseason.
Florida and Kentucky finished No. 1 and No. 2 in the SEC standings last year.
"I love that we are getting tested early in our SEC schedule against some of the top teams in the conference," Crouch said. "It's remarkable that the SEC and Auburn have been able to put into place health protocols that can make this fall season a reality. Our players are looking to put last season behind them and take a positive step forward this year.
"I'm happy for them that the opportunity is now."
SEC volleyball teams saw their conference schedules clipped from the usual 18 matches down to just eight for this virus-affected fall, as the SEC scrambles to get fall sports played and to cash in on huge television rights contracts for football.
First serve times for most of the league's Saturday games are still to be announced pending football kickoff times. Auburn volleyball's Saturday game at Kentucky has a first serve time as Auburn football and Kentucky football are both off that week.
The new SEC volleyball schedule includes a designated make-up period from Nov. 23 to Nov. 27 allowing the league to reschedule any games postponed by virus complications.
Be the first to know
Get local news delivered to your inbox!