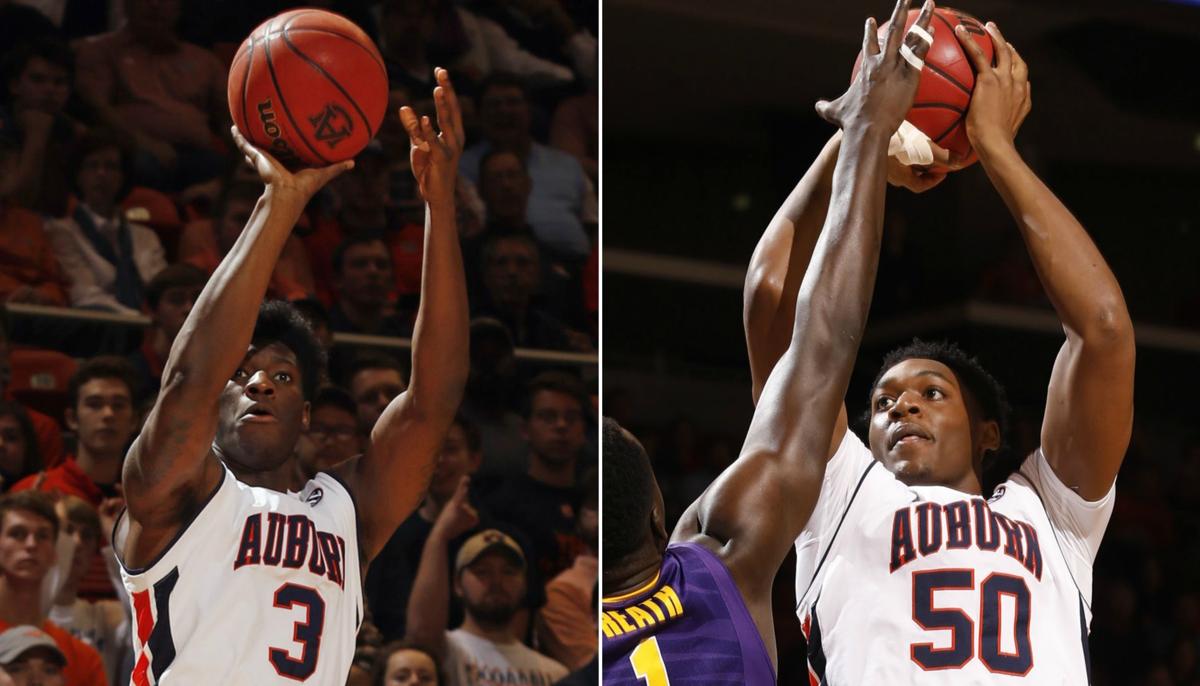 A season that was expected to finally end Auburn's long postseason drought will begin without two of the team's best players.
The Tigers will play an exhibition game against Barry University at 7 p.m. CT on Thursday in Auburn Arena.
"To avoid any potential eligibility issues, Auburn Athletics has decided to hold men's basketball players Austin Wiley and Danjel Purifoy out indefinitely," the university said in a statement." Because this is related to an ongoing investigation, we cannot comment further at this time."
Purifoy and Wiley are able to practice with the team as the investigation continues, but will not be able to travel with the team. They were not with the team during a 100-95 exhibition loss to Division II Barry University on Thursday.
"It's an ongoing investigation, and it has to run its course," head coach Bruce Pearl after the game. "We will be able to determine their eligibility over, hopefully, a very short period of time. But we're still not in a position where we can determine their eligibility yet so therefore, out of caution, they were not eligible to play."
Person is alleged to have paid bribes of $11,000 and $7,500, respectively, to the mothers of two Tigers men's basketball players in order to steer them toward financial advisers.
That they are Purifoy and Wiley is significant for Auburn entering the 2017-18 season, as both were expected to be focal points for a program that hasn't been to the NIT since 2009 and the NCAA Tournament since 2003.
The 6-foot-7, 230-pound Purifoy finished last season ranked second behind guard Mustapha Heron averaging 11.5 points per game. He also averaged 4.7 rebounds and 1.8 assists per game while shooting 39.8 percent from the floor and a team-best 87.9 percent from the free throw line.
The Centreville native did all that while playing out of position at power forward for an Auburn team that lacked size on the interior. He was expected to shift to the more natural small forward spot this season.
The evidence presented in the federal complaint points to Purifoy as being Player-1, as that player was introduced by Person to Rashan Michel, another defendant in the case, at a meeting in a New York City hotel on Dec. 12, 2016. Auburn played a game against Boston College at Madison Square Garden that night, which was five days before Wiley officially joined the team.
Person is not alleged to have paid money to that player directly, but did tell him that tell him that Michel, a former NBA official and high-end clothier, would be able to get him suits and have him "looking like an NBA ball player." He also warned him to not change his personality or discuss the payments with anybody.
The payment of approximately $11,000 is alleged to have gone to Player-1's mother, listed as Mother-1, whom Person told that her son was good enough to go in the first-round of the NBA Draft following the 2016-17 season. Purifoy was averaging 14.9 points per game at the time, but his season was later slowed due to an ankle injury.
This is the second time Purifoy has dealt with concerns about his eligibility — the former four-star recruit was ruled academically ineligible for his true freshman season in 2015-16 because of questions surrounding his ACT test scores.
Prior to the meeting in New York, Person met with Marty Blazer, a financial adviser acting as a confidential informant, near campus on Nov. 29, 2016, and described to him a player (Player-2) ranked ninth in the country that "nobody knows" would be enrolling in the school in January and would play just a year-and-a-half before entering the NBA Draft.
Based on Thursday's announcement, it seems Player-2 is Wiley, who graduated high school early and joined the Tigers' on Dec. 16. The 6-foot-11, 260-pound center is thought of as a surefire NBA talent, but was not eligible to enter the 2017 NBA Draft because of his age.
His mother (Mother-2), who allegedly received $7,500 from Person, is Auburn legend Vickie Orr, who was a three-time All-American, two-time national-runner up and one-time SEC Player of the Year during her career for the Tigers, which took place from 1986-89. Her jersey, along with Person's, hangs in the rafters inside Auburn Arena.
Wiley was expected to be the centerpiece of this year's Auburn team after averaging 8.8 points and 4.7 rebounds in 18 minutes per game during what should have been the second semester of his senior year in high school. The Hoover native starred for Team USA during the FIBA U19 World Cup in Egypt over the summer, averaging a double-double with 10.3 points and 10.9 rebounds.
He likely would not have played Thursday regardless of this announcement, as he has been sidelined since Sept. 30 with a stress injury in his left leg and was not expected to begin on-court work until next week.
"I think that they probably had an idea, but we've been practicing every day — obviously we haven't had Austin, so there's no adjustment there," Pearl said. "Danjel is terrific player. He's playing his natural three position. We definitely missed them both. But we're still good enough to win early in our season."
Person has been suspended without pay since he was arrested on Sept. 26. He was released on $100,000 bond after appearing in front of the Southern District of New York on Oct. 10 and is scheduled for a preliminary hearing on Nov. 9.
Auburn received a federal subpoena as part of the FBI's investigation on Oct. 12. The men's basketball program is currently undergoing an internal review being conducted by the Birmingham law firm of Lightfoot, Franklin & White.
"As a team, we weren't really thinking of the Danjel and Austin situation. We were more focused on what we had in front of us," sophomore point guard Jared Harper said. "We can't control what fans say or what happens. We can control what happens in our locker room and just coming together as a team and seeing what we have to do and be ready for next Friday."
Josh Vitale is the Auburn beat writer for the Opelika-Auburn News. You can follow him on Twitter at @AUBlog. To reach him by email, click here.