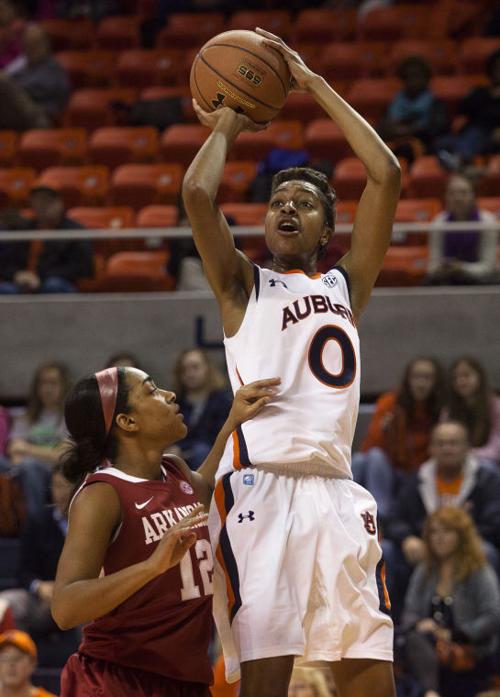 Terri Williams-Flournoy wasn't going to budge.
Her Auburn women's basketball team has an opportunity to measure itself 2 p.m. Sunday at No. 20 Texas A&M. The Aggies, playing their first season in the SEC, haven't dropped off much since winning a national championship two seasons ago.
Nationally, Texas A&M (12-5, 2-1 SEC) is a signature program and memorable opponent. Inside Williams-Flournoy's office this week, the Aggies were nothing more than a cliché.
"I don't know that it's any more important than any other game we play in the SEC," Williams-Flournoy said. "I think at this point every game is an important game once you get to the SEC conference."
But, it could be argued, the Tigers have compiled their 13-3 record — 2-1 in league play — against opponents that pale next to the Aggies. None of Texas A&M's five losses have come against opponents that were outside the top 10 when they played.
If this were a trophy win, it would be centered above the fireplace mantle.
Surely there would be a little more meaning to beating Texas A&M than, say, sub-.500 Ole Miss, which Auburn unceremoniously thrashed Thursday?
"We treat every game as the same," Williams-Flournoy repeated. "One is not bigger than the other."
So, what would victory mean?
"It'll mean we'll be 14-3 and 3-1 in conference," she said. "That's what it will mean."
Defiant? Yes. But Auburn's first-year coach has been successful taking her team through small increments of its season without looking at the big picture. She wasn't about to change the script.
That didn't stop junior guard Tyrese Tanner from admitting her anticipation.
"This is pretty big," Tanner said. "We are very excited to get this opportunity to play a program that has won a national championship before.
"I think it's a pretty big challenge for us — also a test."
The test, primarily, will come from 6-foot-4 junior center Kelsey Bone.
Bone averages a double-double, leading a loaded SEC with 18.3 points and 10.3 rebounds per game. On Thursday, she had 27 points and 15 rebounds in a 3-point loss at No. 6 Kentucky.
Williams-Flournoy didn't underplay the challenge Bone presents.
"She's a great post player, probably one of the best that we'll face this year, so that's a challenge right there in itself," Williams-Flournoy said. "Although she's not the whole team — you're not going to hold her and say completely, 'OK, we'll win the game if we stop Kelsey' — it's a very good team. But she's one that contributes a lot into making them a good team.
"It's going to be a team effort to try to get Kelsey Bone under control a little bit."
Tanner said she's looking forward to seeing where her team stands after playing Texas A&M. The Tigers are entering arguably their toughest stretch of the season, with a home game against No. 9 Tennessee and trip to Kentucky next on the schedule.
Surely, to start that three-game gauntlet with an upset would mean something?
"Yeah, just for us to see where we are and where we stand right now for the next upcoming games," Tanner said. "We have Kentucky and Tennessee next. It's pretty big. We're really excited about it. We just know that we have to play hard and, no matter what happens, don't take any steps back."
Auburn (13-3, 2-1) at Texas A&M (12-5, 2-1)
Where: Reed Arena (12,989)
Projected starters, Auburn: G Hasina Muhammad, 6-1, So. (16.9 ppg, 5.8 rpg); G Najat Ouardad, 5-1, Sr. (5 ppg, 7.2 apg); F Blanche Alverson, 6-3, Sr. (12.6 ppg, 5.9 rpg); G Tyrese Tanner, 6-1, Jr. (13.2 ppg, 4.1 rpg); C Peyton Davis, 6-5, Jr. (6.3 ppg, 5.7 rpg)
Projected starters, Texas A&M: G Courtney Walker, 5-8, Fr. (9.7 ppg, 3.7 rpg); G Adrienne Pratcher, 5-7, Sr. (7.2 ppg, 4.8 apg); G/F Courtney Williams, 6-1, Fr. (4.9 ppg, 2.1 rpg); F Kristi Bellock, 6-1, Sr. (9.2 ppg, 6.9 rpg); C Kelsey Bone, 6-4, Jr. (18.3 ppg, 10.3 rpg)
Ryan Wood is the Auburn University Sports Beat Writer for the Opelika-Auburn News.
Follow on Twitter @aublog