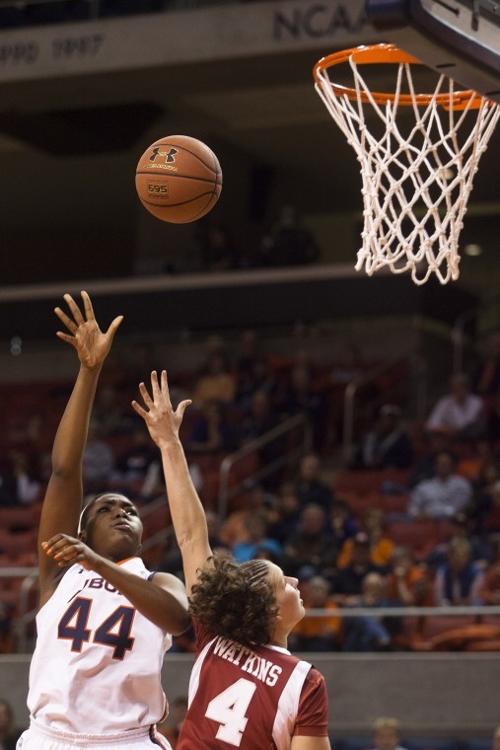 After the Auburn women's basketball team downed its final nonconference foe, Samford, on Saturday, Tigers head coach Terri Williams-Flournoy knew her team would have to take its play to another level to carry its winning streak over to conference play.
"When you step up your competition, you have to step up your play," Williams-Flournoy said then.
The Tigers seemingly did Thursday night in Auburn Arena, upsetting No. 23 Arkansas, 50-47, in each team's SEC opener.
The victory stretched Auburn's current winning streak to nine games, and lifted the Tigers' record to 12-2 on the year.
"I'm very proud of my young ladies," Williams-Flournoy said after the win. "It was very tough for them to come into their first SEC game against Arkansas.
"I thought our girls did a really good job of setting the tone right away for the game. On the run that we went on, I think the more that they let our press work, the more that they get into it. I thought they just did a really good job."
Auburn trailed, 20-19, at halftime before storming back in the second half. The Tigers poked away 13 steals, recorded 9 blocks and forced the Razorbacks into 20 turnovers in the win.
Junior guard Tyrese Tanner led the Tigers with a game-high 15 points, scoring 6 in transition in the second half as Auburn pulled away.
"Our coach has always said convert from their turnovers to our points," Tanner said. "Just like me being the top of the press and having (Najat Ouardad) and Hasina (Muhammad) on the side doing ball pressure, making them turn the ball over.
"Since I'm at the top, I'm the first one back on offense anyway. So they just launched me the ball, and I scored."
Muhammad added another 13 points in the win, extending her streak of games scoring in double digits to 16, dating back to last season. Senior Peyton Davis pulled down 17 rebounds, the most for a Tiger in a single game since DeWanna Bonner brought down 19 in 2007.
Auburn outshot Arkansas from the field, finishing 21-of-64 (32.8 percent) compared to Arkansas' 16-of-58 (27.6 percent). Defensively, the Tigers held the Razorbacks to 17 points below their previous season-low in scoring.
The win marked Auburn's first victory over a ranked opponent since the Tigers defeated No. 22 Georgia in February of 2011.
"Each and every night it's been different kids," Williams-Flournoy said. "I thought Hasina had just an OK night. Peyton comes in and rebounds for us. (Tanner) steps in and does some defensive work for us.
"On any given night, I guess that's a team that can help you win even when your so-called 'star player' isn't playing that well."