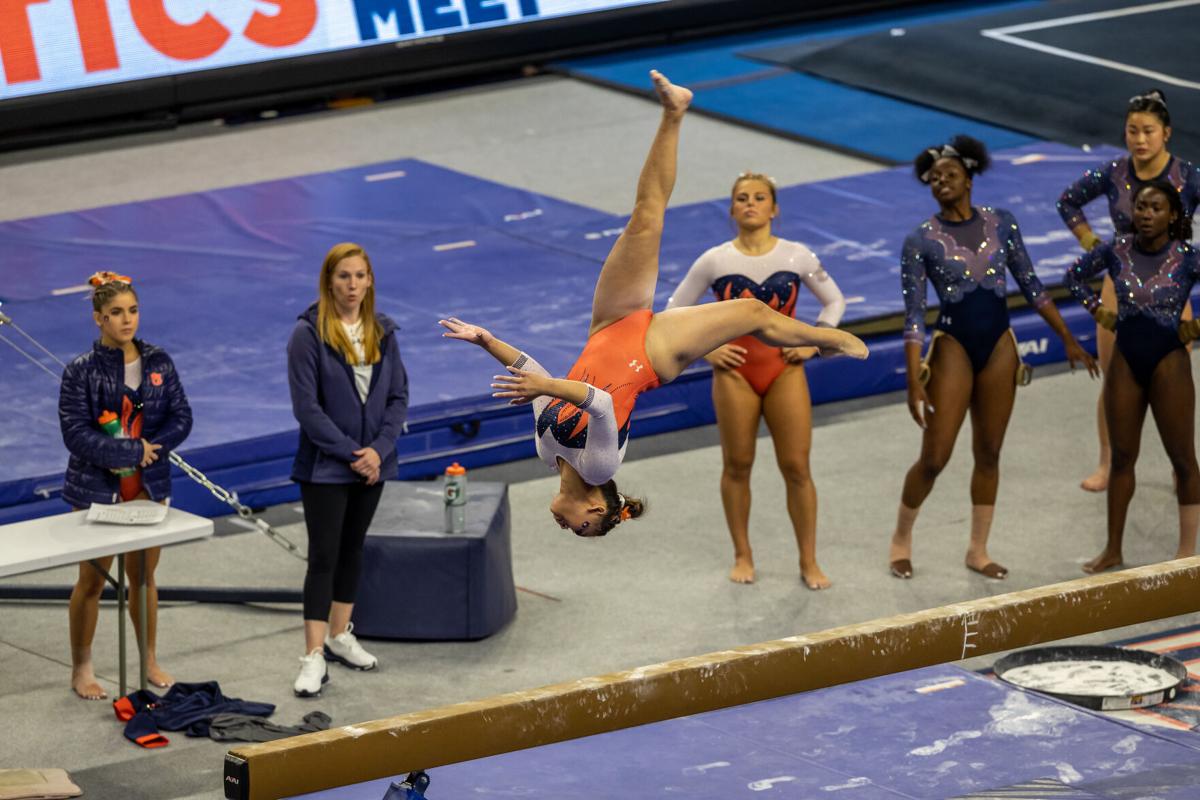 On the big stage, the Tigers shined.
Suni Lee swung her way to her first bars win in college, Derrian Gobourne turned Bud Walton Arena into her dance stage on floor, and the Auburn gymnastics team came away with a big SEC road win Friday at Arkansas.
Auburn launched its way to a 197.250 — the second-highest road score in program history.
Auburn came back in the final rotation to win by a razor's edge, topping Arkansas' score of 197.200.
"So much fun," Auburn star freshman Suni Lee tweeted after the meet.
The Tigers trailed by just 0.025 going into the final rotation, with Arkansas moving to floor in Bud Walton Arena — the largest arena on campus at Arkansas, which the school usually uses for basketball but Friday night was being used for gymnastics for the first time ever.
Meanwhile, Auburn moved to the pressure cooker on beam in front of more than 10,000 fans.
But freshman Sophia Groth stood tall with a 9.900, sophomore Gabby McLaughlin hit a huge 9.925 in the second-to-last routine, then turned the spotlight to Lee, on anchor for the first time in her college career.
In the tight meet, Lee delivered a 9.875 — just enough for the Tigers to win by nearly the slimmest of margins.
Lee opened the meet by tying for the best score of the night on bars, landing a 9.950 to match the score of Arkansas' Maggie O'Hara.
Gobourne also won top marks on floor, bouncing her way to a 9.925 — a half-10th better than the best Arkansas scorers.
But it all came down to beam. Arkansas was strong on floor delivering a 49.300, but Auburn was just that clutch, hitting a 49.375.
Auburn head coach Jeff Graba said Lee upgraded her routine on beam as did Cassie Stevens, as the Tigers went for thw in.
"We knew we were behind going into the final event. We knew we needed big scores. And that means you've got to take a risk," Graba said. "We've got young people trying to hit home runs, and we did a really, really good job. I'm very happy with their mentality at the end and I think it's great building blocks for the future."
Groth hit her big 9.900 in Auburn's No. 3 spot on beam. Auburn upgraded its score to a 197.250 from a 196.250 in the season opener at North Carolina.
"I knew it was close going into beam but I didn't waver," Groth said. "I was very confident with my beam routine and how I've been training and just being able to go out there and show it off."
In the end, Auburn rose to the ocassion on the big stage. Three Olympic gold medalists were in the house Friday in Lee and Arkansas coaches Jordyn Wieber and Kyla Ross — teammates on the 2012 gold-medal team for Team USA.
"I was joking with a couple people around me: 'It's like a rock concert in here.' ... Our girls handled it," Graba said. "I want to thank Arkansas for throwing such a great event, becuase it's preparing us. This is tough to manage, the anxiety levels, all the stress, keeping your head on straight, being in a tight meet.
"Both teams got better tonight because we were in a tight meet, and our team took a huge jump forward. We took some chances and most of them paid off, and we came up with a win and a great score and our girls feel probably a little bit more confident."
Auburn next moves to its home opener Jan. 21 in Auburn Arena.