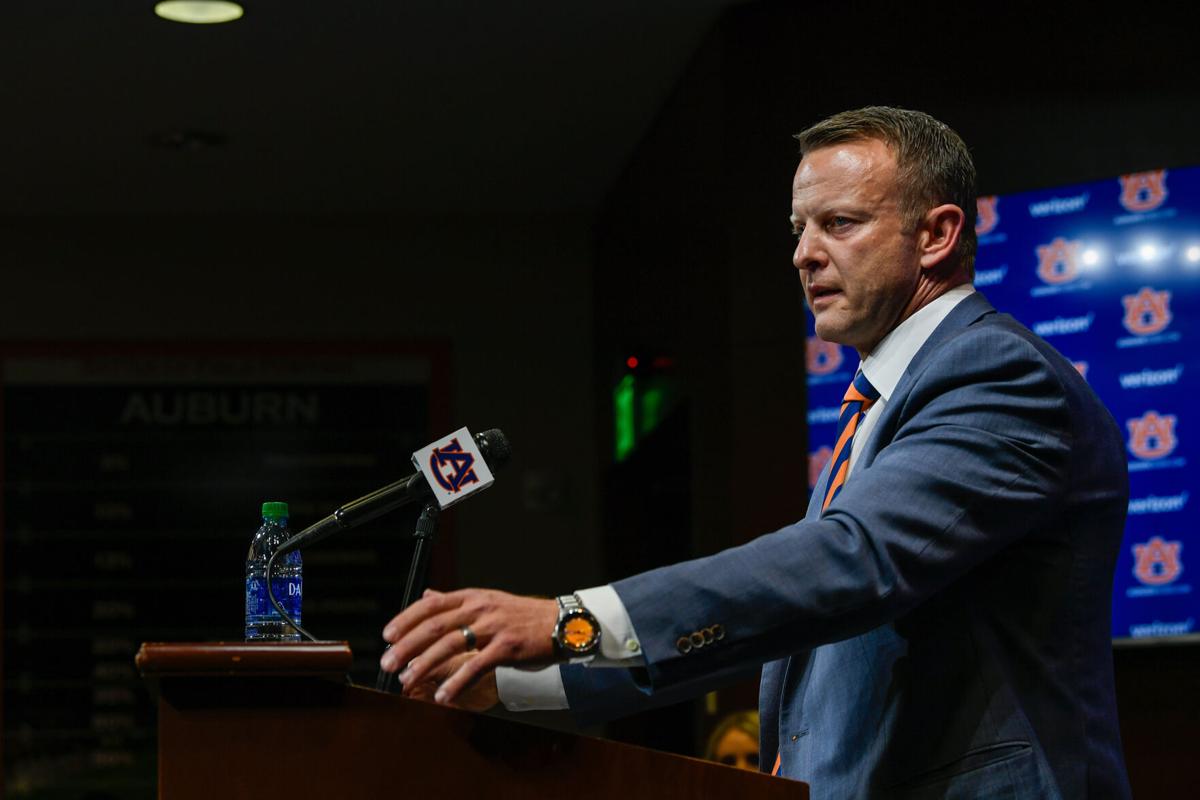 Since his hiring on Dec. 22, Auburn head coach Bryan Harsin and his staff have been working diligently to put the finishing touches on their first recruiting class.
Now, the finish line is finally in sight.
Wednesday marks two weeks until National Signing Day, when the remaining class of 2021 recruits who did not sign in December can do so with their respective schools. Harsin and his coaches have inherited 11 signees from the previous regime: one quarterback, one receiver, one tight end, one offensive guard, three defensive tackles, one defensive end, two cornerbacks and one safety.
Those 11 signees not only provide the new staff with several talented pieces, but it has left them plenty of room as far as scholarships go to add more.
Harsin was no doubt playing catch-up in taking over after the early signing period and with a little over one month until the traditional signing day, but the former Boise State head coach sounded prepared for the challenge. He spoke during his introductory press conference on Dec. 24 about recruiting being a grind but also explained the importance of having fun and working hard at it as a staff.
Harsin also spoke about taking on all tasks with a determined mindset, a lesson he learned from his father Dale.
"My dad is a drag racer. Some of you guys might have heard that a little bit. I've got some drag racing in my background, and when you're going to go over 200 miles an hour in a car in six seconds, that thing better work right or you're not going to do so well at the end of it," Harsin said. "He's taught me about process. He's taught me about details. He's taught me about how to do things the right way. … He also would tell me this too, because we work on cars, we build cars, it takes time and people get extremely impatient. Do you want it done right, or do you want it right now?"
Harsin and his coaches have taken that approach to close out this recruiting cycle. With two weeks to go, let's take a look at the Tigers' most glaring needs and how the coaching staff plans to fill them.
Running back
What was once a true strength for Auburn has quickly become a position of need thanks to the departures of Harold Joiner and D.J. Williams and the potential departure of Mark-Antony Richards, who entered the transfer portal in December but has yet to announce a new school.
The Tigers' coaching change led to Auburn missing out on an in-state stud in four-star Armoni Goodwin, who signed with LSU in December instead. Auburn has been busy chasing after other prospects since Harsin's hiring, including four-star Byron Cardwell and three-star Jarquez Hunter.
Signing Cardwell — who hails from San Diego, California — would be a step toward Harsin's objective of recruiting nationally at Auburn, but given he has offers closer to home such as UCLA, Oregon, and Cal, it doesn't seem likely he signs with the Tigers. Auburn appears to be in good shape with Hunter, a 5-foot-10, 190-pound back who rushed for 1,687 yards and 22 touchdowns in 2020 per 247 Sports.
Adding either Cardwell or Hunter to the fold would be a step in the right direction for the Tigers, but that may not be all they do. Auburn could also go to the transfer portal for another running back, one who might not get many carries but would add some reliable depth at a position that experiences plenty of wear and tear during the fall.
Offensive line
Auburn's offensive line was one of its weakest links in 2020, and while the team added three-star guard Garner Langlo in December it missed out on four-star guard Jaeden Roberts, who flipped and signed with Alabama. Auburn interim head coach Kevin Steele praised Langlo for sticking with the Tigers and noted the offensive line was the group at which the Tigers took the "biggest hit" after Gus Malzahn's firing as head coach.
Like with the running backs, Harsin's staff has been patiently working to bolster the line before 2021.
Auburn has stayed busy pursuing offensive linemen and recently offered three-star junior college offensive tackle Jordan Moko and three-star offensive tackle Colby Smith. Moko is an interesting prospect given he's an Australian who has caught coaches' attention for his play at Snow College in Utah, but the Tigers are playing catch up by offering him Monday after Moko named LSU, Texas A&M and Oregon as his top schools back in December.
Smith, meanwhile, seems like a more viable option for the Tigers.
A 6-foot-7, 315-pound tackle from Reidsville, North Carolina, Smith was a Tennessee commit before decommitting on Monday upon Jeremy Pruitt's ouster as Volunteers head coach. Smith committed to Tennessee back when current Auburn assistant Will Friend was the Volunteers' offensive line coach, and that relationship amid the turmoil in Knoxville could be what leads Smith to Auburn.
Others
Auburn has a few other needs, but they're not quite as glaring as running back and offensive line.
The Tigers may decide to add another quarterback via the transfer portal, especially if Grant Loy decides not to use his extra year of eligibility to back up Bo Nix again in 2021. Auburn could also add an experienced wide receiver after its three leading receivers from 2020 departed for the NFL and Ze'Vian Capers underwent surgery after suffering a foot injury in the Citrus Bowl.
Harsin and his staff were forced to hit the ground running in recruiting but have gotten the Tigers in good position to secure a solid class. A lot can still change in what little time remains, and we'll soon learn whether or not their efforts were successful.