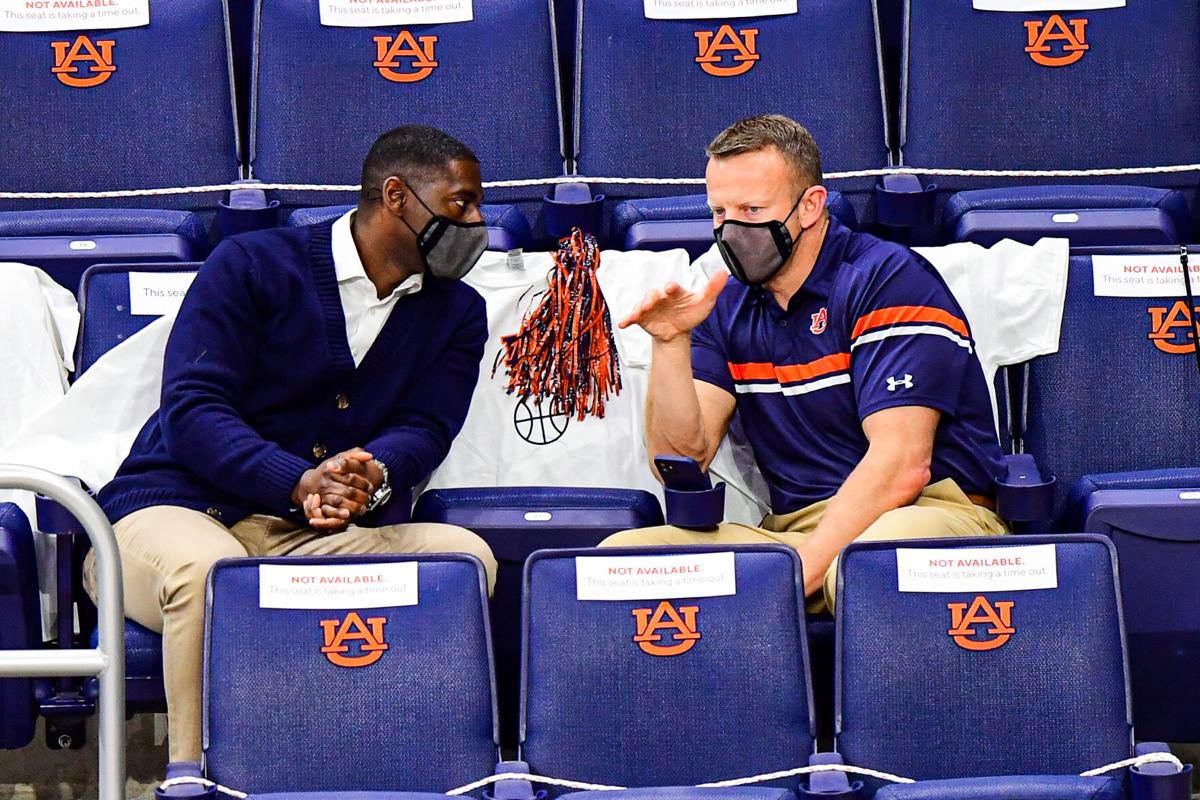 Auburn head coach Bryan Harsin developed somewhat of a routine over the last month.
Since taking the Auburn job in late December, Harsin said his average day was getting up at 5:30 a.m., getting to his new office then calling and vetting potential assistant coaches soon after. Later, he'd watch film, connect with the coaches who were on campus then meet with some of his current players before getting home at about 11:30 p.m.
It's been a long few weeks for Harsin and his staff, but the new Tigers head coach understands there's still plenty of work to be done.
"There's still a lot of connections we have to make. There's still a lot of things we have to do as far as getting this thing where we want it, as far as just the install of the culture, the program," Harsin said Thursday. "But having the staff here — having the strength staff here, having the right people in place, and really coaching the coaches and making sure that we're all on the same page and that we're aligned with what we're doing is going to help us move further faster with our players."
The connections that will be closely examined over the next few weeks involve recruiting. When Harsin spoke Thursday, he and his staff were 13 days away from National Signing Day, the first major milestone in his first season at the helm of the Auburn program.
Harsin said he felt the staff has made valuable connections with some recruits but that it's an ongoing process. There's also the challenge of understanding what exactly Auburn's roster needs and whether using the traditional recruiting route or examining players in the transfer portal is the better option.
When asked about Auburn's needs, Harsin rattled off offensive line, running back, cornerback, safety, linebacker and defensive line before adding the disclaimer that the Tigers have holes to fill at every position.
Harsin explained he's been happy with how his assistants have hit the ground running in recruiting while also emphasizing Feb. 3 won't be the be-all and end-all for Auburn thanks to the portal.
"These guys understand the importance of recruiting, but they also understand the importance of recruiting the right people to fit with what we're trying to accomplish here," Harsin said. "The second signing period, that will be the first opportunity for us to sign guys on that day. But that's going to continue on all the way through the spring. There's going to be more recruiting. There's going to be things that happen."
Harsin explained he expects there to naturally be a few spots left open on the roster after Feb. 3, which will allow Auburn to add players through the portal. He stressed the importance of evaluation in terms of whether the team should fill certain needs with a high school recruit or instead with a college transfer, adding he felt his staff has done their homework in making those decisions.
Harsin and his assistants inherited 11 signees from December which have helped fill some needs, but that hasn't stopped Auburn's new staff from working to add to the class. That mission will continue well past Feb. 3, and for Harsin, the primary objective isn't to add players quickly but to add players who can truly make a difference.
"The goal is to sign the right people, to have the right players in this program, to have the right fit for what it is we're trying to accomplish," Harsin said. "That goes back to that original question, just making sure that we stick to the plan that we have in place and that we do follow through on getting the right people here and making sure, especially this '21 class, that we build it the right way.
"We feel the needs that we need to fill and that we have players here that are prepared and ready to go in the summertime, at least, for helping us in this 2021 season."