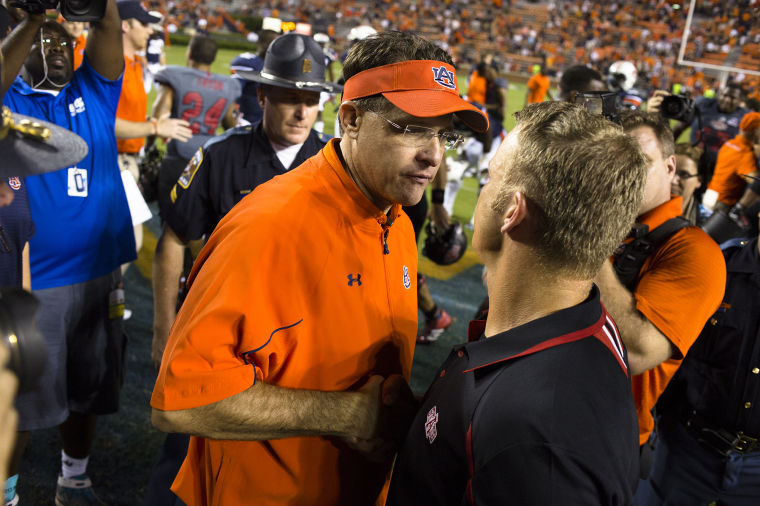 BIRMINGHAM — Bryan Harsin's career has been curiously intertwined with Gus Malzahn's for years.
That hasn't come without a head-to-head meeting. And that meeting didn't come without a story.
At SEC Media Days, in as good a place as any to tell it, and Auburn's new football coach had a story about Auburn's old football coach on Thursday — saying Malzahn made a late change and pulled the rug out on Harsin's plans at Arkansas State.
Harsin and Malzahn met head-to-head as head coaches in 2013, when Malzahn was in his first season at Auburn and Harsin was in his first and only season at Arkansas State. In that game, Arkansas State wore gray uniforms with red numbers opposite Auburn's usual navy home uniforms. The Red Wolves were ultimately penalized 15 yards at the beginning of each half for wearing uniforms out of code.
Harsin said he cleared it with Malzahn — but closer to kickoff, Malzahn changed his mind and took the leg up.
"Going into the Auburn game, the players when I was at Arkansas State — Coach Malzahn and the staff had great uniforms. They never got to wear them," Harsin explained Thursday during his time on the podium at SEC Media Days. "So in that game I thought, 'You know what, this is going to be our opportunity. We're going to wear our gray uniforms in this game.'
"I kind of had it all clear with Coach Malzahn, because you'll get a penalty with that. It was all going to be good. Then he changed his mind and took the two 15-yard penalties."
Harsin smiled as he told the story. He was asked if he had any kind of relationship with Malzahn seeing that he actually followed Malzahn at Arkansas State and at Auburn. Malzahn's first head coaching job in college football was at Arkansas in 2012 in the season between his stint as offensive coordinator at Auburn and head coach of the Tigers. Harsin replaced him at Arkansas State in 2013 before heading off to Boise State in time for the 2014 season.
Now, Harsin is replacing Malzahn again.
"It put us behind in that game," Harsin seemed to shrug. "We actually played well offensively. We had some really good players in that game."
Auburn won the game 38-9. Arkansas State went 8-5 that season. Auburn went on its wild ride to the BCS National Championship Game.
"I remember going into that environment, and as you look up in the stands, you can't hear a thing," Harsin said, thinking back. "It's shaking on the field, and you're trying to get a play out to your quarterback. It was difficult. I thought our guys did play well in that game."
Harsin said his coaching relationship with Malzahn goes back to 2007 when Malzahn was making waves as an offensive innovator at Tulsa. He said he, then-Boise State head coach Chris Peterson, and their offensive line coach went down to Tulsa to visit with Malzahn and the Tulsa staff and watch and learn. He said they installed some no-huddle after that visit.
The connection continues: This season, Malzahn's new team UCF opens its season Sept. 2 against none other than Boise State.
"We have this weird web of connection, Coach Malzahn and I do," Harsin said. "I've got a lot of respect for him."