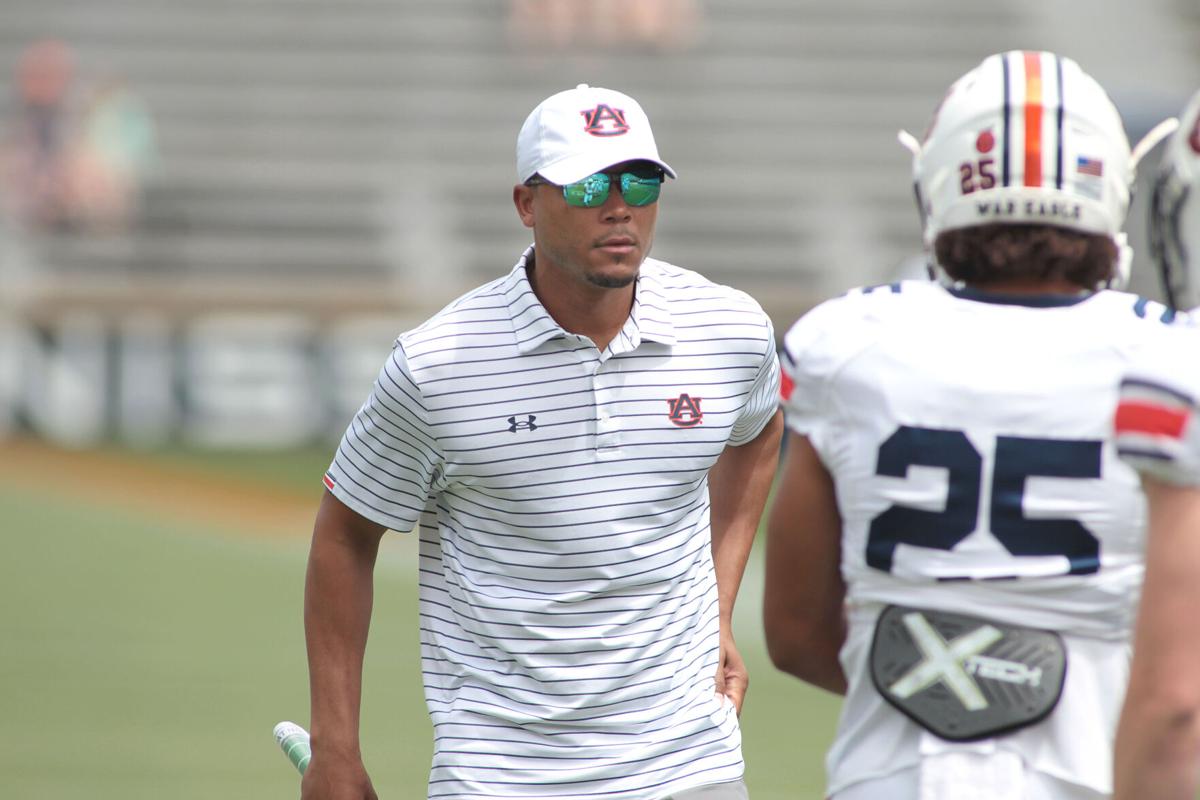 DOTHAN — It didn't take Cornelius Williams long to feel at home as the new wide receivers coach at Auburn University.
"I used to go to Auburn all of the time," Williams said. "My wife went to school there and my best friend is Zac Etheridge (cornerbacks coach).
"They always talk about the family feel. It is that. I know a lot of people say that, but when you come to Auburn, you really get that. When we got guys (recruits) on campus this summer, that's what a lot of guys felt and what they saw."
Williams, who spent the previous six years as wide receivers coach at his alma mater of Troy, was in Dothan on Tuesday as the featured speaker for the Wiregrass Auburn Club meeting held at Covenant United Methodist Church.
When Bryan Harsin was hired away from Boise State as the new Auburn head coach in December, Williams knew it was a program he would like to join. Having Etheridge be among the first hires on staff in early January made it that more of an attractive job for Williams to pursue.
Williams and Etheridge, a Troy native that starred at Auburn as a defensive back, became friends when both played in the Alabama/Mississippi All-Star Game following their senior high school seasons. Williams was a standout receiver at Hoover during his high school days, while Etheridge was a key defender for Charles Henderson.
"Zac and I kind of connected through the Alabama/Mississippi All-Star game," Williams said before the program began Tuesday night. "With him being from Troy, we stayed in touch going back and forth. When he came to Troy we would hang out, and when I went to Auburn I would hang out with him."
Williams would join the Auburn staff a week or so after Etheridge was hired back at his alma mater.
"I knew that Zac would definitely put in a good word for me to be able to have the opportunity to get there," Williams said. "That was all I wanted was the opportunity to get there and show that I can compete (as a coach) at the highest level and also show what I've been able to do over my career developing guys."
Williams should know the make-up of a good receiver. After all, he was one himself.
Williams was a four-year letterman for Troy from 2006-09, finishing his playing career with 63 receptions for 764 yards and seven touchdowns.
In the high school ranks, Williams helped lead Hoover to four straight Class 6A state titles and a combined 56-3 record. He was named all-state his senior year after setting a school record with 77 receptions for 1,300 yards and 18 touchdowns.
As a coach, he's considered among the rising stars of the profession.
This past season, Troy's passing attack was 21st nationally in passing yards per game (290.2) and 30th nationally with 752 receiving yards. As a unit, Troy receivers topped the 100-yard mark 11 different times to break a school record that previously stood at seven games.
"My biggest thing is I'm about the players," Williams said of his coaching mindset. "I believe in serving these guys and I believe in developing them. I believe in having a group that is tough.
"We talk being tough, disciplined, competitive and prepared. That's what I want to make sure I continue to emphasize over and over. And for those guys that are here, they know and understand that. And for the guys coming in, they know and understand that."
Williams has built strong recruiting ties throughout the state during stints as an assistant coach at five other state universities before coming to Auburn – UAB (2014), Jacksonville State (2013), North Alabama (2012) and South Alabama (2010) in addition to Troy. His lone year coaching outside of the state was in 2011 at Murray (Ky.) State.
"It's definitely huge to have connections," Williams said. "It's all about the relationships. It's definitely a big deal to have those connections from the north to south, from east to west, whatever."
Auburn will be feature a lot of young receivers this season, but Williams sees plenty of potential.
"I think what I saw in the spring it was a bunch of young guys looking to be led, in my opinion, just because of the inexperience," Williams said. "We have some guys that are going to have the ability later to step up and make some plays as they get into the groove of things when we go through fall camp and they start to play actual games and a lot of minutes.
"A kid who stood out was (sophomore) Ja'varrius Johnson. He is one who made a bunch of plays throughout. Then you could see some glimpses here or there of Elijah Canion, Kobe Hudson – all of those guys were doing some things here or there, but we just have to be more consistent and have an edge about it as a group."
Georgia transfer Demetris Robertson is expected in camp soon.
"He's not in yet, but he will be here when fall camp starts," Williams said. "We needed that – a guy who has a lot of game experience and has done it in big games. That's going to be huge for us from a leadership standpoint.
"Those (younger) guys being able to pick his brain and kind of ask him questions along the way."