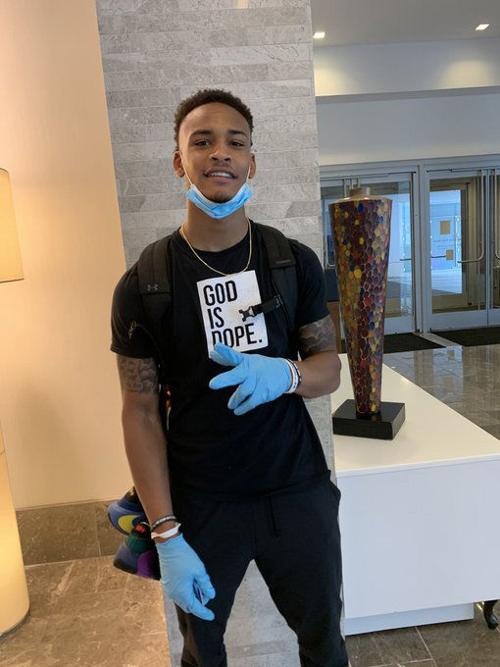 Bryce Brown stepped into the hotel with a mask covering his face and protective gloves wrapping his hands, but even as the outside world was shut off from him with the hotel door closing behind him, Auburn's love for the superstar sharpshooter still managed to reach him in the lobby.
Brown arrived in Columbus, Ohio along with his War Tampa teammates on Monday, stepping into quarantine before this week's in-isolation The Basketball Tournament — and just as he checked in and participated in a quick interview for TBT's social media, he was asked about all the love and support War Tampa has received from the familiar Auburn faithful.
"It means a lot," Brown said in the hotel lobby Monday in an interview posted on TBT's Twitter. "It lets me know that they're still following me, still following my guys. It just gives us that much more confidence to go out there and perform.
"So I appreciate y'all, the Auburn fans, for staying in contact and keeping up with us and supporting us," he smiled, his mask tugged down temporarily to his chin. "And we won't let you down."
War Tampa is set to take on House of 'Paign in the first round of the tournament on July 4 at 7 p.m. on ESPN. Brown, Horace Spencer, LaRon Smith and Desean Murray are all on the roster for the Tampa team, which changed its colors to orange and blue to welcome support from Auburn fans.
And all of them will be following strict quarantine rules in the hotel as TBT hopes to offer a safe, successful for-TV product for sports-starved fans across the country.
'You must stay in quarantine at all times,' tournament rules read on a sign posted in the hotel, and that's just the start of it. TBT borrowed a full-size court with goals from Ohio State and rebuilt it in one of the hotel's ballrooms for teams to use without leaving the bubble. Players are instructed to wear masks at all times outside their hotel rooms.
Players who arrived Monday like Brown were allowed in because they took at-home coronavirus test kits last week and were cleared to travel. Monday, the arrivals were tested again and instructed to stay in their rooms until those tests return today. Meals were hung from their room doorknobs in paper sacks. Once they're cleared, they're allowed to be with their teammates, but no one else — until game time.
It should all be worth it though for the players participating in the first nationally televised team sports event in the United States since lockdown — and in particular for players like Brown and Spencer excited to wear orange and blue once again.
"I can't wait to get to Ohio," Spencer said in a recent interview with Auburn's Andy Burcham on the Talking Tigers Podcast, posted to the university's site on Monday. "I just don't want to disappoint. You know what I mean? I just want to be on the top of my game for the Auburn family, because it's really a big deal."
He started to laugh. "People don't really understand. This is really a big deal," he said. "It's not just an everyday team that you see that we have put together. This is alumni that has tournament-caliber potential on it. Being able to play with my teammates again is also amazing, and just to have that Auburn connection and just to feel it all over again — it's just a big deal to me."
War Tampa's first-round opponent, House of 'Paign, features Illinois basketball alumni. Awaiting the winner in the second round is top-seeded Ohio State alumni team Carmen's Crew. The Basketball Tournament has run every summer since 2014 as a massive winner-take-all tournament offering prize money to the winning squad, though this year's tournament is unique in that its field was shrunk down from 64 teams in 2019 to a more manageable 24 teams in quarantine.
It also may be special in how many viewers from around the country tune in this year to finally see team sports again.
That'll include those down on the Plains, watching Brown, Spencer and the rest teaming up again and cheering them on from Auburn.
"I appreciate y'all, my four years I was there. I appreciate y'all now," Brown said in his interview.
"I'll put on for y'all. Let's get it."