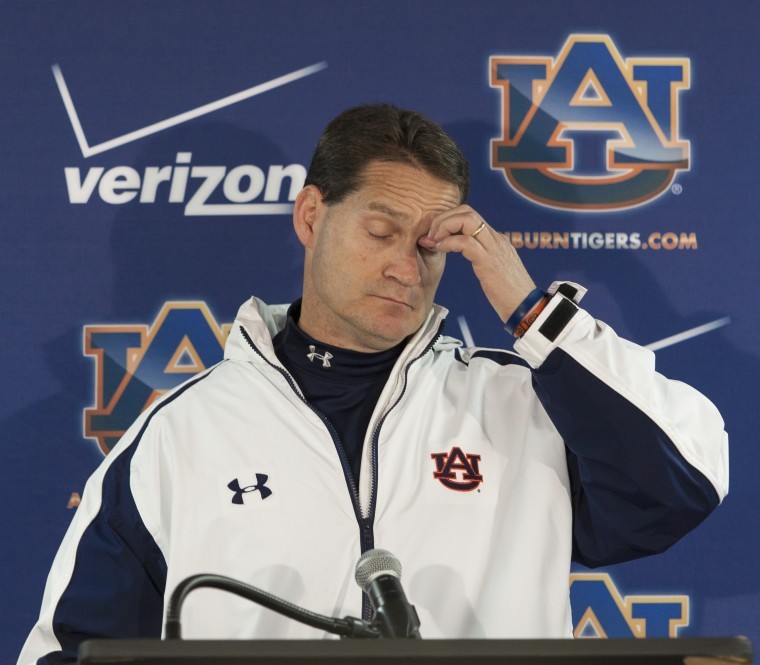 TUSCALOOSA — After the second-worst Iron Bowl loss in Auburn history, Gene Chizik lasted 6 minutes.
Maybe there wasn't anything more to say. Maybe the 49-0 beatdown No. 2 Alabama (11-1) handed the Tigers before a crowd of 101,821 Crimson fans — who casually switched between delirium and boredom — spoke all the words Chizik couldn't. It was far from the 24-point comeback win Auburn had at Bryant-Denny Stadium two years ago.
But, in a media room packed shoulder to shoulder, Chizik was whisked away after merely 6 minutes of questioning — half the length of a normal postgame interview.
Question is, will Chizik last until 2013?
"I'm not going to go into all the job situation with any questions," Chizik said. "This isn't about me. I've got a locker room full of guys over here that are very, very disappointed and hurting, starting with our seniors. And that's my focus. So, I'm not going to entertain any of those questions."
Auburn's 49-point loss was its worst since the 55-0 drubbing it took against Alabama in 1948. The Tigers fell behind 42-0 after the Tide scored 28 second-quarter points, their biggest halftime deficit in the Iron Bowl's 77-game history.
Alabama, which plays No. 3 Georgia in the SEC Championship Game next week, pulled starting quarterback AJ McCarron and his supporting cast one drive into the third quarter. The Tide scored touchdowns on its first seven possessions before backups replaced starters.
In Auburn's final three SEC games, the opposing quarterback was pulled before the fourth quarter with the game was out of hand.
Chizik admitted Saturday wasn't the type of performance Auburn fans deserved, not in the one game they anticipate 365 days year round. Asked what case he would make to the fans in support of him retaining his job, Chizik halted.
"I don't have to make a case," the coach who makes $3.5 million per year said. "You all saw what you saw out there tonight. Again, I'm just very disappointed for our fans. We've been in tough times before and we've got to come back and continue to work to try to fix everything that's kind of spiraled downward. That's where we're at.
Auburn's 3-9 final record is the program's worst record since its 2-8 season in 1952, but in the national scope the Tigers' collapse this fall was unprecedented. Auburn's .250 winning percentage was the lowest of any team two years removed from a national championship in the Associated Press era.
Afterward, Chizik was asked specifically about Auburn's performance Saturday in what he deemed a "one-game season" this week, and whether it was good enough for him to return.
"Again, I'm not going to address anything that has to do with my job," the coach who made more than $1.1 million per win this season said.
Less than 90 seconds later, Chizik was headed back toward the door leading to Auburn's locker room. He left his players to answer the questions he wouldn't.
Each one professed affection for their coach.
Freshman quarterback Jonathan Wallace said, "I love Coach Chizik," adding he had confidence his coach could turn the program around. Defensive end Nosa Eguae called Chizik "an amazing guy, an amazing person, a man of Christ."
None could say with certainty Chizik would return in 2013.
"That's a part of the deal," sophomore defensive tackle Angelo Blackson said when asked if he thought there was a possibility Chizik wouldn't return. "As a team, you've got to win. You've got to put together a gameplan to win to beat your rival team, but when you don't, it's part of the game. It's the consequence you've got to pay."
Perhaps the toughest answer to find was more about Auburn's future than Chizik's place in it.
The Tigers lost by a combined score of 87-0 this fall to Georgia and Alabama, their two closest rivals. They've been outscored against those two foes 174-21 the past two seasons.
"We're not where we want to be," senior receiver Emory Blake said after his final career game. "Of course, we're not playing at the level we want to play. So, I don't know what the acceptable level is, but we want to be definitely better than we've been this year.