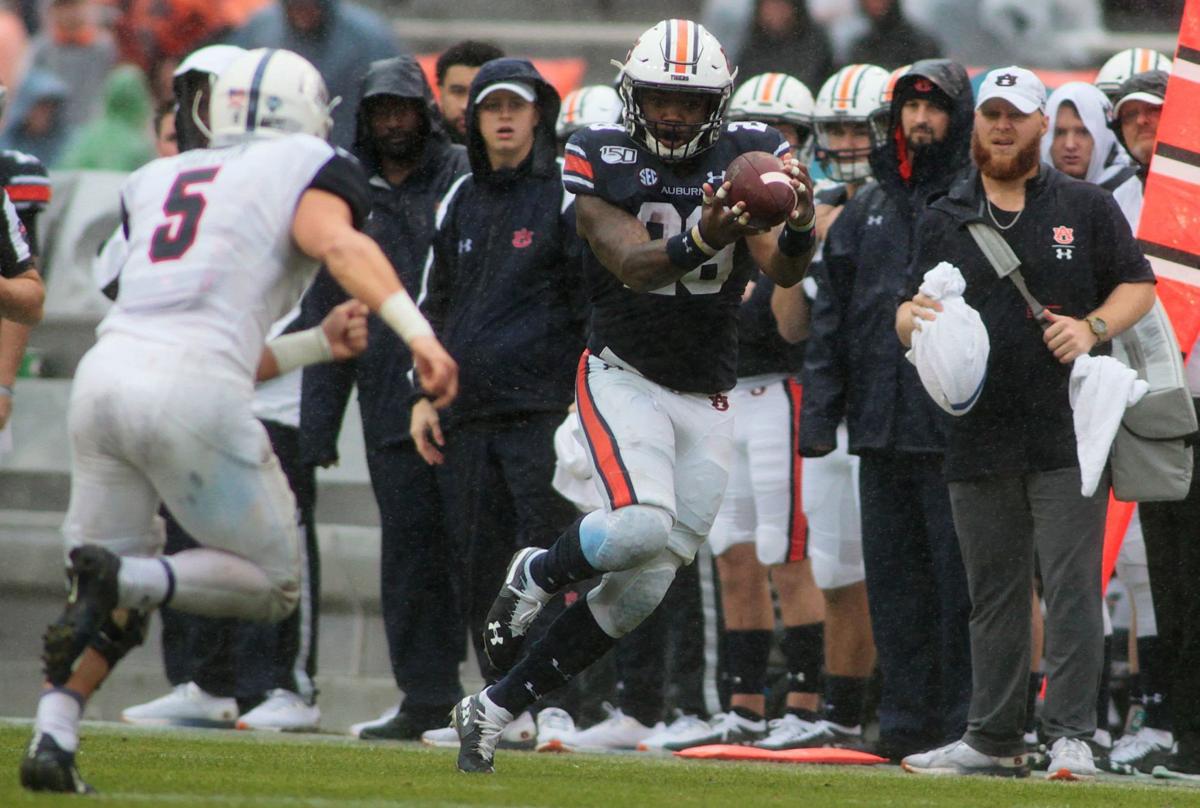 Auburn running back JaTarvious Whitlow's 2019 season hit a snag due to injury, but the sophomore returned to form in the Tigers' victory over Samford on Saturday.
Whitlow led the way on the ground in the first half against the Bulldogs, taking seven carries for 49 yards and scoring twice in the Tigers' ninth win of 2019. Whitlow was an early driving force for a Tigers' rushing attack that ended the game with 293 yards and four touchdowns on the ground.
Whitlow's first trip to the end zone – a one-yard run that gave Auburn a 7-0 lead in the first quarter – served as Whitlow's first touchdown since he scored three times against Mississippi State on Sep. 28. Whitlow missed two of Auburn's next four games after the win over Mississippi State due to a knee injury.
Whitlow goes into the regular season finale as the Tigers' leading rusher with 625 rushing yards and nine touchdowns.
Defense shuts out Samford
As impressive as the Auburn defense has been all season, Saturday marked a first for the Tigers defenders for the fall.
Auburn held Samford scoreless in a 52-0 victory for the Tigers' first shutout win since beating Liberty 53-0 on November 17, 2018. The win broke a 213-game scoring streak for Samford, which had not been shut out since a 29-0 loss to Tennessee Tech on November 9, 2000.
Auburn's defense generated four turnovers, forced sixed punts and caused one turnover-on-downs in the win.
Shorthanded secondary
Auburn's sophomore backup safety Jamien Sherwood will be suspended for the first half of the Iron Bowl next Saturday, following NCAA rules after he was ejected on a targeting penalty in the second half of Auburn's Saturday win over Samford.
Seniors Jeremiah Dinson and Daniel Thomas are Auburn's two starters at safety, but Sherwood and fellow sophomore Smoke Monday usually take snaps intermittently on defense.
Sherwood was tagged with targeting on a hit on Samford quarterback Liam Welch early in the third quarter. The play was reviewed and the ruling was upheld.
Auburn defender Christian Tutt said the Tigers will have to adjust to playing without him in two quarters of the Iron Bowl.
"That was really tough, because not only do I lose him on defense, but he's also my main blocker on punt returns," Tutt pointed out. "So losing him the first half next week, that means a lot — but we've just got to rally. Next man up."
Earlier this season, Monday missed the first half of Auburn's game at Texas A&M, after being ejected in the second half of Auburn's win over Kent State.
Kicking struggles continue
After struggling in Auburn's last two games against Ole Miss and Georgia, sophomore kicker Anders Carlson suffered another mishap against Samford.
Carlson's first field-goal attempt against the Bulldogs ended poorly, as Samford's Joshua Carter blocked the 43-yard attempt to leave Auburn with a 7-0 lead with 4:57 left in the first quarter. Carlson bounced back by hitting a 29-yard field goal with 1:16 to go before halftime.
"Well, the one got blocked. I think it was kind of a snap and a hold where it was raining like crazy," Malzahn said. "Of course, he made one down there when (the weather) was miserable. I thought we did a good job with him coming in there and getting those three points."
Carlson is 13-of-20 on field-goal attempts this season, leaving him 28-of-45 in his two years with the Tigers. On field-goal attempts of over 40 yards, he is 8-of-24.
O-line shakeup
Auburn senior Kaleb Kim played at right guard for much of Auburn's win, in place of usual starter Mike Horton.
Auburn head coach Gus Malzahn said Horton was held out with a minor injury and said the team expects him to be "fine" for the Iron Bowl next week.
Kim started at center for Auburn in the team's first eight games this season, before giving way to sophomore Nick Brahms in the middle starting with the Ole Miss game and in every game.
During the course of play, Kim checked out with an apparent injury before redshirt freshman Jalil Irvin came on to play right guard in his place.
Auburn spread the field early to get the ball in space and protect that interior in its offensive attack, giving speedster Anthony Schwartz five touches on the outside on the Tigers' first two series.
Irvin's appearance gave Auburn fans an early look at what the interior of the offensive line could look like next season with Brahms leading the way in the middle. All four of Auburn's usual other starters on the O-line are seniors.
Late in the game, Auburn checked in a full second-team on the offensive line.
"The future is bright," Brahms said. "I'm looking forward to playing with those guys. They're super talented and next year is going to be a fun one."​
Be the first to know
Get local news delivered to your inbox!