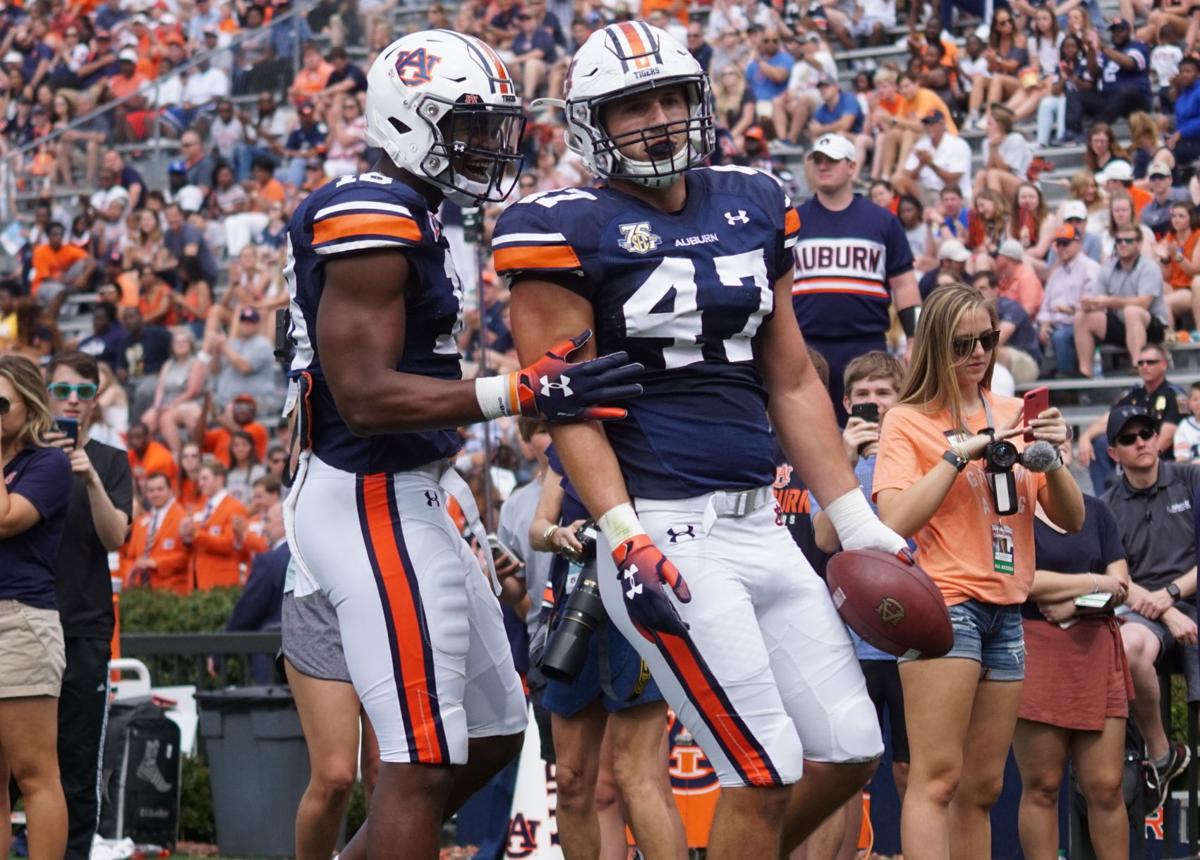 Chandler Cox is gone, and without him Auburn is searching for a new H-Back — the pivotal piece to Auburn's backfield that helps bring the Wing-T attack to Gus Malzahn's spread-formation offense.
So too, is Tucker Brown, Auburn's go-to tight end from last season.
In filling two important spots on offense, Auburn will turn to a few young faces — and towering talent emerging from out west.
Returners and newcomers
» Who's back?: Senior Spencer Nigh, sophomore John Samuel Shenker.
» Who's new?: Senior Jay Jay Wilson, freshman Luke Deal, freshman Tyler Fromm.
The Outlook
Listed at 6-foot-3 and 243 pounds at Arizona State, graduate transfer Jay Jay Wilson is coming to the Plains after playing tight end and linebacker for the Sun Devils.
He's joining Auburn's roster along with new signees Luke Deal and Tyler Fromm, and they'll all be joining John Samuel Shenker and Spencer Nigh looking to find their spot among Auburn's interconnected H-Back and tight end spots.
Cox graduated and is off trying to carve out a role with the Miami Dolphins. Brown graduated too. Shenker played directly behind Brown at tight end last year, catching a touchdown pass from JaTarvious Whitlow on a Wildcat play against Georgia in a flash of his potential — but he's also worked at H-Back, groomed to replace Cox in the Auburn backfield.
Where they'll all work and how they'll be used in Auburn's offense remains to be seen. Theoretically, Shenker could play H-Back and block in the backfield while Wilson and others play tight end and go out on passing routes, but Auburn has new pieces stepping into the roles, and besides, Malzahn has used that 11th man in his offense in different ways over the years. The way Tigers great Philip Lutzenkirchen played was different from how the leaping C.J. Uzomah and the bruising Jay Prosch contributed to the Auburn offense in their respective times on the Plains.
Shenker played for the famous or infamous Rush Propst at Colquitt County in Georgia during his senior year of high school — and before that, showed his athletic ability as a baseball star at Deerfield-Windsor, batting third after current Auburn baseball right fielder and NCAA Tournament regional hero Steven Williams batted second.
Wilson was at Arizona State when new Auburn offensive coordinator Kenny Dillingham was on staff there in 2015.
Nigh is listed as a fullback on Auburn's depth chart, presumably making him a more natural fit at H-Back.
Deal is another hand-down blocker kind of player. He suffered an injury in December but the Tigers expect him back for the first game of the fall.
Fromm is the younger brother of Georgia quarterback Jake Fromm. He's more of a pass-catcher.
Their Words
"Now that Chandler is gone, he's really trying to establish himself as the guy," Malzahn said of Shenker back in March during spring practice. "He's off to a really good start. He just needs all the reps he can get. His physicality is getting better. In high school, he was more of a split-out guy. It's been good from that standpoint."
Straight from the field, Cox himself said Shenker could fill his cleats in the Tigers' backfield.
"He's going to do really well," Cox said. "He's finally more comfortable in that spot. It takes a little bit. It's tough to come out of high school and play H-back in the SEC. It's tough. I can be the first one to tell you that.
"But I think he's going to do a phenomenal job replacing me. He might even be better than me. I can see it in the future. He's going to do a really good job. He's just a good kid, and he's always willing to get better."
Auburn Outlook Series
Be the first to know
Get local news delivered to your inbox!