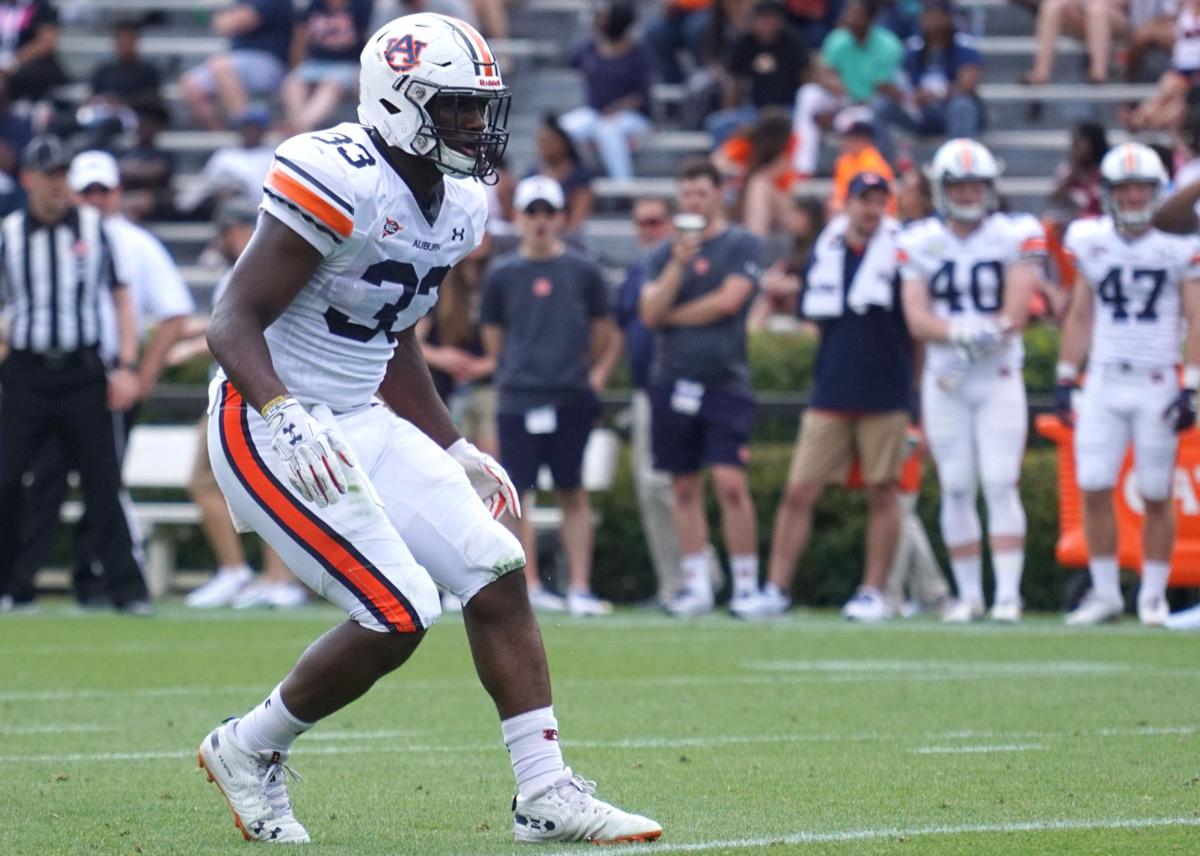 One of the major questions surrounding Auburn's 2019 defense is which linebackers will fill the holes left by last year's seniors. Although the answers aren't yet definite, several players emerged as ready and willing to close out the spring.
Auburn's A-Day scrimmage offered one last glimpse this spring at who will fill the holes left by Deshaun Davis, Darrell Williams and Montavious Atkinson from the 2018 team. While the players still have a lot of work ahead before the season opener, Auburn head coach Gus Malzahn has liked what he's seen from the position group. 
"It feels like the guys have just stepped in and haven't missed a beat. I think overall they've had a very good spring," Malzahn said. "K.J. Britt has been leading that group and has really taken over for Deshaun Davis. It's his moment, and he's been waiting for this moment. He is really physical and has really improved."
Britt had a quiet A-Day with one tackle for the Blue team, but his emergence this spring speaks volumes. Multiple players in the locker room after the game pointed to Britt as the linebacker who has stood out this spring as the promising defense retools its second level.
Defensive lineman Derrick Brown said Britt, who had 23 tackles as a sophomore, has been processing things a lot faster with another year under his belt. Junior defensive back Noah Igbinoghene pointed to Britt's hard-hitting nature, saying he's playing the same way he did as a high schooler.
Along with the stellar play comes Britt's willingness to lead, a characteristic the defense lost with Davis' graduation. Defensive back Daniel Thomas has seen Britt voluntarily step up as a leader this spring and take on the tough task of replacing Davis in that department.
"He's stepping up and being more of a vocal leader and communicating on and off the field. He's been getting better each and every day as well," Thomas said. "I love Deshaun. He's definitely my big brother. He's definitely going to be hard to replace. I feel like K.J. is going to step up and do his job."
Igbinoghene pointed to sophomore Zakoby McClain and junior Chandler Wooten as other linebackers who have stepped up, but Wooten's play Saturday was the only real cause for concern for Auburn.
Wooten went down holding his right knee in the second quarter of Saturday's A-Day and did not return to play. After the game, Malzahn said he had no update on his status.
Along with the more experienced linebackers comes true freshman Owen Pappoe, the former five-star recruit from Loganville, Georgia. Pappoe made the most of the moment Saturday, recording three tackles and one quarterback hit to end his first spring as a Tiger.
Pappoe's strong play in the scrimmage matches what Malzahn has seen from the former top recruit during the spring.
"He doesn't act like a freshman. The moment's not too big for him," Malzahn said. "He can really run. He's got really good instincts. I think he had a really good spring, especially for a freshman."
Brown talked up Pappoe's play so far, explaining he hustles and is a guy who is always flying to the football. He cautioned that he's sure to make mistakes as a young player but explained those will become fewer and further between the more reps he gets.
"That'll be very dangerous for folks," Brown said.
Replacing the likes of Davis and Co. wasn't going to be an overnight objective for Auburn, but through the spring several Tigers have shown themselves capable of picking up the slack.
While there's still plenty of time to make even more strides, the defenders around them have shown total confidence in the linebackers getting the job done.
"All of the linebackers can run. That's going to be very helpful," Thomas said. "I feel like the sky's the limit for them. They've just got to continue to understand the playbook and learn their position."
Be the first to know
Get local news delivered to your inbox!