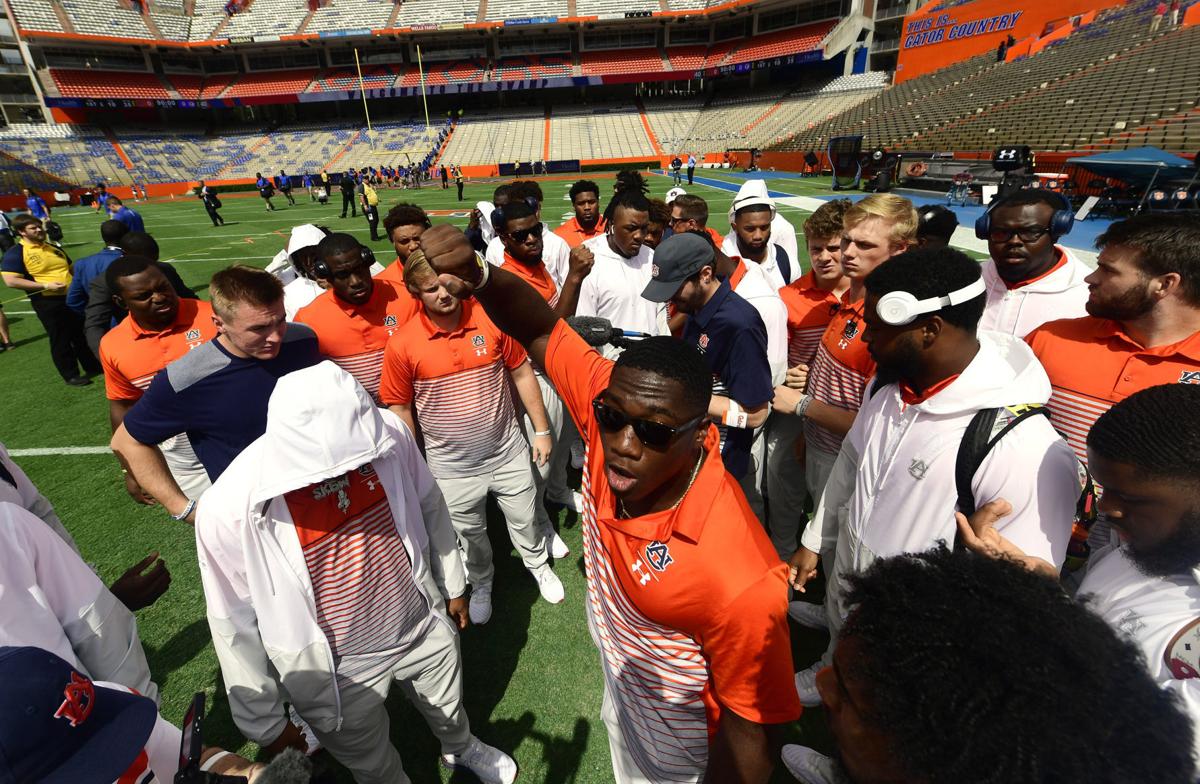 Auburn is back on the practice field and feeling refreshed.
"They had a hop in their step," Gus Malzahn said Sunday.
After two days off last weekend, Auburn's head coach saw his team get back to work with a renewed focus — with the first half of the season behind the group and the next stretch squarely in the Tigers' sights.
Auburn's players took last Friday and Saturday off when the team was idle, some heading home or visiting family, before they came back together to hit the practice field again Sunday for a full practice on the way to their return to action at Arkansas.
"We have a tough schedule, you know, so any chance we get to just rest, I feel like is important," Auburn's standout sophomore corner Noah Igbinoghene said after that Sunday practice.
On a normal week, Auburn goes through a light workout on Sundays, with a focus on reviewing what happened in games the day before. This week, after two days off, Auburn bounced back on the field for a full practice — and the Tigers felt a difference two days can make.
"Just going to Arkansas, we all get our legs back and just play better," Igbinoghene said.
Auburn and Arkansas kick off Saturday at 11 a.m. in Fayetteville, Ark. The game is set to be televised on SEC Network. Auburn is 5-1 on the season and 2-1 in the SEC. Arkansas stands at 2-4 and 0-3.
"I felt like we had a successful off week. We accomplished what we wanted to," Malzahn said after that Sunday practice.
"I thought our guys had really positive energy," he went on. "I think they were refreshed over the weekend and came back ready to practice tonight and that was a good sign."
Auburn's put its loss of the season to Florida in the rear-view, looking ahead knowing the team still controls its own path in the SEC West divisional standings. With only an inter-divisional loss to Florida, Auburn could still beat LSU and Alabama and hold tiebreakers over both on the way to the SEC Championship Game.
There's little margin for error, but the Tigers are still in control. They play at Arkansas and then at LSU a week from Saturday before closing its season with a four-game home stand against Ole Miss, Georgia, Samford and Alabama.
The Tigers have also used their bye to take a look back over the first half of the 12-game schedule, and better themselves for the next six.
"There's a lot of different things you learn," Malzahn said of looking back. "A lot of times from a coach's standpoint you can evaluate things on what you can do to make each group better. A lot of times it could be something very simple.
"It could be a communication. It would be a tendency. It could be personnel. We evaluated all three of those things. It was good."
CBS announced Monday it was scheduling the Auburn-LSU game on Oct. 26 for a 2:30 p.m. kickoff for its broadcast from Baton Rouge, La.
First, though, Auburn's focus this week is on getting back on the winning track against Arkansas.
"We just had extra time to prepare for our next opponent. This week, we got refreshed for that," Igbinoghene said.
"Everybody got healed up, so we're just ready to play now."