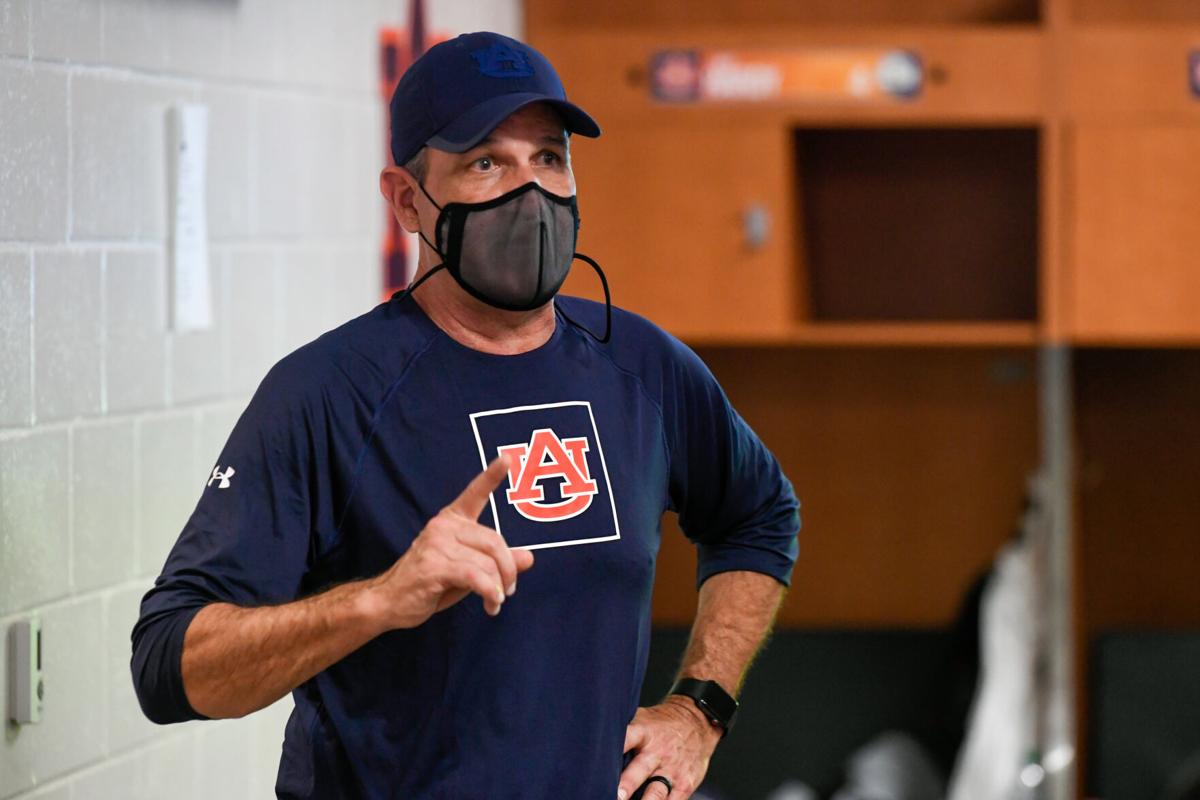 Former Auburn defensive coordinator Kevin Steele is headed back to his alma mater.
Steele has officially been hired as a defensive assistant at Tennessee, the Volunteers announced Tuesday. Steele, 62, heads to Tennessee with 40 years of coaching experience.
"Linda and I are excited to be coming home," Steele said in a statement. "Tennessee is a special place for me personally. I am truly grateful to coach Pruitt and coach Fulmer for this opportunity, and I am eager to work alongside them once again."
Steele spent the last five years at Auburn as defensive coordinator. He was tabbed interim head coach on Dec. 13 following Gus Malzahn's firing as head coach and led the Tigers in the Citrus Bowl against Northwestern on Jan. 1.
Steele was ultimately not retained by new head coach Bryan Harsin and has been replaced by former Vanderbilt head coach Derek Mason.
Steele was hired as Auburn defensive coordinator following Will Muschamp's departure, and the Tigers' defense achieved success quickly under his guidance. The Tigers ranked seventh nationally in scoring defense, 11th in red zone defense and 28th in total defense in 2016, an improvement of 43 spots over the previous season.
The next season, Auburn ranked 14th in total defense and 12th in scoring defense as part of a Tigers team that won 10 games and the SEC West division title. For his efforts, Steele was a Broyles Award finalist as one of the nation's top assistant coaches.
During Steele's tenure, Auburn has been one of the SEC's top defenses statistically, with the team finishing in the top 20 nationally in defensive efficiency in each of his first four seasons. In that time, Auburn has seen 12 defensive players selected in the NFL draft, including defensive tackle Derrick Brown and cornerback Noah Igbinoghene going in the first round in 2020.
Steele's arrival in Auburn stood as the latest in a long run for the veteran coach.
Steele came to Auburn from LSU, where he was the Tigers' defensive coordinator and linebackers coach in 2015. Prior to that, Steele spent two years at Alabama as the director of player personnel and later linebackers coach.
Steele was Clemson's defensive coordinator and linebackers coach from 2009 to 2011. In his final season with the Tigers, the team won its first ACC championship in 20 years. His 2010 Tigers defense led the ACC and ranked No. 13 nationally in points allowed by surrendering 18.8 points per game.
Steele came to Clemson after his first tenure at Alabama, a two-year run in 2007 and 2008 during which he was defensive coordinator and inside linebackers coach at the beginning of Nick Saban's tenure in Tuscaloosa.
Steele's first tenure at Alabama helped him build a rapport with current Tennessee head coach Jeremy Pruitt, who was the Crimson Tide's director of player development at the time. 
"Kevin is someone I have respected and admired for a long time on and off the field," Pruitt said in a statement. "Having coached under the great Johnny Majors, he has a sincere appreciation for what it means to be a Tennessee Volunteer. We are thrilled to welcome Kevin and Linda back to Rocky Top."
Prior to coaching at Alabama, Steele coached at Florida State from 2003 to 2006, serving as the executive head coach for the Seminoles under Bobby Bowden. Steele was named Rivals.com's National Recruiter of the Year in 2005 after helping the Seminoles sign the top class in the country.
Steele's only head coaching experience was at Baylor, where he served as head coach from 1999 to 2002. The Bears were 9-36 in his four seasons at the helm, which included a 1-31 mark in Big 12 conference play.
Steele arrived in Waco, Texas, from the NFL, where he had spent four seasons as the Carolina Panthers' linebackers coach. The Panthers reached the NFC Championship Game in Steele's second season on the staff.
Steele made a name for himself at the college level in the early 1990s by serving as Nebraska's linebackers coach from 1989 to 1994. During that time, the Cornhuskers went 60-11, appeared in six bowl games, won four conference titles and captured the 1994 national championship. Steele coached Butkus Award winner Trev Alberts during his time in Omaha.
Steele joined Tom Osborne's staff at Nebraska with eight years of coaching already under his belt.
A former linebacker at Furman and Tennessee, Steele served as a graduate assistant with the Volunteers under Majors, his former head coach, in 1980 and 1981 before coaching outside linebackers in 1982. Following one season in that role, Steele left to coach linebackers at New Mexico State in 1983 before a three-year run at Oklahoma State coaching linebackers and tight ends.