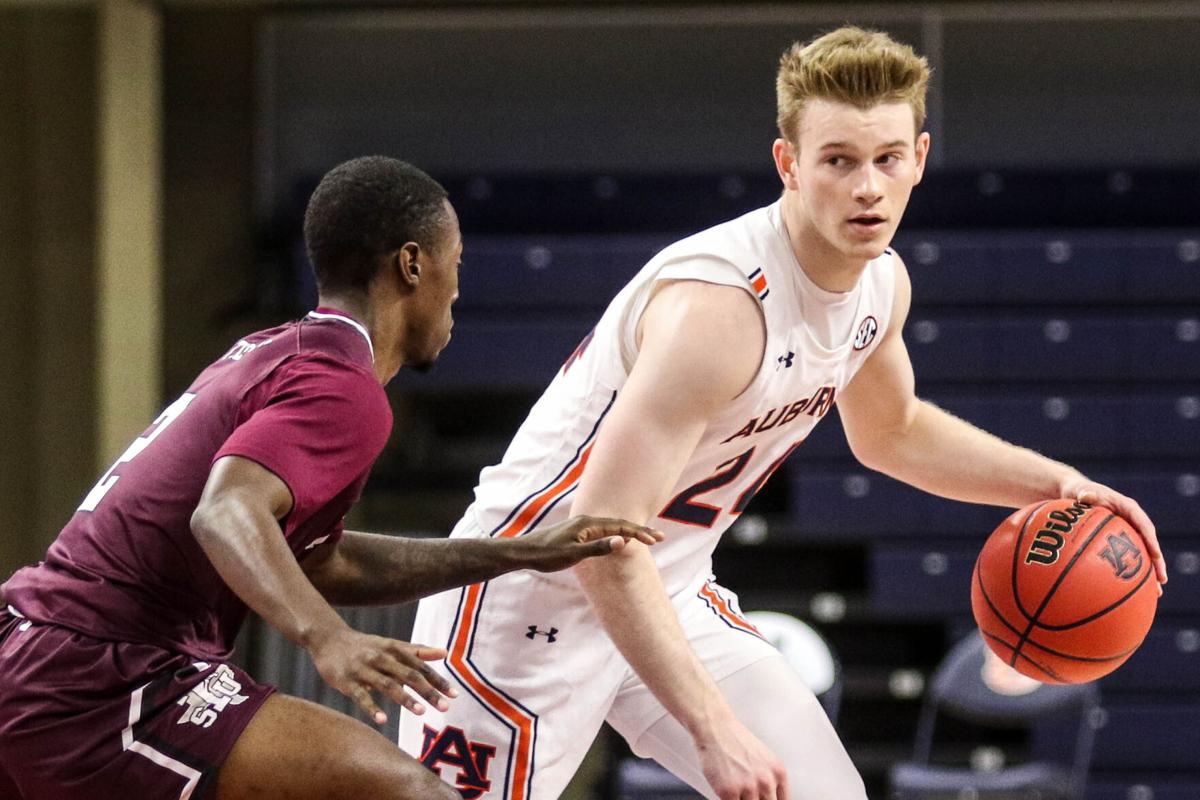 Former Auburn guard Justin Powell is staying in the SEC.
Powell announced on Saturday he is transferring to Tennessee. The decision comes after Powell shared his intentions to transfer on March 9.
The 6-foot-6, 205-pound Powell joins a Tennessee team that went 18-9 during the 2020-21 season and lost in the first round of the NCAA tournament.
A former three-star recruit from Goshen, Kentucky, Powell stepped up with Sharife Cooper still not cleared by the NCAA and played point guard for Auburn early in the 2020-21 season. His strong play culminated in a 26-point showing against South Alabama on Dec. 4, which tied the program record for most points in a home debut as a freshman.
Powell followed that game with a 26-point performance in Auburn's victory over Memphis on Dec. 12 and was named SEC Freshman of the Week as a result.
Pearl spoke on Dec. 3 about Powell's importance to the team, especially with Cooper still awaiting word from the NCAA.
"My goodness, gracious, where in the world would we be [without Justin]? I recruited him to play off the ball," Pearl said. "J'Von McCormick saved us a year ago when Jared [Harper] left early, and obviously we were kind of counting on Sharife. When you recruit the best point guard and the best player that's ever signed at Auburn, you kind of set him up to play the position, build some other pieces around him. JP will be fine."
Powell was averaging 11.7 points, 6.1 rebounds and 4.7 assists through 10 games when he left the Tigers' game against Texas A&M with an apparent head injury. It quickly became clear Powell's concussion symptoms were lingering, leading to his extended absence over the back-half of the Tigers' season.
Powell was not seen publicly with the team again until he stood courtside during warmups prior to the Tigers' home game against Tennessee on Feb. 27. He ultimately missed the team's final 17 games due to the injury.
Pearl spoke after the game about how important he thought Powell's return was for the freshman's psyche.
"It was just great to get him out there. He is no longer experiencing the concussion [symptoms] of the noise, of the light; he's passed all that," Pearl said. "He's starting to work out, he's starting to lift, he's starting to get shots. And so, it was great to have him back."
Powell was the first Auburn player to announce his intentions to transfer this offseason. Fellow guard Jamal Johnson announced his intentions on March 17 and ultimately chose UAB.