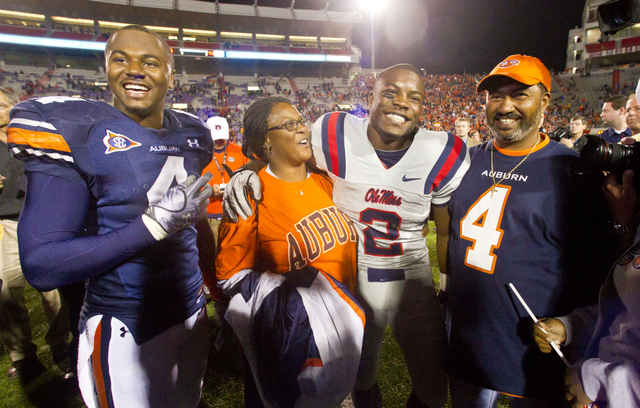 The Auburn Tigers are turning to one of their own as part of Bryan Harsin's first coaching staff.
Auburn announced Friday the hiring of Houston assistant coach and former Auburn player Zac Etheridge as cornerbacks coach. Etheridge, who was a starting safety and captain for the Tigers in 2010 during Auburn's run to the BCS National Championship, arrives at his alma mater after two seasons at Houston.
"It is an honor to return to my alma mater as a member of coach Harsin's staff," Etheridge said in a statement. "I firmly believe in his vision and I am excited to get to work. Under his leadership, I have no doubt that our staff will develop our young men both on and off the field. We will absolutely embody the championship mindset that Auburn deserves. Auburn and its people mean a great deal to me, and I am very thankful for this opportunity. War Eagle!"
At Houston, Etheridge mentored cornerbacks Marcus Jones and Damarion Williams. Jones was named an All-American in 2020 at cornerback by Pro Football Focus (PFF) and was an All-American selection as a punt return specialist by the FWAA, CBS/247 Sports and the Phil Steele Magazine. Jones also was graded as one of the top-5 corners in 2020 by PFF.
During two seasons under Etheridge, Williams became an all-conference player in 2020, starting 19 consecutive games for the Cougars.
Houston head coach Dana Holgorsen spoke earlier Friday regarding Etheridge's departure.
"We thank Zac for everything he's done for the University of Houston," Holgorsen said. "He's a tremendous football coach and an unbelievable person. [We] wish him all the best at his alma mater."
Etheridge landed in Houston after one season serving as the cornerbacks coach at Louisiana-Lafayette. Before Louisiana-Lafayette, Etheridge spent two seasons at Georgia Tech as a graduate assistant before coaching defense for two seasons at Western Carolina.
Etheridge coached cornerbacks for the Catamounts in 2016 before he was promoted into a role as a full-time assistant coaching outside linebackers there in 2017.
As a player, Etheridge returned to play a key role for the Tigers in 2010 after rehabilitating from a harrowing neck injury that he sustained in 2009.
Etheridge was stretchered off the field in Jordan-Hare Stadium during in the Tigers' game against Ole Miss in 2009, after lying immobile in a distressing scene before it was ultimately revealed he tore ligaments in his neck and cracked his fifth vertebra when attempting to make a tackle.
He returned to football nine months later as the Tigers' starter in the secondary again and recorded 69 tackles, intercepted three passes and tacked on a fumble return for a touchdown during Auburn's run to the national championship.
Auburn recognized Etheridge in 2013 by naming him its James Owens Courage Award winner.
"Zac Etheridge is a rising star in this profession and is a great addition to coach Mason's defense working with cornerbacks," Harsin said in a statement. "He has done a fantastic job in a short period of time developing and recruiting talented players. As a former Auburn standout, Zac understands the rigors of competing at the highest level and what is required to be an Auburn man."
Etheridge will become the second former Auburn player on Harsin's first staff. Earlier Friday it was announced former running back Carnell "Cadillac" Williams would be retained as Tigers' running backs coach.