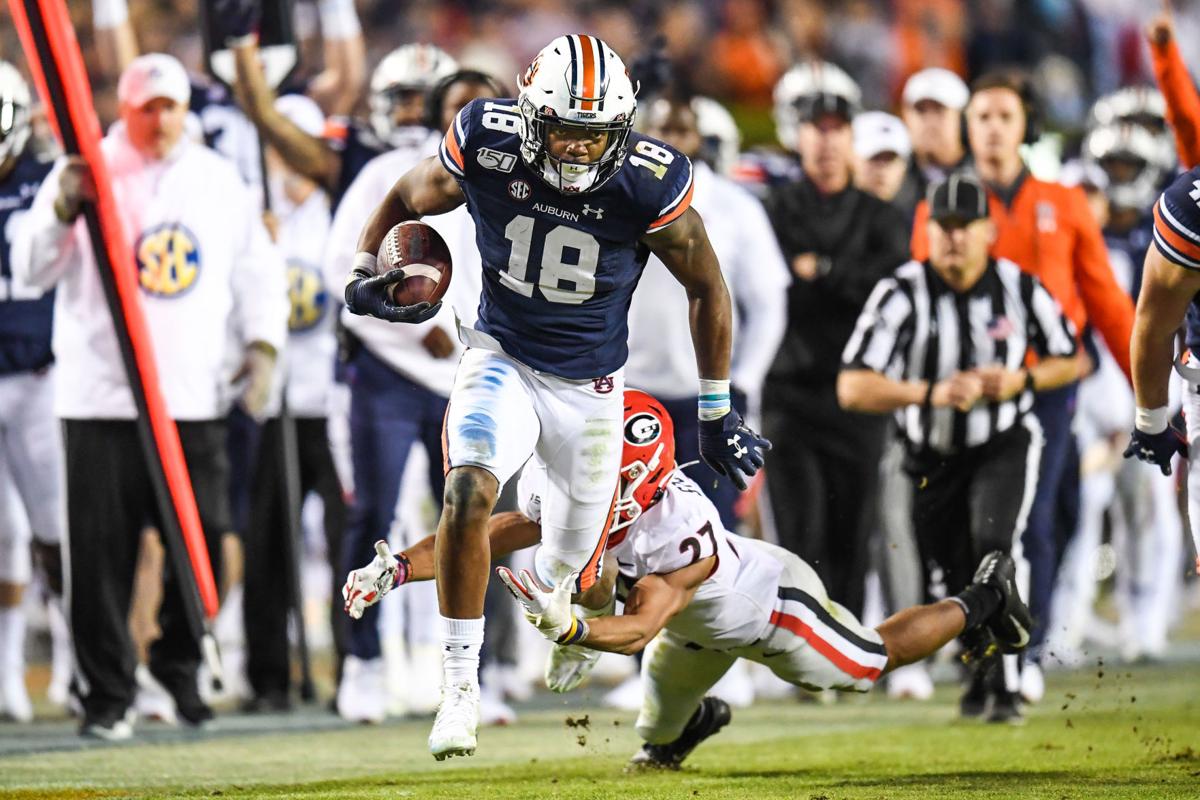 Seth Williams might as well be a world away.
He's in Auburn. His family's back near Tuscaloosa. It's the week of the Iron Bowl. The chatter is all around both towns and everywhere in between — but Williams doesn't hear the noise.
It's like he's off on his own planet.
And that's fitting for Auburn's freak receiver, with ability that's just about out of this world.
"I just try to keep to myself more," Williams said, explaining that he keeps himself distanced from the talk on weeks like this one, which will see the sophomore from just a few miles outside of Tuscaloosa suit up Saturday with his teammates at Auburn to take on Alabama in the Iron Bowl.
It's his second go-round in the rivalry series that he grew up watching. Soft-spoken, but confident, Williams shrugged off questions last year about the Iron Bowl, insisting that even though it's the biggest game of the season against his hometown team, he only treats the game like every other game he plays at Auburn.
Now it's become clear that wasn't some freshman shyness. That's just Williams: Cool, calm and level-headed, even as the rest of the state works itself into fervor.
"The more I hear about it, the more I just try to keep to myself — just be distanced from the noise," he said, sitting down with the media in the Auburn athletics complex on Tuesday.
Auburn's top target at receiver came to the Plains by way of Paul W. Bryant High School, the school named for Alabama's legendary coach and built less than 12 miles from Bryant-Denny Stadium in Tuscaloosa. He remembers his teachers and classmates acting different on the week of the big game — surely hanging crimson all over the halls. "Everybody's talking about going to the game; everybody's talking about watching the game," he said of Iron Bowl week in the Tuscaloosa area. He's sure it's the same around Auburn.
But as for Williams, he's never been one for the fanfare.
"I don't like to get too hype about things because I feel like you shouldn't change just because of one game," he said. "If you change and you do something different, it might mess you up."
For Williams, that means going about your normal business in the week of the Iron Bowl, even when everyone around you is doing everything but.
"He's just like that," his quarterback Bo Nix said. "He doesn't give Tuscaloosa the time of day. He says he's from Cottondale anyway," he smiled.
"It will be interesting with the dynamics of how he's from there and he's playing and was recruited by them, but at the end of the day we were all recruited by both schools," Nix went on. "It comes down to Auburn-Alabama."
And a big part of that matchup comes down to Williams, and how he'll fare against the Tide. Williams is far and away Auburn's top receiver, with 735 yards on 52 catches this year, with eight of them going for touchdowns. He's nearly doubled up the yardage caught by second-leading receiver Anthony Schwartz, and he's accounted for 44 percent of Auburn's 18 touchdown tosses this season.
In Auburn's last big game against Georgia, he caught a career-high 13 catches, and figures to be another top weapon for Auburn in its battle against Alabama.
But don't tell him that. He'll just shrug. He doesn't care much for the stats. He's just a football player, he'll say.
And this weekend, it's just football.
"It's just a regular game," he insisted and repeated Tuesday, even as reporters pressed him about him. "I'm going to approach it as a regular game. … Like, everybody's going to be hyped up on the field and everything, but I'm just going to treat it as a regular game."
They kept pressing. Then he said the most about it he's said since he's gotten to Auburn:
"Like, I might have a little extra juice for it," he smiled and shrugged. A little extra juice, at least.
"But I'm not going to overdo it or nothing like that," he said.
For Auburn, that's just fine.
Williams does things his own way.
And Auburn just wants him to be him.
Be the first to know
Get local news delivered to your inbox!