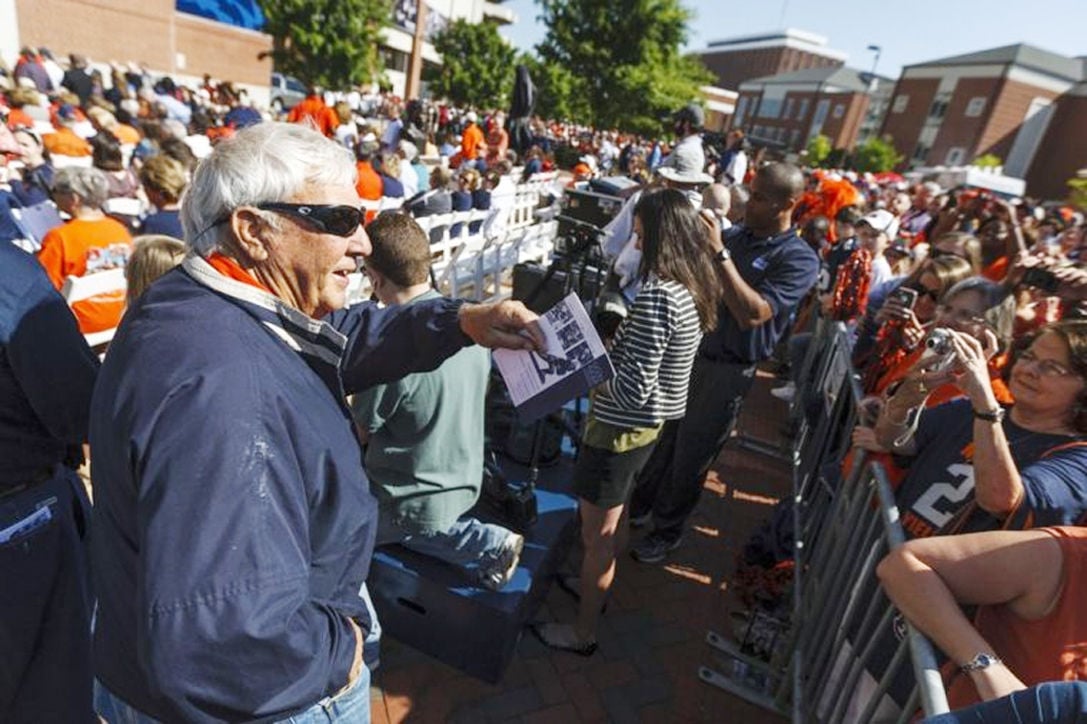 K.J. Britt never played for Pat Dye, but he still called him 'Coach.'
The same goes for countless others in the Auburn football family and the extended family beyond — whether they be current on-field stars like Britt, ripping a helmet off during a heated practice to chat with Dye on the sideline, or they be two young graduates holding hands at their wedding on the farm Dye opened up as an event center in recent years.
Dye's reach spread far through the Auburn family, stretching out to welcome more and more for almost 40 years. Dye played at Georgia and got his first coaching job at Alabama, but after he became Auburn's head coach in 1981, he took the program to great heights and found a home he'd keep forever after his coaching days. He died in Auburn on Monday.
And his impact and influence was seen immediately in the outpouring of love sent by coaches, players, contemporaries and admirers, as soon as the news spread across the Plains and afar.
"You meant so much to me, coach," Britt, Auburn's middle linebacker, said on Twitter soon after Dye's passing. "I always looked forward to our talks at practice and on Mondays."
He was among just the first to share their thoughts, and their love.
"Coach Dye was much more than a hall of fame coach and administrator at Auburn. He was an Auburn leader and visionary," current Auburn head coach Gus Malzahn said in a statement. "He not only returned the football program back to national prominence during his tenure, but was a key figure in bringing the Iron Bowl to Auburn and made an impact on the university and in the community. He embodied what Auburn is about: hard work, toughness and a blue collar mentality.
"Coach Dye's impact on Auburn is endless and will stand the test of time," he went on. "He had a great and deep love for Auburn and he displayed that affinity daily. I'm very appreciative of his support and friendship through the years. It's a sad day. Coach Dye was a treasure and will be missed. My thoughts and prayers are with his family, his former players and coaches and the entire Auburn family."
On top being Auburn's head football coach from 1981-1992, Dye was also Auburn's athletics director from 1981-1991. He was instrumental in bringing the Iron Bowl to Auburn for the 'First Time Ever' in 1989.
Last fall, Dye watched as Auburn beat Alabama on the 30th anniversary — on a field in Jordan-Hare Stadium named after him.
It was the last game at Pat Dye Field in his lifetime. Auburn won 48-45.
"Just like his football teams, Pat Dye the athletic director was tenacious, never backing down from a fight when he believed Auburn's good name and best interests demanded it," current Auburn athletics director Allen Greene said. "Thanks to his tenacity, I'll always treasure my first home Iron Bowl, celebrating victory on the field that bears his name."
Of course, his influence stretched far beyond the Auburn community.
"It's sad to learn of Coach Dye's passing," legendary Georgia coach Vince Dooley said in his own statement. "Our condolences to his family, his close associates, and friends. We competed hard as coaches but remained good friends and after football shared our love of plants, especially Japanese Maples. Pat was a solid, fundamental football coach who related well with his players. And he certainly endeared himself to the Auburn people by moving the annual Auburn-Alabama game from Birmingham to home-and-home.
"He will be missed by us all."
These words were only part of the outpouring echoing around on Monday — and they were heard.
"On behalf of our family, I want to thank all of the people from around the country who have offered their support and admiration for Dad these past several days," son Pat Dye Jr. said in a statement. "Dad would be honored and humbled to know about this overwhelming outreach. The world has lost a pretty good football coach and a great man. He was beloved, he touched so many lives and he will be missed by many, especially our family."
Be the first to know
Get local news delivered to your inbox!