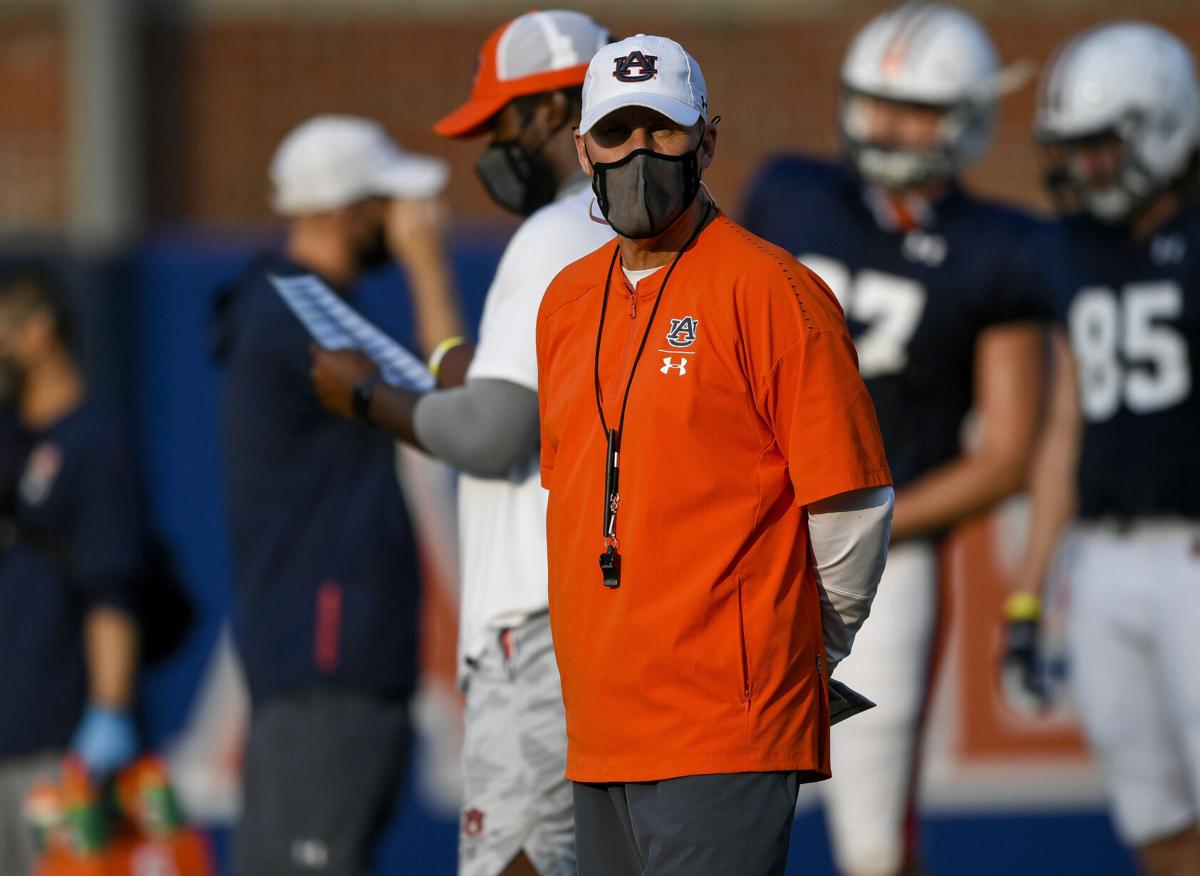 Chad Morris sees change as a constant.
The present times are a testament to that. Morris says he may well be walking to a meeting in the Auburn athletics complex now when he'll have to make a change on the fly and adjust and adapt, given how the coronavirus crisis has affected even some of the simplest things.
But Morris has been a student of innovation well before all this, and well before he arrived at Auburn as the Tigers' new offensive coordinator. He's been a hands-on part of evolution in college football, at one time the most sought-after and highly paid offensive coordinator in the country, just like his friend and new running mate Gus Malzahn in his own time.
Where Malzahn pushed the game to its limits with speed, Morris strained defenses with plays which put different kinds of players in different places — but Morris knows as well as anyone that the only thing that stays the same about evolution is the fact that nothing stays the same.
"I firmly believe, everywhere I've been, that you've got to evolve," Morris said on Thursday.
That's central to what Morris wants to accomplish at Auburn — and what's getting him excited is that he's got players at Auburn who are all-in on changing and adapting and keeping current right along with him.
"The great teams that we've had and have been a part of had great success in the passing game with the tight ends and the running backs. And I think that's something that these guys have taken a lot of pride in," Morris said during a virtual press conference through Zoom.
"I've been extremely impressed with them," he went on. "Now, we've got a long way to go — don't get me wrong here. But these guys have done a great job of understanding what we're asking them to do."
The tight ends and running backs have been the talk of bubble practices this preseason on the offensive side. Players have raved about what Morris is doing with the offense. In Auburn's first scrimmage in August, Malzahn reported that tight ends caught more passes than the Tigers' starting tight end caught all last season. In the second scrimmage, speedster running back Shaun Shivers made the highlight play scoring from 80 yards on a pass from out of the backfield. Morris said Thursday that using tight ends in different ways is probably the biggest way his offense has evolved over the last 10 years or so at the college level, and that the running backs getting involved in the passing game comes right along with that.
Malzahn attacks differently. His offenses have been lethal in their simplicity in the past. Auburn raced to an SEC Championship in 2013 with an ages-old read option at the center of the team's offense.
But Morris brings something different with the way he meticulously creates mismatches, and Malzahn is the first person on staff to say he believes Morris will be a big help for Auburn.
"(The tight end) alone creates an opportunity to play at a faster pace or increase mismatches," Morris explained Thursday. "How do people want to play you? Are they going to play him as a wide receiver? If they are, they're going to bring a nickel on the field. If they do that … you're able to run the football well. Then it's 'OK, no, we're going to play him as a true tight end.' Well, great. Then I've got the opportunity to get (a linebacker) mismatched in space, whether it's on option routes, rail routes or crossing routes.
"So it's really a chess match when it comes to that," he said. "Just to be able to disguise and move them around has been really big for us."
Auburn opens its season Sept. 26 against Kentucky, with limited fans in attendance and only current students permitted in the general seating section — another change that's come to college football to which coaches and players have to adjust.
With the call to evolve at the forefront, the Tigers hope to have the kind of offense that creates change for themselves when kickoff finally comes.
"We want to be the best Auburn football team we can possibly be, whatever that means," Morris said. "I believe with the way that we do things and being able to get guys moved all over the field and put them in space, I think we have an opportunity to be extremely explosive. We want to be the most explosive offense in the country. That is our goal.
"We're going to do everything we can to do that."
Be the first to know
Get local news delivered to your inbox!