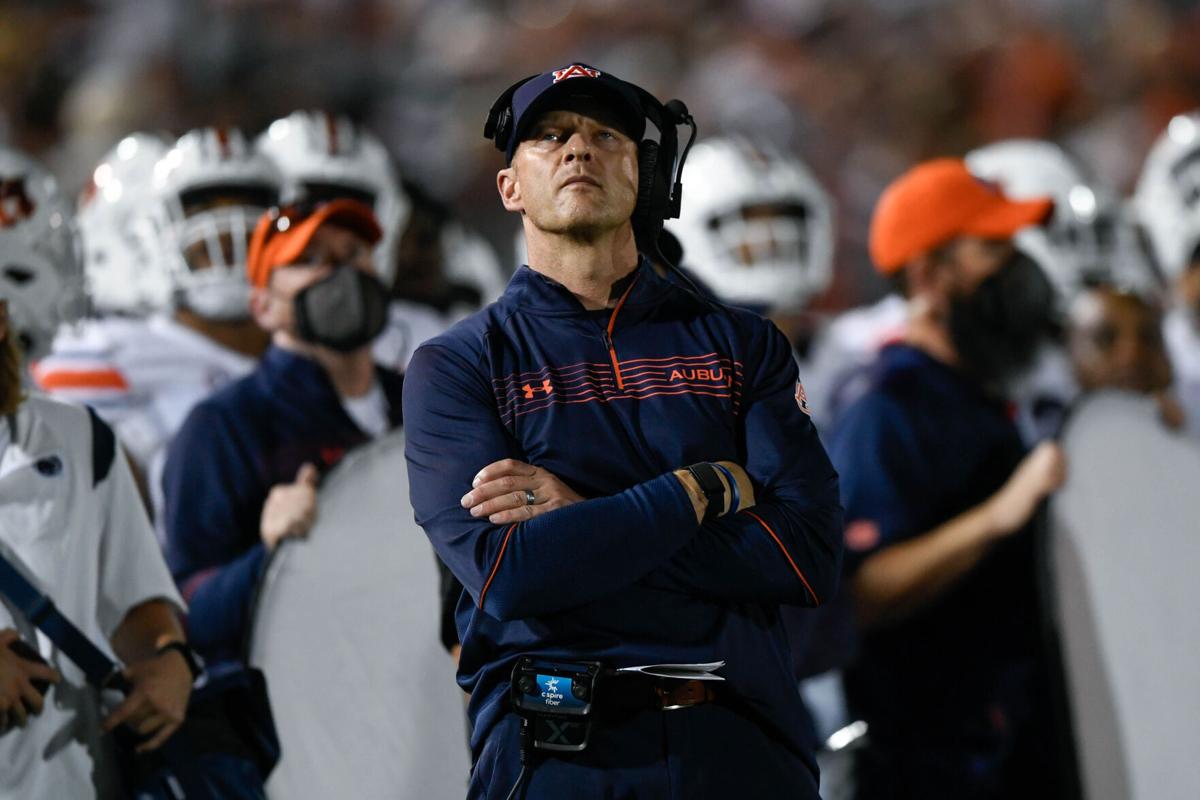 After all the talk about discipline and stadium stairs, Auburn got cute.
Reality check for the Auburn fanbase: The problems on the Plains haven't left with the last coaching staff.
Reality check for Auburn football: You can't have it both ways anymore.
The reverse pass play-call coming out of the locker room was almost as inexplicable as the goal-line fade on fourth down with 3:08 left — and both should bite at the Auburn coaches, along with a hundred other questions, on a bitter plane ride back from Happy Valley.
They surely will. No one's going to say Auburn's coaches are happy with how those plays went. And there's no sense going over all the what-ifs that come to mind after every big football game.
But here's what'll sink in by the time the team touches down on the Plains: The perfectly harmonious honeymoon is over after two cupcake blowouts, and no one's going to be excited with the new coaches just because they're not the old coaches anymore.
"They really wasted a timeout … just to come up with that play call," Kerryon Johnson tweeted in the moments after that fade — which saw Nix throw up a prayer to the pylon from the 2 after Auburn burned a timeout to set it up.
"I'm disappointed," he said, and he wasn't alone.
People are going to start questioning more and more with every loss that comes under Bryan Harsin. Again: He knows that. It's to be expected. For two weeks, and two wins over Akron and Alabama State, Auburn lived in bliss and raved over the new coach's tough talk, and now he knows that he has to put in the work and find enough success to back all that talk up.
But that's how things changed for Auburn football tonight, from before the White Out to after.
When Auburn lands, the coach's words will carry a little less weight on campus, and the actions will be pointed to that much more. It's an uphill climb from here: LSU and Georgia are back-to-back coming up after Georgia State. For Harsin, his lines about discipline and toughness will fall on a few more deaf ears until his team wins the big game.
Before, plenty of fans were happy just to see that the team wasn't being coached by Gus Malzahn anymore.
Now, those same fans won't be happy until Auburn wins the game they want to win.
Of course, he has time. Auburn wouldn't have brought him in without being committed to a long-term plan. But on the day-to-day, it's easy for everyone to go along when you're undefeated and you're winning by 50 without a care in the world. When winnable football games are lost, you take another step into the world the last coach lived in.