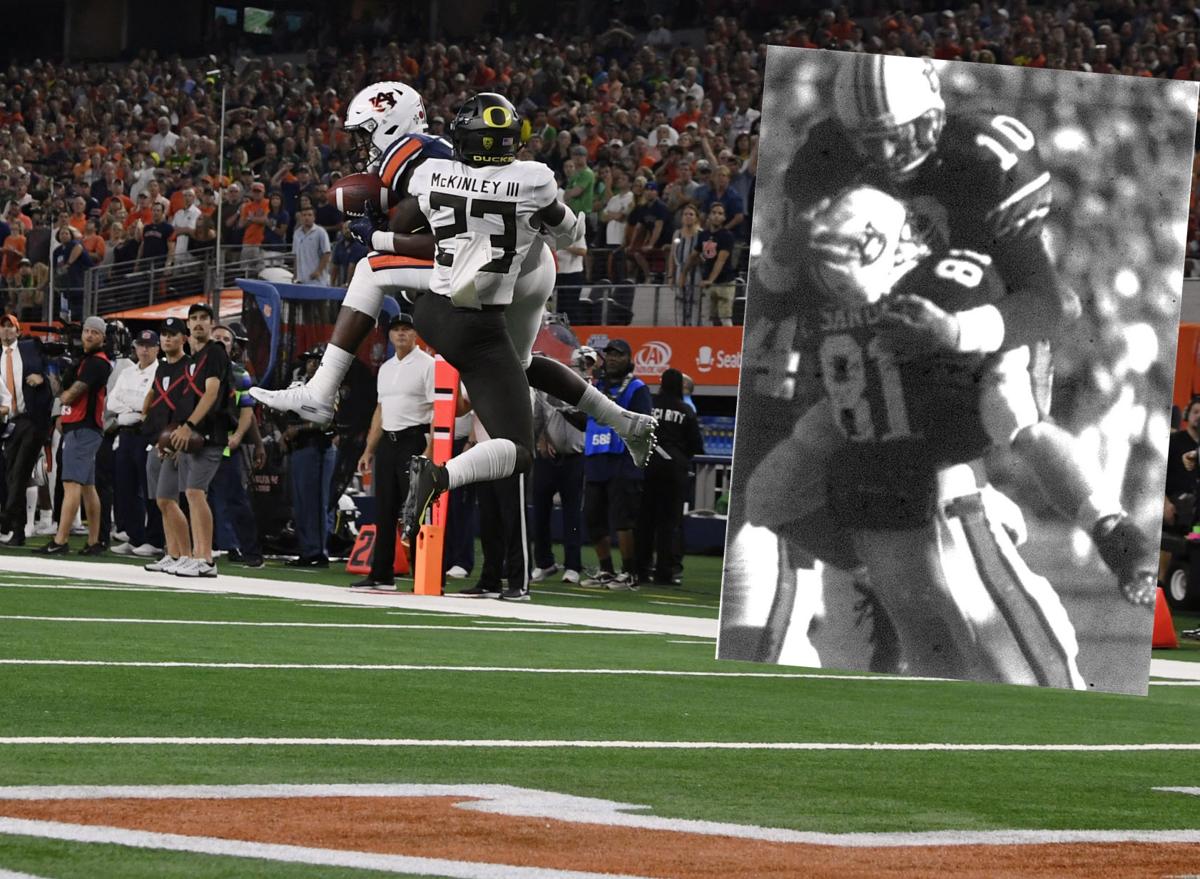 Nix-to-Williams sent shockwaves across the college football world last Saturday.
Frank Sanders felt them in Phoenix.
Sanders was watching out in Arizona then, tuning in to see his dear friend's son make his college football debut, and witnessing Bo Nix's game-winning touchdown pass to Seth Williams in Auburn's 27-21 win over Oregon — which played out a bit like those legendary plays he and Patrick Nix made during their own time on the Plains back in the early 1990's.
"If any writer in Hollywood wrote that, they'd mess it up," Sanders said simply.
Sanders has settled down out in the desert there, after a nine-year career in the NFL and eight seasons with the Arizona Cardinals. He's still beloved in Auburn after his standout junior and senior seasons in 1993 and 1994. Even way out there, after Saturday's win, he's been thrilled for his school — and for his friend's family.
And he hasn't missed the comparisons.
"My advice to Seth is, continue to make plays — because your goal wasn't just one play," Sanders said, speaking over the phone this week.
Side-by-side, that comparison is pretty remarkable, stacking Nix-to-Williams to the first Nix-to-Sanders play, in the fabled 1993 Iron Bowl. That wasn't a late game-winner, but it was a game-changer. Auburn trailed 14-5 to Alabama in the third quarter facing a fourth-and-15 play at the 35-yard line when Stan White left the game and Patrick Nix stepped in.
He fired to his left. Sanders caught it around the 2-yard line, and leapt into the end zone.
Saturday night, Williams caught it at the 1-yard line, and spun his way in.
The jersey numbers are only switched — from Sanders' No. 81 to Williams' No. 18.
"To look at the comparison of Bo and him and then me and Pat — it's crazy," Sanders said.
"It's like a dream," he went on. "And every time I look at the pictures and the photos of it, I smile and I marvel at it, because, to make a big play is one thing; to make a big play at the end of the game, to win the game, it's just unbelievably special.
"And the crazy thing about it: Seth probably won't get to enjoy it as much because this week he's got another game he's got to focus on."
Yes, he's delighted for the Nix family, but thinking of Williams, too — and quick to say he sees a talent in Williams that could top his numbers back at Auburn.
Sanders posted plenty on the Plains. He stands among the leaders in almost every receiving category in the record books. He's sixth all-time in career receiving yards at Auburn with 1,998, and sixth all-time in career receiving touchdowns next to Byron Franklin with 15. The 910 yards he posted in 1994 stands as the fifth-most tallied in a single season in Auburn history, and the 842 he totaled in 1993 stands ninth in the school record books.
It was in 1994 that Sanders was a part of magic again — pulling down the game-winning touchdown pass from Patrick Nix with 30 seconds left in a 36-33 win over No. 1 Florida in Gainesville, fondly remembered in Auburn as 'Nix-to-Sanders II.'
The sophomore Williams has shown that same electricity in his fingertips before, too. He caught the go-ahead touchdown pass from Jarrett Stidham with 1:41 left in Auburn's 28-24 comeback win over Texas A&M last fall.
"His ability to go out and make plays when his number is called — that's something that's special," Sanders said. "At Auburn, they don't throw the ball 90 times a game, and when you get a chance to make a play, you have to make those plays. During my timeline at Auburn, that's the same thing I experienced.
"He has a good chance to do something really special at Auburn and really leave his name in a special way — and for a lot of Auburn people to remember him, just as fortunate as I've been in that situation," Sanders added.
It was only out of respect that Bo Nix didn't want to call that touchdown pass to Williams his own 'Nix-to-Sanders' moment.
"I think that was my first Bo-to-Seth moment," he smiled instead.
Williams says it's the first of many, from the freshman quarterback to the sophomore receiver:
"Oh, we've got plenty more," he said postgame. "That was just the first one. We've got plenty more. We're going to keep on talking about it," he grinned.
Of course, for Sanders, who still talks with Patrick Nix when he can, and calls it special when the two get to reunite in person, his confidence in Williams comes with his confidence in Bo Nix.
He's seen that Nix magic himself, after all.
"With Bo, and how well he throws the ball, how accurate he is with his passes, how good he looks as a quarterback as young as he is — Seth will probably blow out my numbers without a problem and I could see him doing it, because it's there on the table for him," Sanders said. "With Gus's system, with a quarterback like Bo, and his ability just to go out and make plays, hopefully he breaks every record that any receiver at Auburn has made."
Sanders coaches and trains out in Arizona and is partner in a clothing company, and has three daughters, 17, 16 and 12.
And just like his fellow Auburn alums, he's excited to see the next Nix-to-Williams.