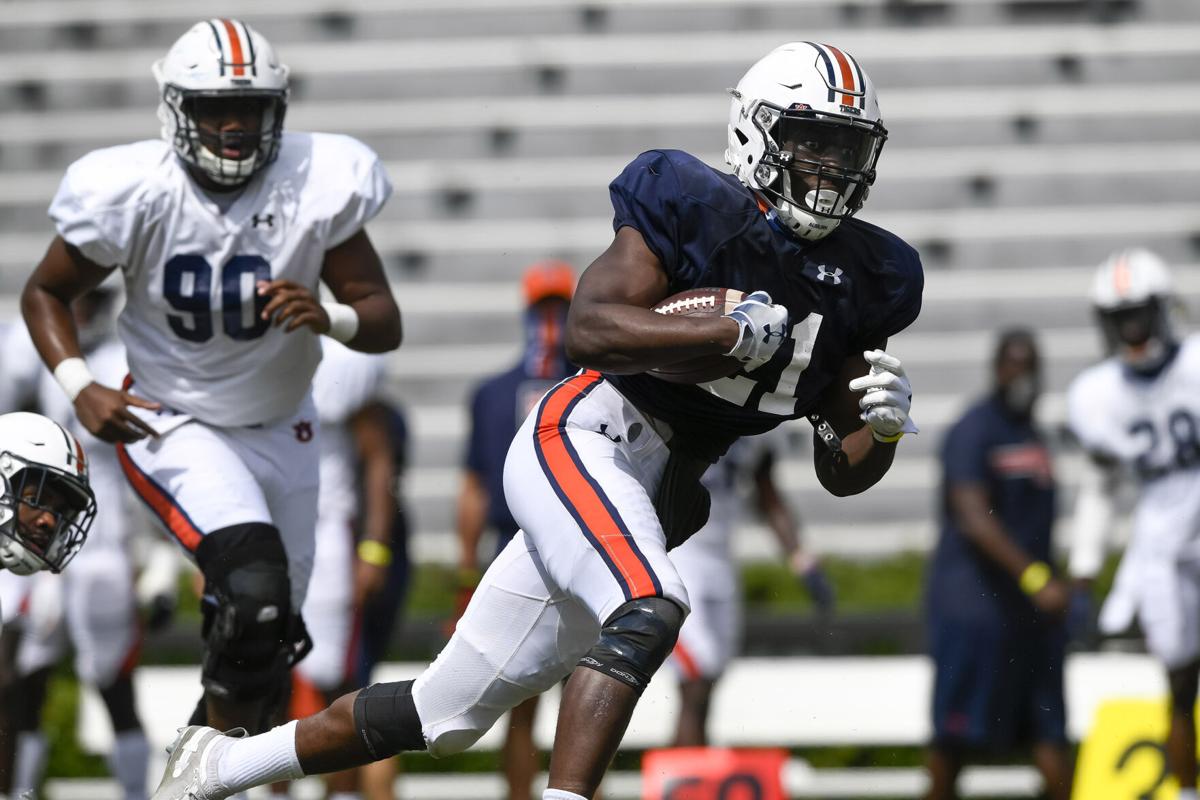 It's no secret that this is going to be an all-hands-on-deck kind of season.
Auburn's coaches figure they'll need just about every leg, too.
Auburn offensive coordinator Chad Morris believes his offense is going to need four dependable running backs this fall — and that's just based on how physical the SEC is, let alone the fact that backups are just an infection away from taking on prominent roles for multiple games in an upside-down 2020.
Auburn has a crew of highly-touted but mostly unproven talents in its backfield this preseason. Morris figures all of them will need to be ready to run when kickoff comes Sept. 26.
"In this league, as physical as this league is, you better have four solid guys right now that you can count on," Morris said. Add to that the two extra games against SEC defenses tacked on to this year's conference-only schedule.
"As much as we ask our running backs to do — whether it's pass game, whether it's pass protection, whether it's obviously running the football — these guys have got to be physical, and they've got to be able to hold up," the man in charge of the offense went on.
Junior Shaun Shivers has been a big part of the buzz coming out of the bubble in preseason practices, aiming to take on a bigger role besides that of a specialized speedster. Former Auburn running back JaTarvious Whitlow was Auburn's every-down man in each of the last two seasons, the team's leading rusher in 2018 and 2019. He left the team in the spring and left a void behind him.
Sophomore D.J. Williams showed flashes last season of living up to his high school hype, and Mark-Antony Richards, who missed 2019 with injury, is also back for his second year with the team and is also bent on living up to his recruiting grade.
Star signee Tank Bigsby is the exciting new name. Junior Harold Joiner hopes to show more of his versatility under Morris.
Among them, there doesn't seem to be much sense in nailing down one RB1. Morris said in the new Auburn offense, he's going to need them all.
"I think with where we're at with COVID, you better develop your young guys," Morris said in his press conference last week, saying establishing depth this season is probably more important than ever before. "They better be getting reps, they better have the attention to details in meetings. In the past, a guy maybe down on the scout team or whatever it may be, this guy may check out in meetings and not really be as focused in. Well now, more than ever, he's got an opportunity to play.
"So we've really stressed that, stressed the fact of developing and building that depth. That's been something we've been focused on."
For the running backs, catching the ball out of the backfield has been a specific focus under Morris. Morris said the way he has grown his offense to involve running backs in the passing game is one of the major way he has evolved his attack over the years in coaching. The way he has thrown more and more to the tight ends is the other piece.
In Auburn's most recent scrimmage last Saturday, head coach Gus Malzahn said running backs coach Carnell Williams spread out snaps for the running backs fairly evenly by design "to see who steps up for that position."
This year, with the NCAA offering blanket eligibility relief to student-athletes, there isn't any consideration to redshirting players or saving their eligibility for later. All of them can contribute when called upon without a hit to their eligibility and future plans, and that includes the Auburn running backs.
Malzahn pointed to how the SEC plans to run team-wide testing for COVID-19 three times a week before games, knowing things can change quickly and depth charts can be cleaned out with a breakout.
"I think from a coach's standpoint, you got to be prepared to play them all week by week," Malzahn said, speaking on his team in general. "The biggest challenge isn't the positives; it's the contact tracing. So, just from our mindset as coaches, we told the freshmen, 'You all have got to be ready to play.' So they've all gotten reps.
"Not having to worry about four games, the redshirt, that really takes a lot of the other stuff off. But this is a unique year. Not just for freshmen; everyone has to be thinking that they're going to get to play this season. Now, we'll see how that goes. But it's a different day."
Auburn opens its season Sept. 26 against Kentucky at home.
Be the first to know
Get local news delivered to your inbox!